Books
1. Read The Fall of Arthur
One author shall rule them all.
Tolkien-heads can get a rare fresh fix with the ­release of The Fall of Arthur, J.R.R.'s unfinished epic poem on the Arthurian legend. The hard-core fans should be warned that the work has more in ­common with Beowulf than with The Hobbit, but what risks being a mere literary ­curio is in fact an ­absorbing pleasure. In addition to the poem, the book includes notes and drafts by the author and intelligent commentary by his son, Christopher. —Kathryn Schulz
Houghton Mifflin Harcourt.
Comedy
2. Laugh at Unscripted New York
Unpredictable improv; predictably funny.
More than 100 performers will be here, plus an audience-participation workshop from Second City's Michael Gellman.
Theater 54, 244 W. 54th St., May 29–June 2.
Pop
3. Hear Big Band Smiths
Because Morrissey always needed a horn section.
The eleven-piece band known as the Titanics offer Morrissey this eccentric, sweet tribute for his birthday: gloomfest emo tunes goosed with full-on Tommy Dorsey–style arrangements.
The Cutting Room, 44 E. 32nd St., May 27.
Amusements
4. Visit Luna Park
After Sandy, the return.
Its storm damage repaired, Coney Island's newest park will reopen on May 25, with the debut of a huge new ride called Water Mania (kind of a teacups-flume mashup). Arriving later this year: Magic Bikes (you pedal your own glider) and Luna360 (it slings riders in cars overhead).
1000 Surf Ave., Coney Island.
Movies
5. See Peeples
A Tyler Perry movie that isn't half-bad.
Free of the moralizing, awkward theatricality of most Tyler Perry films, this Meet the Parents–ish comedy is inane yet pleasant—and it's helped along by a likable cast that's clearly having fun. Kerry Washington, especially, gets to do a great juggling act: aggressively pleasant to everybody while keeping her anxiety and terror at bay. —Bilge Ebiri
In theaters now.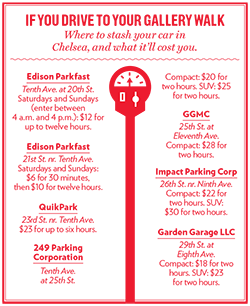 Art
6. See "Expo 1"
Impressive … if you can figure out what it is.
With its usual huh?-provoking rhetoric, MoMA PS1 has done a marvelous job of confusing the ­curious about its "Expo 1." It's a warmly shaggy show about beauty amid ruination: apocalyptic scenes; preserved shards of Icelandic glacier; Agnes Denes's pre–Battery Park City photos of wheat fields in the shadows of the World Trade Center. The high point is Adrián Villar-Rojas's La inocencia de los animales, a creepy sculpture on an architectural scale that seems to be ­bursting out of the husk of the museum. —Justin Davidson
PS1, through September 2.
Classical Music
7. Hear The New York Philharmonic Play Bruckner's Third
Free!
Bruckner's Third Symphony is among the mystical master's more leisurely creations, but Philharmonic music director Alan Gilbert has a knack for its inner drama. For the Memorial Day concert, the orchestra unfurls the piece in St. John the Divine, where reverent chords build up into a great rich vault of sound. —J.D.
Cathedral Church of St. John the Divine, May 27.
Theater
8. See Nikolai and the Others
Finding Terpsichore in New England.
In Richard Nelson's engrossing new play, a group of Russian émigrés—Balanchine and Stravinsky among them—meet in Connecticut in 1948 for a weekend of pirozhki and paranoia. And, oh, yes, great art; the watershed ballet Orpheus is created before your eyes. —Jesse Green
Mitzi E. Newhouse Theater, through June 16.
Theater
9. See The Caucasian Chalk Circle
Doc Brown sings!
Duncan Sheik, having musicalized Wedekind with Spring Awakening, moves on to Brecht, providing the songs for a new production of his 1948 parable within a parable. Christopher Lloyd, ­going back to his Broadway past, stars. —J.G.
Classic Stage Company, through June 9.
Books
10. Track Down How to Talk With Practically Anybody About Practically Anything by Barbara Walters
On the occasion of her retirement.
Ms. Walters's first book, published in 1970. Someone, please, bring it back into print.
Try the Strand Book Store or abebooks.com.
Pop
11. Listen to Touch by Daft Punk (Featuring Paul Williams)
From Muppets to robots.
So Daft Punk's mellow comeback album isn't quite the all-night dance party we'd been hoping for. But this track is worth your eight minutes, and not just for the oddness of the pairing. ­Under the vocoder-ed robots and spaceship ­noises lies evidence that Williams's knack for the catchy pop ballad didn't leave him in 1979.
Columbia Records.
Panel Discussion
12. Attend The VIDA Count and Gender Bias in Book Reviewing
I'll be there.
In the aftermath of the annual VIDA Count, which tracks gender imbalances in literary culture, the National Book Critics Circle is hosting a panel on the subject with VIDA co-founder Erin Belieu, (new) New York Times Book Review editor Pamela Paul, novelist Meg Wolitzer, Tin House co-founder Rob Spillman, and your own New York book critic. Who has a whole heck of a lot of thoughts on this subject. —K.S.
Center for Fiction, 17 E. 47th St., May 29, 4 p.m., free.
TV
13. Watch Behind the Candelabra
Ebony and ivory, and a lot of rhinestones.
Michael Douglas shines as the world's most famous barely closeted piano virtuoso, Liberace, in this Steven Soderbergh film about his ­destructive relationship with his live-in lover. Although Soderbergh and screenwriter Richard LaGravenese (The Fisher King) hit plenty of expected biopic notes, the fluid camerawork and incisive view of the human personality give the stars room to stretch. Douglas shines in the toughest part, and Matt Damon matches him in what might be his most surprising performance since The Informant! —Matt Zoller Seitz
HBO, May 26, 9 p.m.
TV
14. See Hit the Floor
Good cheer.
Kimberly Elise, one of the best and least-appreciated actresses on the planet, co-stars in this VH1 drama about the personal and professional lives of dancers for the fictional Los Angeles Devils basketball team. Elise plays Sloane, a former Devils dancer who finds herself watching with gritted teeth as her daughter Ahsha (Taylour Paige) joins the crew. Dean Cain, the former TV Superman, plays an all-star turned coach. Intergenerational angst, soapy pairings, booty-shaking, fast breaks, commentary on celebrity: The show's got game. —M.Z.S.
VH1, May 27, 9 p.m.
Art
15.–17. See Paul McCarthy's Sculptures
Three installations, three locations.
An extraordinary exhibition hat trick. Start ­uptown with "Life Cast," a masterpiece of hyperreal cast nudity and videos documenting the process. One stunned viewer stared agape, uttering, "Tell me what to think." Thinking is equally short-circuited in tractor-trailer-size bronze and wood mashups of Disney characters, horses, severed heads, and ­mirror-image mayhem. All of it is at Naumanesque levels of complexity and effect. —Jerry Saltz
"Life Cast," at Hauser & Wirth, 32 E. 69th St. (through July 26); "Sculptures," at Hauser & Wirth, 511 W. 18th St. (through June 1); "Sisters," HudsonRiver Park at W. 17th St. (through July 26).
Pop
18. Listen to A Hawk and a Hacksaw
Hungarian rhapsodies (and Ukrainian …).
The oddly monikered twosome—real names, ­Jeremy Barnes and Heather Trost—play ­sophisticated pop that draws heavily on Eastern European folk tunes and are giving a free concert in advance of their new album, You Have Already Gone to the Other World / Music Inspired by ­Paradjanov's 'Shadows of Forgotten Ancestors.'
David Rubenstein Atrium at Lincoln Center, May 23, 7:30 p.m., free.
Pop
19. Celebrate Twelve Years of DFA Records
Give it up.
Four rooms' partying, going deep into the night, organized with Jonathan Galkin and LCD Soundsystem's James Murphy.
The Grand Prospect Hall, 263 Prospect Ave., Park Slope, May 25, 9 p.m.–4 a.m.
iPhone Game
20. Download Dots
Sixty seconds of pleasure.
Oh, God, this one's addictive: a simple, colorful, Eames-ish-looking iPhone puzzle game. Its one-minute sessions (connect as many matching dots as you can, at high speed, with your fingertip) are ­ideally suited to a fifteen-block bus commute.
Betaworks One; free in the iTunes store.
Pop
21. Listen to Acid Rap by Chance the Rapper
André 3001?
Hip-hop's most promising young weirdo was already being compared to Lil Wayne, Kendrick Lamar, and André 3000 before he released his excellent second mix tape.
Free for download at chanceraps.com.
Movies
22. See A Pig Across Paris
Underground lardons.
Here's why we treasure Rialto Pictures and its head, Bruce Goldstein, who also programs revivals at Film Forum: The company digs up semi-forgotten gems like Claude Autant-Lara's 1956 black comedy A Pig Across Paris—which I saw decades ago on a ripped screen and still left on a crazy high. The comedian known as Bourvil plays a prim black-market pork dealer who joins forces with Jean Gabin as a fast-talking con artist in German-occupied Paris. Which means this is the most exhilarating kind of crazy comedy: rooted in misery and horror. —David Edelstein
Film Forum, May 24–30.
Pop
23. Hear The Shins
On the Williamsburg waterfront.
Portlandian exports, in Brooklyn for a day.
May 26, 5:30 p.m.
Photograph
24. See Terry Evans's Inhabited Prairie
Kansas from high above.
Macro views of the Kansas flatlands, subtly ­sculpted—and, often, not so subtly—by human intervention.
Yancey Richardson Gallery, May 23–July 3.
Conversation
25. See Dan Savage and Andrew Sullivan
Spreading sagacity.
Expect talk about gay marriage and web-media business models, plus maybe a few lingering Santorum jokes.
New York Public Library's Celeste Bartos Forum, May 28, 7 p.m.