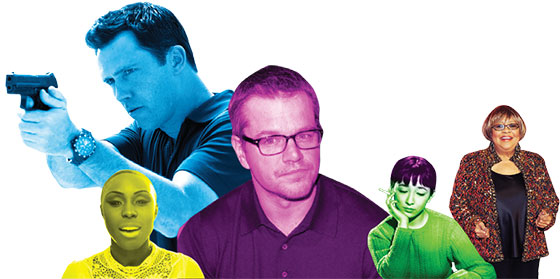 Pop
1. Hear Black Sabbath's 13
Metal, reforged.
That roar you hear isn't a mastodon braying across the primeval swamp. It's just Ozzy Osbourne, back together with his old band, singing about ­Nietzsche. Sabbath's first studio album in eighteen years—the first with Osbourne since 1978—is produced by Rick Rubin, who captures the band's heaving force and makes sure that Ozzy enunciates lyrics like "Out of the gloom / I rise up from my tomb / Into impending doom." —Jody Rosen
Universal Republic.
Movies
2. Dip Into the Films of Yasujiro Ozu
At Film Forum.
A famous filmmaker of my acquaintance takes a day each year to watch a movie by Ozu, he says, to clear all the noise out of his head. No whip-pans or whoosh or even much montage: What you get is stillness, with momentous forces beneath. To mark the 50th anniversary of the master's death, start with his films starring Setsuko Hara—Late Spring, Early Summer, and Tokyo Story—but don't forget the little-seen Munekata Sisters (1950) and Ozu's twelve silents. —David Edelstein
Through June 27, full schedule at filmforum.org.
Books
3. Read Stephen King's Joyland
Retro novel, retro packaging.
King's story (set in 1973) is an homage to the great age of pulp fiction, and that's in part why he's offered it to the publishers of the Hard Case series, known for its old-style cover illustrations of sneering guys and tough dames. They're all taking the conceit one level further, too: No e-book! Read it on actual pulp paper or not at all. Hard Case Crime.
TV
4. Watch Pizza Cuz
The Click and Clack of cappicola.
Iffy concept—two pizza-making cousins scour the country in search of a good pie. But Francis Garcia and Sal Basille, the owners of New York's Artichoke Basille's pizzerias, have a likable shtick and a natural television presence. They're not unlike "Car Talk" 's Magliozzi brothers, with even better (Staten Island) accents.
Cooking Channel, Mondays, 9 p.m.
Pop
5. See Mavis Staples
In Prospect Park.
Great that the gospel soulstress is here, in fine voice, to enjoy her career's second wind; even greater that she's singing in Prospect Park, for all of a $3 suggested donation.
At the Bandshell, June 14, 7:30 p.m.
Theater/Reading
6. Hear Vanessa Redgrave, Alan Alda, and Matt Damon
And Christine Baranski! And Raúl Esparza! And Gloria Reuben! And … and … and …
They're all on a program called "What Are We Worth: Shakespeare, Money, and Morals," hosted by Michael Sandel (author of What Money Can't Buy: The Moral Limits of Markets) and the latest in the Public Theater's great Forum series.
Delacorte Theatre, June 17, 8 p.m. Free.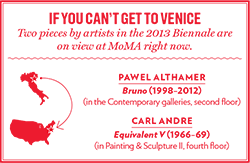 Art
7. Contemplate The Boxer
Visual punch.
One of the world's great Greek bronzes, making his first trip to New York after 23 centuries. You could spend half a day staring at just his beard.
Metropolitan Museum of Art, through July 15.
Photography
8. See NYC, c. 1985
Rot and rebirth.
Here's the uneasy era between Bronx-is-burning and new Gilded Age: of Koch and conspicuous consumption and crack, and the sense that New York might—might—just recover. (Jury's still out.) Images by Nan Goldin, Amy Arbus, and Larry Clark lead the way.
ClampArt, 521–531 W. 25th St., through July 3.
Pop
9. Listen to Laura Mvula
Big new voice.
A U.K. teacher turned soul singer in the vein of Erykah Badu, Mvula and her album, Sing to the Moon, have been getting the kind of reviews first-timers only dream about.
RCA.
Books
10. Read Bad Monkey
The Bard of Florida is back.
Almost nobody does hot-weather reading better than Carl Hiaasen, whose new novel will make you snort your seaside margarita. Go easy on reading it over food, though; in the novel, what's in the fridge—and what gets the plot cooking—is a severed arm. —Kathryn Schulz
Knopf.
Books
11. Read The Skies Belong to Us
Take me to Cuba!
Once upon a time, it seems, you could walk onto an airplane as simply as you can board a city bus, a situation that was conducive to cheery passengers and easy skyjackings. Brendan I. Koerner tells the tale of one madcap incident—Black Panthers, French movie stars, a half-million-dollar ransom—while also delivering an overview of "the golden age of hijackings": a period from 1968 to 1973 when commercial jets were jacked at the rate of almost one per week. The prose is terrestrial, but the ratio of astonishing facts to words per page makes this book a terrifically fun summer read. —K.S.
Crown.
TV
12. See Burn Notice
Before it goes.
This seriocomic spy thriller was the prototypical USA drama for most of its seven seasons: clever and consistent enough to inspire a cult, but never splashy enough to inspire recappers to pore over every episode. This week, the series airs its 100th episode, enough for syndication; good thing, because this season is its last. —Matt Zoller Seitz
USA Network, June 13, 9 p.m.
Theater
13. See Potted Potter
Wizardry in triple-time.
Simple, fun idea: Two guys recap all seven Harry Potter books in 70 minutes. A modest hit last year, it's back to serve your oh-God-school's-out needs.
Little Shubert Theatre; through September 1.
Opera
14. See Daniel Catán's Rappacini's Daughter
Gotham Chamber Opera, alfresco.
The Gotham heads outdoors for the first time to offer this 1988 musicalization of Hawthorne's tale about love and poison. Bring a blanket and a picnic dinner (or buy one there).
Brooklyn Botanic Garden, June 17 and 24, 7 p.m. General admission, $35.
Pop
15. Hear Chrisette Michele's Better
A balladeer of subtle heat.
In a world of jackbooted Beyoncé-wannabes, Michele is an anomaly: a female R&B singer who knows the power of restraint. She specializes in ballads set on slow boil; her songs purr and sway and lull with a plushness that harkens back to stars of eighties black radio like Anita Baker. Her fourth album, Better, is a record you can slide into, like a bubble bath. —J.R.
Motown/Universal.
Art
16. See Ellen Gallagher: Don't Axe Me
At the New Museum.
It's the first big retrospective for Gallagher, whose painting makes gorgeously adorned reference to horror and exploitation, and it should reveal and revel in an intelligence as sharply double-edged as any. Overdue, too: Her gigantic taxonomies painted on vintage wig ads from Ebony and Black Stars could hold the wall at any museum. —Jerry Saltz
June 19 through September 15.
Movies
17. See The East
Agents of change, looking good.
The latest collaboration of actress Brit Marling and director Zal Batmanglij is a conversion melodrama—a corporate agent goes undercover in an ecoterrorist cult and has her consciousness raised—made vivid by its makers' attraction to the way cults can throw you out of your solipsism and create a sense of connection. Who wouldn't want to join a group with passionate, huggy characters played by Alexander Skarsgård and Ellen Page? —D.E.
In theaters now.
Movies
18. See The Human Rights Watch Film Festival
Movies that do good.
While you're waiting in line for yet another Superman flick, consider these films about real-life injustices and superpower-free heroes. The fest's twenty features will move you to action. Night one is a benefit featuring Sebastian Junger's tribute to a fallen colleague, Which Way Is the Front Line From Here? The Life and Time of Tim Hetherington. And the fest proper opens with Freida Mock's Anita, in which you can relive the confirmation hearings of noted perjurer Clarence Thomas (he had no opinion on abortion, right) in the company of special guest Anita Hill. —D.E.
Lincoln Center and IFC Center, June 13 through 23. Full schedule at ff.hrw.org.
TV
19. Watch Vice
Road to Pyongyang.
Vice has been hit-or-miss, but mostly hit—a snazzy documentary series that wraps real reporting and travelogues inside a razzle-dazzle style that could be called Bro Frontline. If you've never watched it, this season finale is a dandy way in—the bizarre, much-discussed culture clash that culminates in Dennis Rodman's dinner with Kim Jong Un. —M.Z.S.
HBO, June 14, 11 p.m.
Art
20. See Antony: The Cut
Without his Johnsons.
The great artist, singer, songwriter, and mystical being called Antony (of the band Antony and the Johnsons) is unveiling new sculpture, drawings, and collages, all based on his poem "The Cut." If its first lines—"The cut on her face / The blood from under her skirt …"—are any indication, this is another of his incredible inner journeys. —J.S.
Sikkema Jenkins Gallery, through July 12.
Art
21. See Paul McCarthy
Last month's extravaganza was just warm-up.
After his four incredible New York showings in May, McCarthy—maker of the gigantic red Koons-attack dog outside the Frieze Art Fair—is offering another, this one born out of fairy tales and what the Armory calls "distressingly dark corners of the human psyche." Whatever it is, viewers under 17 aren't allowed. Bring your I.D. and inner armor. —J.S.
Park Avenue Armory, June 19 through August 4.
Pop
22. & 23. Revisit Wings Over America and Band on the Run
Maybe you'll be amazed.
For the longest time, Wings was Paul's Other Band, a guilty pleasure. Well, go back and listen: He didn't just fall off a cliff after Abbey Road. This beefed-up CD/DVD set of the band's 1976 U.S. tour will almost surely get you to pull out your old copy of Band on the Run—and you'll be reminded that there's not a clunker on there.
Hear Music, $138.99.
Pop
24. See New Kids on the Block, 98 Degrees, and Boyz II Men
Hangin' tough.
A flat-out bid for the nostalgia dollars of 34-year-olds, and you know what? We can't hate on it.
Izod Center, June 13; Barclays Center, June 16.
Dance
25. See Eliot Feld's Kids Dance
Grades 4 to 8, jeté-ing for joy.
Eliot Feld's vital Ballet Tech School has handpicked New York public-school students with what he calls "innate joy" for dancing, and offered them top-flight training free of charge, since 1978. The latest batch will perform, plus former City Ballet star and Feld muse Kaitlyn Gilliland will dance in Feld's new Inwit. —Rebecca Milzoff
Joyce Theater, June 13 through 16.