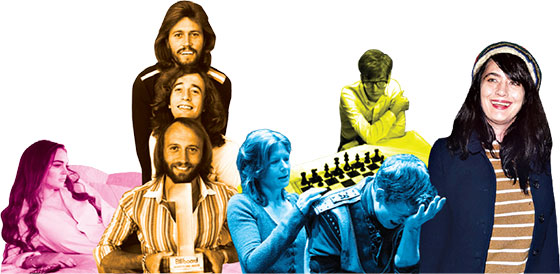 Books
1. Read The Never List
Summer scare.
Koethi Zan's buzzed-about first novel is the horror story of two girls held in a dungeonlike basement. Could be the next Gone Girl; could merely keep you up all night at your vacation house.
Pamela Dorman Books.
TV/Video2. Watch The Best of 'Fridays'Is that …? Yes, it is.
Remember ABC's eighties attempt to beat Saturday Night Live at its own game? The result was uneven (much like SNL), but when it was funny, it was very funny—and the cast included Larry David and Michael Richards, plus anarchic guest spots by Andy Kaufman. Shout! Factory, $31.98, August 6.
Theater3. See The Castle
Yonder it lies.
After their scorching, flawless Victory two seasons ago, the Potomac Theatre Project returns with another underperformed Howard Barker classic, a play that follows a group of crusaders home to a radically changed England. The great Jan Maxwell top-lines once again. —Scott Brown
At the Atlantic Stage 2, through August 4.
Books
4. Read The Cuckoo's Calling
By "Robert Galbraith."
Clearly, the book to read right now is The Cuckoo's Calling, a critically acclaimed crime novel by British military man Robert Galbraith—who, as the world learned last week, is in fact J. K. Rowling in nom-de-plume drag. Good for her—but good luck finding a copy. When the news broke, the book rocketed its way right over the top of the Amazon best-seller list and out of stock. I've been assured that 12 billion new copies are being shipped imminently. —Kathryn Schulz
Mulholland Books.
Theater
5. See rogerandtom
This is a play.
Julien Schwab's crafty, poignant playlet is a small, cool gem in the miasma of summer: Tom has written the play we're watching, and his sister Penny is trying to get their brother Roger to show up and end his long estrangement from Tom. Roger's in the audience, with us, and he's not amused by metatheater. From there, it's down the rabbit hole, and if the hole kind of bends back on itself, that's part of the point—family as an endless emotional recursion, where the lines between love, acting, and self-deception dissolve. —S.B.
At HERE, through August 24.
TV
6. Watch Top Chef Masters
The staff gets involved.
Whether you love-watch or hate-watch the definitive American competitive-cooking series, it's unmissable TV. Season five brings in another thirteen competitors, and this year there's a new wrinkle: an online sidebar, Battle of the Sous Chefs, which pits the contestants' right-hand men and women against one other. The sous-chef showdowns affect the main race, conferring immunity or adding obstacles by their outcome. —Matt Zoller Seitz
Bravo, July 24, 10 p.m.
Pop Music
7. Hear Bob Dylan
Plus Wilco, Ryan Bingham, and Beck.
Dylan in concert can be sublime one evening, ridiculous the next, dead boring the night after that. Here's some advice: Focus on the vocals—or the way the old coot deploys his weather-beaten wheeze to find new avenues through that legendary songbook. —Jody Rosen
Jones Beach, July 27, 5:30 p.m.
Books
8. Read The Bee Gees: The Biography
Life going somewhere.
David N. Meyer's book is a good solid reminder that the hair-and-sequins caricature was unfair to this interesting Brit band, who, in the course of a long career (of which disco was merely one phase), were asked to run up a few songs for that "little movie" about a Brooklyn disco.
Da Capo Press.
Movies
9. See Blackfish
Not so cute.
When a performing whale named Tilikum dragged a trainer to her death before horrified customers of Orlando's SeaWorld, it wasn't a freak tragedy. Gabriela Cowperthwaite's grim documentary, aided by former employees who've risked their careers, reveals these mammals' frighteningly unnatural captive lives. SeaWorld has hired itself a PR team to throw up a squid-ink screen. Ignore it, and see the film. —D.E.
In theaters now.
Movies
10. See The Canyons
LiLo plus Schrader: The movie did get made.
It hasn't been screened, and who the hell knows how Paul Schrader's sex-drenched psychodrama starring Lindsay Lohan will turn out? A New York Times Magazine feature confirmed our snarkiest ideas about Lohan's trajectory, but once upon a time she was an easy, authentic, ­irresistibly charming actress. And Schrader never takes the easy road. Minds open, please. —D.E.
August 2.
Books
11. Look at Prospect Park: Olmsted & Vaux's Brooklyn Masterpiece
The book of the borough's backyard.
A big, lusciously photographed volume that's destined to be the Brooklyn house gift of the year.
Princeton Architectural Press
Movies
12. See Computer Chess
Opening gambit.
Director (and father of "mumblecore") Andrew Bujalski is slyer than his critics give him credit for. His Computer Chess is a shapely comedy that begins in a dreary naturalistic mode. The setting is a chess match between primitive software programs circa 1980, and the film jumps among dorky designers as they watch their machines make a hash of the game. But something mischievous begins to creep in, and by the end Bujalski has you wondering which machines are more primitive—computers or humans? —D.E.
In theaters now.
Art
13. See Mixed Message Media
At Gladstone Gallery.
A perfect fit between the canny mind of curator Neville Wakefield and uncanny physical art. Two universes mesh as every work here teeters ­between looking one way, then acting another. A rug turns into cement, box springs are made of silicone, Bruno Jakob shows his work to a horse, an animatronic dog drops its head. A surrealist cabinet of quiet wonder. —Jerry Saltz
515 W. 24th St., through August 2.
Exhibitions
14. See The ABC of It: Why Children's Books Matter
Not only because your parents said so.
I have a bad habit of neglecting children's literature in these pages, so let me semi-rectify that by suggesting a visit to "The ABC of It: Why Children's Books Matter," a smart, charming, utterly engrossing exhibition at the New York Public Library. Though the underage set will adore it, you don't need to bring a kid, because—in there among the purple crayons and the wild things—you will once again become one yourself. —K.S.
New York Public Library, through March 23.
Readings
15. Hear Gary Shteyngart
In his natural habitat?
Kid-unfriendly, squared. But if you've never been to any of KGB's events after all these years—what, you hate books and booze?—this would be a good time to change that. —K.S.
85 E. 4th St., July 30.
Movies
16. See La Dolce Vita
You'll want gelato afterward.
Nitehawk's summer series (sponsored by Vice, with video intros by Martin Scorsese) continues with Fellini's 1960 film, starring Marcello Mastroianni and the va-va-voomy Anita Ekberg.
Nitehawk Cinema, July 30, 9:30 p.m.
Pop Music
17. Hear The Gaslight Anthem
And see if Bruce shows up.
Brian Fallon and his band of Jersey rockers sing the kind of epic, nostalgic tunes that strongly call to mind the Boss (who's sung with them on occasion). It's rock for sweaty nights with beers hoisted to the sky; you can do precisely that when they play with another group elevating bar music to high art, the Hold Steady, on the 28th.
Pier 26, Hudson River Park, July 26 and 28, doors open at 5 p.m.
Pop Music
18. Hear the Gospel Sessions
Nothing compares 2 Sam?
What exactly do the feral Irish chanteuse Sinéad O'Connor and Sam Cooke have in common? Soul-baring and great pipes, which O'Connor will showcase on this night honoring her gospel idols; the backing band includes members of the Blind Boys of Alabama and the Soul Stirrers.
Alice Tully Hall, July 26 and 27, 8 p.m.
Classical Music
19. Hear Timo Andres
In collaboration with Wolfgang.
On his new album, the rising-star composer and pianist does the seemingly impossible: completing Mozart's unfinished Piano Concerto No. 26 in D. Appropriately, he'll participate in a chat about the anxiety of influence the same day, alongside The New Yorker's Leo Carey and book-jacket designer Peter Mendelsund.
Nonesuch Records/Housing Works Bookstore Café, July 30, 7 p.m.
Pop Music
20. Hear Paul Weller
That's entertainment.
Three one-night shows for the onetime master of the Jam and, later, Style Council: at the Apollo, Webster Hall, and the Music Hall of Williamsburg.
July 25 through 27.
TV
21. Watch Inside the American Mob
Completely legitimate.
This encyclopedic treatment of the Five Families puts special emphasis on the seventies, when organized crime came into mainstream view via The Godfather, even as the Corleones' real-life inspirations were destroying themselves and one another. —M.Z.S.
National Geographic Channel, July 28, 9 and 10 p.m.
Pop Music
22. Hear Bonnie "Prince" Billy
Punk with a twang.
Who's hiding behind that great big beard? Why, it's Bonnie "Prince" Billy, né Will Oldham, a.k.a. Palace, Palace Brothers, and Palace Music. He's a man of many pseudonyms and a musician of many styles (folk, country, punk). Under whatever moniker, Oldham's music holds tunefulness and an unshakable melancholy. —J.R.
The Town Hall, July 29.
Comedy
23. See Paula Poundstone
Here's a funny story.
A staple of eighties brick-wall comedy-club shows, Poundstone has found a big new audience (and a post-scandal, post-rehab career bump) via NPR's hit Wait Wait … Don't Tell Me!
July 26, City Winery, 8 p.m. (doors at 6 p.m.)
Celebration
24. Attend Bust Magazine's Twentieth-Anniversary Party
One more year till it can drink!
The little women's mag with the sharp elbows is a survivor, and deserves a celebration. Vulture.com's Julie Klausner will emcee; Cibo Matto, Amber Tamblyn, Har Mar Superstar, Murray Hill, and Jessi Klein will perform. And Kathleen Hanna and Gloria Steinem are coming!
The Bell House, July 25, 8:30 p.m.
Pop Music
25. Hear Beyoncé
On "The Mrs. Carter Show World Tour."
Because this unknown up-and-comer really may be going places.
Barclays Center, August 3 through 5.