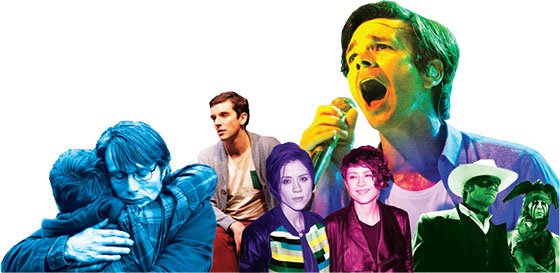 TV
1. Watch Borgen
Fantastic drama about government.
This Danish TV drama with an intense cult following is kind of a Scandinavian West Wing with more-realistic politics—and, as it centers on a female prime minister, it could be the best show ever about work-life balance.
DirecTV channel 375; limited availability at linktv.org.
Movies
2. See The Lone Ranger
Yeah, it's got problems, but don't wave it off.
The Johnny Depp megaflop is overblown, overlong, and underfunny. But it's not the cynical enterprise its detractors claim—it's odder and more interesting. Mixing slapstick spectacle with the (bloodless) slaughtering of Native Americans, it's like Bury My Heart at Wounded Knee turned into a Disney theme-park ride. Give it a spin if you're up for something unhinged. —David Edelstein
In theaters now.
Art
3. See Something About a Tree
A lofty start to group-show season.
Crackerjack writer, critic, and woman-about-the-art-world Linda Yablonsky shows us her contemplative and curatorial side in this enchanted forest of a group show. Including big names and unknowns, Yablonsky uncovers the mysteries, joys, and artistic possibilities of our friends the trees. The revelation: Trees are a way for artists to be representational, abstract, and beautiful at the same time. —Jerry Saltz
Flag Art Foundation, 545 W. 25th St., ninth fl.; through September 7.
Books
4. Read The Telling Room
Delicious.
Michael Paterniti is as entertaining a literary journalist as they come—take a look at Driving Mr. Albert, his account of a cross-country road trip with an aged doctor riding shotgun and Albert Einstein's pickled brain in the trunk. His new book is also about tracking a curious object, but this time it's one you'd want for yourself: a hunk of Páramo de Guzmán, the world's greatest cheese.
Dial Press.
Theater
5. See Buyer & Cellar
In Barbra's basement.
Jonathan Tolins's multicharacter megalogue—starring the ticklishly talented, ultracarbonated Michael Urie—imagines the life of an employee on Barbra Streisand's Wonka-like estate, slyly and hilariously corkscrewing a story of gay-icon worship with a treatise on our star-fucking (sorry, ­"aspirational") economy. —Scott Brown
Barrow Street Theatre, through October 13.
Books
6. Read H. P. Lovecraft's The Classic Horror Stories
Keep the lights on as you go.
The horror buzz this year is all about Doctor Sleep, Stephen King's sequel to The Shining, forthcoming in September. While you're waiting for it, you can acquaint (or reacquaint) yourself with King's figurative great-granddaddy, H. P. Lovecraft, via Oxford University Press's new collection. Roger Luckhurst provides a critical introduction smart enough that you definitely shouldn't skip it, but the real pleasure lies in the tales themselves: wildly uneven, yes, but also extremely weird, deeply spooky, and totally fun. —Kathryn Schulz
Oxford University Press.
Comedy
7. Hear Andy and His Grandmother
Andy Kaufman, catching himself on tape.
Andy Kaufman never made a comedy album—but he obsessively taped his anarchic comedic interventions in other people's lives, and here's a selection of what he caught. Technologically crude, but, for comedy nerds, unskippable.
Drag City/Process Media.
Theater
8. See Choir Boy
Singing out.
Folding jagged edges in perfect harmonies, Tarell Alvin McCraney's play keeps exceeding its after-school-special premise—about a flamboyantly "out" tenor in the choir of an African-American all-male academy. —S.B.
City Center, through August 4.
Comics
9. Read Watson and Holmes
Old English detective, fresh New York approach.
Well, why not reimagine Sherlock as a hip Harlem sleuth and Watson as his body man? In comic-book form, even?
New Paradigm Studios.
Pop Music
10. Hear The Jon Spencer Blues Explosion
Still blowing up.
A nineties holdout, yes, but one with staying power and a new album, Meat + Bone. Also, it's easy to forget it, but they're New Yorkers!
Music Hall of Williamsburg, July 18.
Books
11. Read Young Men and Fire
Unfortunately timely.
Arizona's horrifying Yarnell Hill fire makes this a singular time to read Norman Maclean's 1992 story of a similar tragedy—the loss of thirteen smoke jumpers in 1949 in Montana's Mann Gulch. It's simultaneously a procedural, a primer on fire ecology, a meditation on risk, and an old man's keen, elegiac look at young manhood. "While the oxygen lasts," Maclean writes, "there are still new things to love." It's the "while" that kills me. —K.S.
University of Chicago Press.
Books
12. Read & Sons
Novel about a novelist.
A Franzenish portrait of a biting, aging New York writer, David Gilbert's novel is perceptive, witty, and—like all great books about remote fathers and their sons—prone to leaving male readers either cursing or calling their dads. Its spirit of invention extends to that ampersand, which totally knotted up Amazon.com's coding.
Random House.
Movies
13. Chill at SummerScreen
Brooklyn, movies, park, hot nights.
Movies in the park return! Because it's Williamsburg, the food trucks come out in force starting at six, and the films are chosen with an eye to quality cheese. The next three Wednesdays: Pee-wee's Big Adventure, The Craft, and The Goonies, all preceded by shorts from Adult Swim and 55DSL.
McCarren Park, Wednesday evenings; full schedule at summerscreen.org.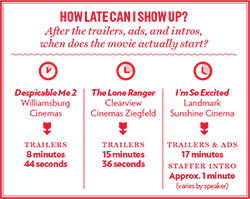 Pop Music
14. Hear Zac Brown Band
Twang in Jersey.
Zac Brown looks like Grizzly Adams and sings like Jimmy Buffett. If that's not enough to entice you out to Holmdel, consider that Brown leads one of country music's crack groups, packing everything from bluegrass to funk into twangful songs, and deploying their considerable chops judiciously, never veering into jam-band wankery. They sing some sick harmony vocals, too, especially on the great tearjerker ballad "Colder Weather." —Jody Rosen
PNC Bank Arts Center, July 19.
Pop Music
15. Hear Orchestral Manoeuvres in the Dark
Old New Wave, made new again.
OMD's synth pop, once so unfashionable, now seems prescient, and their new English Electric got pretty high on the U.K. charts this spring, too.
Terminal 5, July 17.
Books
16. Read The Founding Conservatives
Constitutionalists before the Constitution.
Academic rigor without deadly prose is a rare combination. David Lefer has it, though, and the result is a reminder that conservatism—the eighteenth-century kind, anyway—once displayed intellectual soundness and thoughtful proponents.
Sentinel.
Comedy
17. Consider Books vs. Movies
At Symphony Space's "Uptown Showdown."
A great idea: absolutely serious debates over unanswerable questions (cats versus dogs, comfort or fashion?), with smart, funny people. This time, ­Janeane­ Garofalo, Eugene Mirman, Aparna Nancherla, Bridey Elliott, and David Rees will discuss whether film can keep up with print.
Leonard Nimoy Thalia, July 17, 8 p.m.
Pop Music
18. Hear Lil Wayne With T.I., Future, and 2 Chainz
At Jones Beach.
Because Jay-Z isn't the only game in town this week.
July 19, 6 p.m.
Pretty Much Uncategorizable
19. See Kaiju Big Battel
Stomp stomp.
More or less a parody of a Japanese-monster showdown, come to life in pro-wrestling form. Godzilla-ish creatures battle for world domination, supervised by the Kaiju Commissioner; a referee; and Anthony Salbino, an urban-renewal expert who helps rebuild after the rampaging.
Stage 48, 605 W. 48th St., July 20; details at kaiju.com.
Movies
20. See The Hunt
A different flavor from Hannibal.
Those of us in the Mads Mikkelsen fan club love how little that taut visage moves yet how much is signaled by those liquid eyes. Mikkelsen has been a creepy-crawly Bond villain and a chilling Hannibal Lecter. But how is he as an unstable schoolteacher unjustly accused of molesting a child? Unspeakably moving. Thomas Vinterberg's The Hunt shows us a rural community turned inside out by hysteria—and Mikkelsen keeps you riveted to the last unnerving shot. —D.E.
In theaters now.
TV
21. Watch Whose Line Is It Anyway?
Making it up since 1998.
One of the few consistently satisfying comedies in recent TV history, this former ABC series is returning via the CW. The host is new—Aisha Tyler, ­Archer's svelte badass superspy—but the format is the same, and the producers had the sense to keep Wayne Brady, Ryan Stiles, and Colin Mochrie. When this gang is cooking, they deliver an action-movie-level adrenaline rush. —Matt Zoller Seitz
The CW, July 16, 8 p.m.
Pop Music
22. Hear Fun.
Joined by Tegan and Sara.
And watch for Lena Dunham in the audience.
Pier 26, Hudson River Park, July 22 and 23, 7 p.m.
TV
23. Watch The Cheshire Murders
Harrowing, enlightening.
HBO recounts a crime that shocked Cheshire, Connecticut: a home invasion by ex-cons Steven Hayes and Joshua Komisarjevsky that went on all night and ended with arson, rape, and three murders. As presented by filmmakers Kate Davis and David Heilbroner, the case is not a random atrocity but the end product of a systemic breakdown, caused by failures in police work, the parole system, and mental-health care. —M.Z.S.
HBO, July 22, 9 p.m.
Discussion
24. Hear Martin Amis and Ian McEwan
Great writers, talking.
Amis and McEwan team up at the 92nd Street Y to talk about—I have no idea, but one hopes literature, aging, their late friend Christopher Hitchens, and which of them writes better sex scenes. —K.S.
92nd St. Y, July 22.
Comics
25. Read The Mad Fold-In Collection
Snappy answers to academics' questions.
Columbia University just announced that it's acquiring the archive of Mad's Al Jaffee. He's been drawing for Mad since 1955, and a shockingly high percentage of his work holds up; mark the occasion with this luxe four-volume set, published in 2011. Every page is a Scene We'd Like to See.
Chronicle Books.