TV
1. Watch The Soup
Greg Kinnear, we hardly knew ye.
Five hundred episodes! The ancients may recall that this series started life as Talk Soup, a handy digest of crazy talk-show moments, back when daytime TV had so many that you couldn't keep track. Today's version, hosted by Community's Joel McHale, debuted nine years ago. For this celebration, he's broadcasting live (twice, for Eastern and Pacific viewers). —Matt Zoller Seitz
E!, August 21, 10 p.m
Art
T2. See American Legends: From Calder to O'Keeffe
The Whitney's survey.
This show includes artwork by eighteen Americans, including my favorite Alexander Calder—a little wooden hourglass form with hairlike shapes wired to it. One of the best depictions of a male nipple ever, in Marsden Hartley's portrait of a shirtless heavyweight boxer, makes me happy that this museum's curators work so tirelessly at digging often and deep into their permanent collection.—Jerry Saltz
945 Madison Avenue.
Pop Music
3. Hear Emeli Sandé
U.K. soulstress.
With apologies to Adele and Amy Winehouse, Emeli Sandé is the best British R&B performer of her generation. Her songs hold decades' worth of soul-music history, but she doesn't traffic in nostalgia. As for her voice: It can soothe, or seduce, or peel your ears back, depending on the song and Sandé's druthers. —Jody Rosen
Rumsey Playfield, Central Park, August 28, 7 p.m.
Movies
4. See Pitch Perfect
At Riverflicks.
Exactly the right kind of film that you want to watch outdoors in August—plus, if you haven't seen it, it's high time you got aboard the Rebel Wilson Appreciation Bus. (You're a year late.)
Hudson River Park, Pier 63, August 14 at dusk.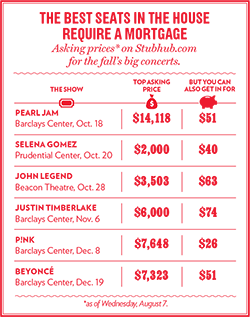 Theater
5. See The Weir
Conor McPherson's play, with new cast.
For the final month of this exquisite production, Mary McCann and Paul O'Brien have stepped in for Tessa Klein and Dan Butler. McPherson's deceptively simple barroom tale-spinner—where affably damaged countryfolk (and one out-of-place Dubliner) tank up, tell ghost stories, and reveal themselves—is as potent a dram of pure theater as one could ask for. —Scott Brown
Irish Repertory Theater, through September 15.
Movies/Video
6. Watch Ishtar
No, seriously.
Is it a film with problems? Yes. Did it finish off Elaine May's directing career? Probably. Is it the gaspingly awful turkey that everyone makes it out to be? Absolutely not. And now you can see it in super-crisp Blu-ray.
Sony.
Pop Music
7. Hear Julianna Barwick
Lush, complex vocals, in person.
Barwick's soaring, multi-textured third album, Nepenthe—made with Sigur Rós's Alex Somers—comes out on August 20. Should be interesting live, because her recording style is so dependent on looped and layered vocal tracks.
Judson Memorial Church, August 20, 7 p.m.
Pop Music
8. Hear Doris
Earl Sweatshirt, radical.
How will the Odd Future standout Earl Sweatshirt handle his transition into the major-label solo spotlight? If the lead single, "Chum," is any indication, with more of the usual (skillful, off-kilter rhymes) and also, thankfully, less (sexism, sensationalism). Sure to fascinate. —J.R.
Columbia Records, August 20.
Theater
9. See Murder for Two
The Mousetrap the Musical?
Agatha Christie–era mystery buddies up with vaudeville-era musical comedy in the inventive, indefatigable Murder for Two, a wind-sprint two-hander where both hands (Brett Ryback as the greenhorn investigator, Jeff Blumenkrantz as all thirteen of the suspects) play beautiful musical together. Literally: These expert showmen work a mean double piano. —S.B.
Second Stage Uptown, through August 25.
Movies
10. See In a World
Our cover gal's new film, reviewed.
Lake Bell's fun comedy wears its feminism lightly but subversively. The title's three portentous words have launched hundreds of previews, and they're always, always uttered by a man—the Voice of God. Bell plays an actress competing with her dad (Fred Melamed) to be the new Voice, but she's coming from way behind, and her father will fight her to the finish. Melamed (who stole the Coens' A Serious Man) works in the wrong (sitcom) style, but the rest of the actors—among them Demetri Martin as an awkward sound engineer, and the comedian Tig Notaro—are a joy. And Bell's sensibility rings out: friendly with a sting. —David Edelstein
In theaters now.
Books
11. Read Claire of the Sea Light
Edwidge Danticat finds beauty in hard Haiti.
On her 7th birthday, a girl wakes up in a shack by the sea. She has no mother; her father, a poor fisherman, is considering giving her away to a wealthier man. As that setup suggests, this novel by Edwidge Danticat has some of the feel of a fairy tale. But its ethereal qualities are offset by its stark portrayal of life in small-town Haiti; the combination makes for a lovely book to read this summer, by the sea or anywhere else. —Kathryn Schulz
Knopf, August 27.
Opera
12. See The Marriage of Figaro
Semi-staged, fully formed.
Conductor-director collaborations are rarely as intimate as when Iván Fischer plays both roles. Fischer leads Mozart's Marriage of Figaro in a run of "staged concerts" at Mostly Mozart, in which costumes have a life of their own, flying onstage and clothing singers who are magically transformed into actors. —Justin Davidson
Rose Theater, through August 15.
Movies
13. & 14. See Film Forum's two summer series
"Son of Summer Sci-Fi Fantasy & Horror" and "Wild about Harryhausen."
Film Forum has come through again with two programs to make the dog days a bit more rabid. Here you can journey from the artiest and most tortured (Tarkovsky's Solaris) to the cheesiest (Ed Wood's Plan 9 from Outer Space) with plenty of yummy yuckfests in between, including all three Invasion of the Body Snatchers pictures (Siegel, Kaufman, Ferrara), both The Flys, and the thirties classics Things to Come and Just Imagine. "Tuesdays with Harry" features many of the late stop-motion virtuoso's best, kicking off with Jason and the Argonauts and The 7th Voyage of Sinbad. Groovy! —D.E.
Starting August 9 and August 15; details at filmforum.org.
Classical Music
15. See The Chamber Music Society of Lincoln Center
Alfresco and free.
Outdoor chamber music might seem a contradiction, like indoor camping, but even Beethoven wrote some pieces breezy enough to compete with, well, a breeze. On this night, the Society takes a charming program (Mozart, Beethoven, Dvorák) into the not-very-wild wilds of Central Park. —J.D.
Naumberg Bandshell, August 21, 7:30 p.m.
Movies/Video
16. See Ernst Lubitsch's To Be or Not to Be
Making fun of Nazis before it was cool.
Lubitsch's great 1942 screwball black comedy is one of the few really good movies Jack Benny ever made, and Carole Lombard's last film. It's been given the full and impeccable Criterion treatment, too—this is the way to see it.
Criterion Collection; on DVD and Blu-ray.
Movies
17. See Werner Herzog: Parables of Folly and Madness
Eight of the director's films, all in 35mm.
Herzog is part shaman, part con man who believes his own cons. His best films are gloriously, transcendentally weird, and the best place to start is Aguirre, the Wrath of God, which opens Lincoln Center's series. The erotic gargoyle Klaus Kinski's tantrum against the forces of nature is among cinema's most haunting. Don't miss their Woyzeck, either. —D.E.
August 16 to 22; schedule at filmlinc.org.
Opera
18. Watch The Metropolitan Opera Outdoors, Onscreen
On the Lincoln Center plaza.
Once upon a time, the Met performed full operas in New York parks. Now the company dispatches its digital surrogate: The free ten-day festival of filmed operas shown on the plaza begins August 24 with Verdi's La Traviata —J.D.
Full schedule at metoperafamily.org.
Expeditions
19. Experience The Open House New York Architectural Tour
With New York's architecture critic.
Open House New York—the annual citywide event that throws wide the doors to hundreds of architectural treasures—doesn't roll around until mid-October, but the teaser comes on August 28: an evening boat trip up the East River, with Justin Davidson as your tour guide.
August 28, 6:30 p.m.; reserve at ohny.org.
TV
20. Watch Silk
A serious Rumpole for the 21st century.
The British writer-producer Peter Moffat has drawn on his experience as a barrister in such series as North Square and Criminal Justice. This time out, he dips straight into memory, creating an updated, embellished account of young lawyers jockeying to become Queen's Counsel, or "take silk." Maxine Peake and Rupert Penry-Jones play rivals; the cast is excellent, but best of all is the documentary-like sense of detail. —M.Z.S.
PBS, August 25, 9 p.m.
Dance
21. See Ballet v6.0
Beyond tutus.
The diverse small companies of this festival show new choreographers pushing ballet far beyond Balanchine and fish dives. Of special note: BalletCollective, a project that showcases up-and-coming NYCB dancers on a far more intimate scale, and Jessica Lang's visually striking works for her young troupe. —Rebecca Milzoff
Through August 17 at the Joyce Theater.
Pop Music
22. Hear J. Cole
At the top of an eclectic lineup.
There's a hot lineup on the undercard at this hip-hop-heavy edition of PS1's Warm-Up: I'm a fan of the profane Mr. MFN eXquire and curious about the Atlanta producer Bangladesh's graduation to producer-rapper. But the star here is J. Cole, an exceptionally skilled rapper whose nice-guy charms outweigh his deficiencies, especially up close and personal. —J.R.
PS1, August 17, 3 to 9 p.m.
Pop Music
23. Hear Adam Ant
Goody two-shoes, in New York.
Still wearin' costumes, still delightful.
Irving Plaza, August 16, 7 p.m.
Books
24. Read Singing School
A poet laureate offers a master class.
Robert Pinsky's slim book is part anthology, part teaching aid, and part writerly instruction manual. His own essays introduce 80 poems by others, with notes about how and why they work. The only flaw: He's left his own poetry out, too modestly.
W. W. Norton.
Exhibitions
25. See From Mr. Chips to Scarface
Heisenberg, with certainty.
MMI's homage to AMC's Breaking Bad was jam-packed the first week; now you can spend some quality time amid the meth pipes and film clips.
Museum of the Moving Image, through October 27.