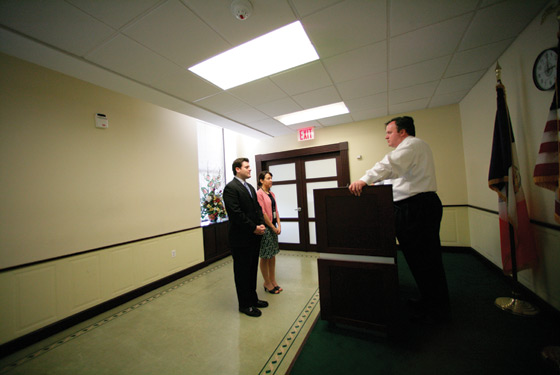 New York City's marriage bureau—currently on the second floor of the Municipal Building at One Centre Street—is an uninspiring warren of glass partitions and banana-yellow walls. But later this year a new bureau will be unveiled inside a city-owned building at 141 Worth Street, the recipient of an ongoing $15 million renovation overseen by society decorator Jamie Drake. We wondered how other local designers might approach the challenge of creating the ultimate New York wedding chapel. Here are four of their dream scenarios.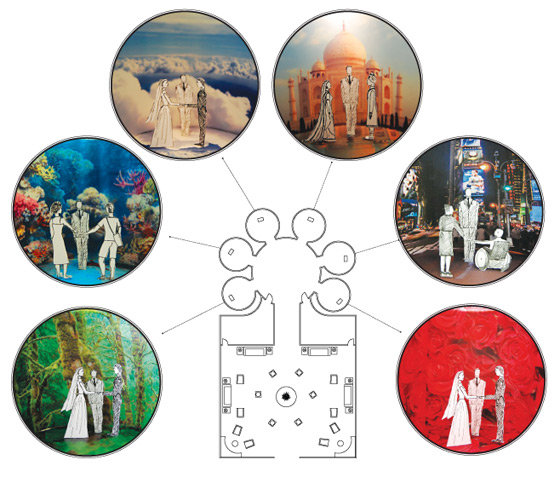 1. The Virtual-Reality Chapels
White Webb
Matthew White and Frank Webb, co-founders and co-principals
White and Webb would turn a large, historic room at 141 Worth Street into a Sears photo studio of sorts. When their turn comes, the couple and their entourage are led from the main lobby into a sleek, white, round hall that accesses identical "Ceremony Rooms," where the justices of the peace are stationed. These intimate chapels, constructed of pure white glass, are customized with computer imagery preselected online by the couple. At the touch of a button, 360 degrees of scenery is projected on the walls. The couple can get married on a blanket of clouds, in Times Square, on the moon, in the Serengeti, or, most peculiarly, inside a bouquet of red roses.
2. The Aquatic Fantasy
Lynn Torgerson
Garden designer
Torgerson imagines a high-ceilinged Grand Hall with a towering water arch (the jets are engineered to not splash the couple as they pass underneath). The water comes from a pair of catch basins on either side of the walkway. The floor is made of a nonskid material with a reflective surface, to create the impression of a calm lake. Attendees sit on either side of the arch and view the couple through the curtain of water. The hall is lined to the ceiling with ferns and plants, and on one wall, a fiber-optic mural can be programmed for day, sunset, or night panoramas.
3. The Soaring Bridal Veil
Johannes Knoops
Architectural designer
Translucent panels, like the train of a wedding dress, weave from the "Civic Fame" statue at the top of the building through the existing architecture to the new chapel located on the roof (below). The light passing through the panels envelops the room in a diffuse glow, while Knoops's chapel commands a majestic view of the skyline (left).
4. The Real-Time Wedding Ticker
The Norsworthy Fund
Ron Norsworthy, founder and principal
As couples tie the knot, their image and the official time of marriage are transmitted to LED billboards in Union Square. The billboards are block sculptures, which Norsworthy calls "Ties That Bind," arranged to resemble a playful abstraction of twist ties. The screens also display marriage proposals and—in keeping with the current state of things—annulments and divorce announcements.