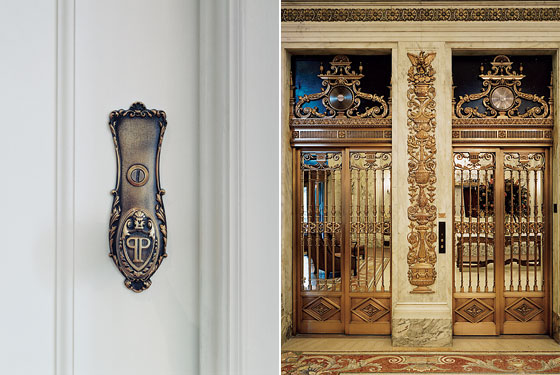 I own one very fine thing—an overcoat, a tweedy, Sherlockian affair that hangs from my shoulders to my shins, enveloping me in Quality. The coat keeps me warm, of course, but it also permits me to imagine a life in which the flowers are always fresh, a warmed car always waits out front, and the litter box scoops itself. When the coat comes off, I rejoin our Made-in-Thailand reality, in which we wear quick-aging sneakers and tolerate leaky faucets. But there are people—quite a lot of them, it seems—who can actually lead the life my coat evokes. Fifteen Central Park West was built for them.
The new limestone mountain designed by Robert A.M. Stern, an architect who specializes in the best nostalgia that money can buy, aspires to be the only possible address for those who could choose to live anywhere. (People like Sandy Weill, for example, the longtime grand vizier of Citigroup, who spent $42.4 million on a penthouse.) The building trades on the mythos of Old New York, recognizing that by comparison with today's lofty standards of comfort, Gilded Age barons were practically camping out. Its motto should be stated in the gloating conditional: "Thus would the rich of old have lived, had they been as rich as we." So it comes as a bit of a disappointment to discover that if you can spend tens of millions of dollars on an apartment, you get what many less fortunate New Yorkers have: walls, windows, wooden floors, running water, electric lights. The human body can distinguish only so many degrees of pampering before reaching the threshold of perception.
What 15 CPW's denizens are really paying for is manufactured mystique. For a while, that same eau de hauteur was usually purchased in a more ethereal glass-and-steel variety. But maybe the wealthy are wearying of living constantly on display; the ultraclear skins of Richard Meier's trio of expensive fish tanks along West Street are generally hazed by an inner layer of fabric shades. So apartment dwellers are rediscovering solid walls and hearkening to the masonry monoliths of the industrial age. Those who have built their fortunes on intangibles—hedge funds, software, music—wish their real estate, at least, to be real. You see, this building says, the Information Age has substance, too. Luxe begins outside, with the curb-to-penthouse limestone cladding, instead of the more expedient concrete composite that frequently takes over above the first few floors. The stone's gabardine hue, the linen-fold ornaments, the gently protruding bay windows—all exude an air of ostentatious restraint. The elliptical arch over the front door brings a whiff of the Newport cottage; the lintel's spooned-out corners add a bit of postmodern flair. Step inside, and you are greeted by a catalogue of semiprecious materials detailed with obsessive tastefulness: scalloped columns coated in caramel-colored marble and resting on honed French limestone floors; custom-made sconces that give the quartersawn English oak paneling a soothing amber glow. The architect has done for his clients what my coat does for me: provided substance to the dream of the wrinkle-free life.
The bottomless-pocket population is also being targeted by the freshly renovated Plaza, a 100-year-old landmark that, like some surgery addict gone berserk, has had virtually all its insides replaced, with peculiarly predictable results. The Plaza comes with a pre-aged brand name, and mythic public spaces so redolent of Belle Époque splendor that the Landmarks Commission required them to be returned to their former glory. The 59th Street lobby is the first to get its gleam back. Restorers uncovered forgotten mosaics, scraped off Trump-era gilding, and reproduced the 1907 paint scheme. The result is a masterpiece of vintage glitz. Soon the Palm Court will come back to life—minus the rainwater that used to flow down the columns and into buckets during every storm—and the Oak Bar will acquire a fresh patina of sedate antiquity.
In theory, the Plaza promises an authentic simulacrum of the past: Buyers can own a piece of New York City history without suffering the indignity of living in a secondhand home. A team of architects that included Costas Kondylis and Gal Nauer scooped out all the interiors (except for the storied public rooms), right up to the outer membrane of brick. In place of the 800-room hotel, which toward the end ranged from genteel decrepitude to just plain decrepitude, comes a palazzo divided against itself. Condominiums occupy the 59th Street side, where residents can use an electronic touch screen to summon a bouquet, a catered meal, or the Bentley. On the other side, a smaller hotel caters to guests with a hyperdeveloped sense of entitlement. Regulars will be greeted at each check-in by a butler on their floor, who will have ensured that the sheets bear the guest's monogram and that the correct family photos have been arranged on the nightstand.
All this hysterical solicitude feels like an attempt to compensate for design that coasts on the Plaza's name rather than living up to it. The condo hallways are a notch above a suburban Marriott's, and the parquet hardly merits swooning. But the new Plaza is decadent even in mediocrity. The building's soul is now to be found in its bathrooms. There, mosaic floors evoke Rome in its dotage, water flows from taps plated in 24-karat gold, and the doorknobs bear the building's wannabe-noble crest, a pair of mirrored P's. The best that can be said of this habitat is that it's just opulent, tacky, and wistful enough to make a deposed dictator feel at home.
BACKSTORY
Though it seems a rock of consistency, the Plaza has been through several significant transformations since its opening in 1907. The 58th Street wing and the Grand Ballroom weren't added until the twenties. Conrad Hilton (yes, Paris's great-granddaddy) made some uncouth modifications when he bought the hotel in 1943, dropping a platform over the Palm Court's skylight in order to install air-conditioning units. And of course, Donald and Ivana Trump left their distinctive mark when they took over in 1987, restoring the lobby and adding a little extra gilt for good measure.
Fifteen Central Park West
Designed by Robert A. M. Stern.

The Plaza
Designed by Henry Hardenbergh.