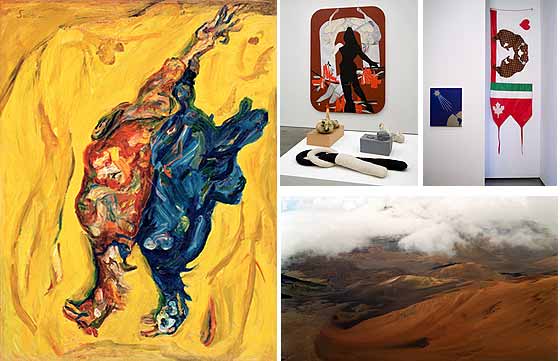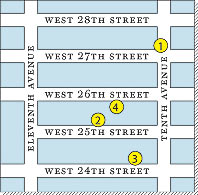 1.The name of this show is not Gay Art Now
Paul Kasmin, 293 Tenth Ave.; through July 14
Jack Pierson knows how to push the boundaries of gay iconography, as in his photographs of pouty, bare-chested young men exhibited under the series name "Self-Portrait." His curatorial effort here, however, comes off conservative. Pierson has included artists who are not gay but whose work is associated with gay identity, so we see one of Elizabeth Peyton's tousled dandies and an early work by Matthew Barney ("for his willingness to 'go there' and … because he is cute," writes Pierson). Icon-worship dominates, in portraits of Liz and Judy. But there may be some life left in this religion. Tucked into a busy installation (since reconfigured) by the performance artist Tabboo! is a precious-size drawing inscribed "Johnny Cakes"—a tribute to The Sopranos' Vito, the most unexpectedly charismatic gay icon of the season.
2.The New Landscape/The New Still Life: Soutine and Modern Art
Cheim & Read, 547 W. 25th St.; through September 9
Flesh-obsessed painters from Dubuffet to de Kooning trace their roots to Chaim Soutine, the Lithuanian-born Expressionist known for empathetic renderings of carcasses. This studious show explores his influence through pairings obvious (Lucian Freud and Philip Guston) and revelatory (Alice Neel and Joan Mitchell). The thickly impastoed landscapes are numerous and enchanting, but they're overshadowed by the still lifes—especially in a side gallery that links the master's dangling pheasants to a sculpture by Louise Bourgeois and paintings by Susan Rothenberg and Georg Baselitz. It's a rare chance to appreciate Soutine, hard by the meatpacking district.
3.Dereconstruction
Gladstone Gallery, 515 W. 24th St.; through August 18
White Columns' Matthew Higgs has put together a unified show about fragmentation. These artists use all manner of collage and assemblage, but they temper a magpie aesthetic with a European modernist's sense of composition. Collages by the underrated Rita Ackermann look very strong, as do Lucas Samaras's disco-patchwork paintings and a webby installation by the German Alexandra Bircken. Given the Dada work now hanging at MoMA, "Dereconstruction" looks less like a post-postmodern movement than an old modern one that's still fresh.
4.A Rabbit As King of the Ghosts
Mitchell-Innes & Nash, 534 W. 26th St.; through August 11
The supernatural has become fashionable among curators, from last fall's spirit photography at the Met to Creative Time's current "Strange Powers." Justine Kurland and Dan Torop give us their take in this broad show, which meanders from a nineteenth-century Shriners group portrait to documents of Joan Jonas performances from the seventies to meditative landscapes by today's photographers. The theme will be familiar to fans of Kurland's own photographs of teen girls enacting pagan rituals in wooded settings; one nineteenth-century image of several long-haired women could be from her inspiration board. Other surprises, such as astronomer W. F. Swann's gorgeous picture of a nebula and the smoky images of radiation by a Madame Curie collaborator, demonstrate that there's plenty of myth and mystery still to be found in the archives.