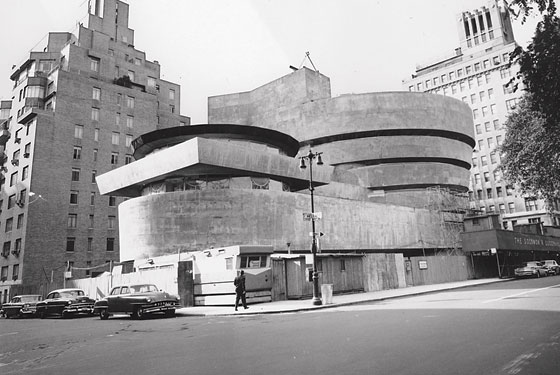 On the last day of July, the art world awoke to a disturbance in the Force. The New York Times announced that Lisa Dennison, the director of the Guggenheim Museum since only 2005, would be leaving to become executive vice-president for Sotheby's North America. Dennison wasn't the best director around; she may have been only a puppet. But she was capably playing the role of Gerald Ford to this troubled institution, helping to bring the Guggenheim back from its seventeen-year nightmare under the reign of Thomas Krens. This self-styled shah of culture and franchising has been described as "cold, distracted, and rarely on hand." I would add reckless, destructive, myopic, and misguided.
Since Krens took over in 1988, the air around art at the Guggenheim has been distorted and toxic. Yet since he left his directorship in 2005 to run the Guggenheim Foundation, which oversees all five museums (New York, Venice, Berlin, Bilbao, Las Vegas), the institution has shown auspicious signs of actually putting his tenure behind it. Under Dennison, the specialized but scintillating collection of early-twentieth-century art was intelligently reinstalled so that batches of excellent women and lesser-known artists are featured alongside the big guns. Very good contemporary exhibitions have taken place, most recently this summer's smart show of recent acquisitions and art from the permanent collection. Curated by Kevin Lotery, Ted Mann, and Nat Trotman (under the supervision of Nancy Spector), this sampler was loaded with serendipitous juxtapositions, and showed the Guggenheim shunning spectacle and stressing art again. The soon-to-open Richard Prince survey could be really good, and this winter's Cai Guo-Qiang retrospective, as well as other exhibits in the works, are all good signs.
But something rotten is brewing. Krens has been up to his corrosive old tricks again. With breathtakingly bad timing last year, just days before Israel and Lebanon exploded into war, Krens announced that the Guggenheim would build a 300,000-square-foot edifice designed by architect Frank Gehry, on a spit of land called Saadiyat—Arabic for "Isle of Happiness"—in Abu Dhabi, the capital of the United Arab Emirates. The Emirates also has plans to build a branch of the Louvre designed by Jean Nouvel, a maritime museum by Tadao Ando, and a performing-arts center by Zaha Hadid. The Guggenheim Abu Dhabi, dubbed "GuggAbu" last year by arts blogger Tyler Green, will sit atop a slender peninsula jutting into the Persian Gulf. The building is to be completed by 2011 at a cost estimated to be between $200 million and $400 million. Slated for construction nearby are dozens of luxury hotels, three marinas, two golf courses, high-end apartments, and fancy villas. Crown Prince Sheikh Mohammed bin Zayed al-Nahyan says this $27 billion Sodom-plus-Vegas on the Persian Gulf is expected to draw 3 million tourists a year by 2015 and will be an "upscale cultural district."
At the time of the GuggAbu announcement, Gehry hadn't even begun designing. Calling the building "a rush job," he opined, "It's got to be something that will make sense here," adding, "I know it's hot. Being situated on the seafront means we might have sandstorms." He should have added that being situated on this seafront also means it's possible the whole peninsula will be under water in a hundred years. Perhaps those watching it go under will think that's where this air-conditioned Xanadu belongs.
Krens notes that the UAE "has the resources" to build this project. He's certainly right there. Abu Dhabi harbors 9 percent of the world's known oil reserves and 4 percent of its gas. However, it also harbors something else: a stringent anti-Israel policy. Numerous government sites warn that Israeli passport holders and travelers whose passports bear Israeli stamps will be denied entry visas to the Emirates. Thus, the Guggenheim—founded by a Jewish family, an institution with Jewish curators and scores of works by Jewish artists, designed by the Jewish Gehry—isn't really welcome either. (Nor are other marginalized groups: Two years ago, a UAE government official said, "Our society does not accept queer behavior either in word or action." Maybe that means art by queers won't be welcome in the GuggAbu.) As of July 2006, it was reported that no nudes were to be shown, nor anything deemed "controversial."
None of this fazes Krens. "This is a minor issue," he said last year. "Our challenge now is to define the next generation of Guggenheim museums." Actually, the word next is misleading because there was no earlier generation. Most of those either went belly-up or never materialized, in places like Taiwan, Rio de Janeiro, Singapore, and St. Petersburg. The failed plan for Rio called for a tropical rainforest, a 100-foot waterfall, suspension bridges, and a sunken lobby with underwater views of a reflecting pool. Perhaps he'll announce a Guggenheim Machu Picchu next, or a Guggenheim Great Wall.
The big success on which all this bluster is based is, of course, the Guggenheim Bilbao. That building does work, but only economically, as a tourist attraction, as a source of civic pride, and a leverage tool for Krens. It looks like a shiny, undulating amusement-park ride from the outside. It's great. The inside, however, is so oversize and jazzy that it is awful for art (except that of the artist who inspired much of Gehry's thinking, Richard Serra). Krens and Gehry, great as they are as a team, should not build museums together—not in Abu Dhabi, not anywhere. They should be given the contract to build every Wal-Mart in America. That would change the way American architecture looks and the way Americans look at architecture. Krens and Gehry would be heroes. America would be lucky.
In the late eighties, when he took over, Krens did some good. He brought the Guggenheim into the present after it had drifted for years. He sold some of the collection but was behind numerous important acquisitions, including the great Panza collection. Then he saw something before others. He understood that culture was going to be big business and that institutions like his could be franchised. He dreamed of shining museums on hills, and tried to build them. That was the beginning of the end.
Krens broke faith with art long ago. Now he crows about meeting with "business moguls, governors, [and] mayors," and boasts, "In the last three years, more than 130 cities have made an initial inquiry into doing something like Bilbao." His traveling lecture is called "Developing the Guggenheim Into a Global Brand." But under Krens the Guggenheim brand has been not art or exhibitions or even the collection but Building Buildings. And even that was a lie—they were all Coming Soon, and in reality every one was Coming Soon But Never Comes.
Though I love the Guggenheim's Frank Lloyd Wright mother ship on Fifth Avenue, one thing this museum has needed for years has been more wide-open, non-spiraling space in New York. Krens did open a Soho branch in 1992, but it folded in 2001. (In a nice bit of symbolism, the building now holds a slick Prada store.) He also tried to have Gehry build a behemoth near the Seaport, but that never worked out either. Then he switched back to his international aspirations. Thus, Krens's world adventures aren't just silly, sad, misspent, and maddening; they're tragic. Imagine if, instead of squandering the Guggenheim's good name, and rather than pouring time and money into showy boondoggles around the globe, Krens had secured a large space somewhere in New York City, and created something like what the Tate did in London—a sort of Guggenheim Modern for rotating shows and space for the permanent collection.
In his heyday, Krens was the one American museum director with the hubris, clout, and drive to pull something like this off. His dictatorial power accomplished some good things, but at far too high a price. By now his so-called vision can be seen for what it is: a ruse masquerading as a wow. The only thing Krens did was mix Museum Mile with Broadway. Dreaming of blockbusters, he created palaces and high-concept productions dependent on one-time, out-of-town visitors. Krens accessorized the museum's shell, but he neglected and betrayed art. The Guggenheim Abu Dhabi is just more of the same but on a grander scale. Krens ushered in the ill-begotten era of constructing glitzy trophy museums and then simply filling them with art. He and the ideology came in with Reagan; they should go out with Bush. It is time for the trustees and excellent curators of the beloved Guggenheim to complete the process they seemed to be initiating so admirably before Dennison's ill-timed and egregious abdication, and together take back the rotunda and get rid of Krens.
BACKSTORY
Before the Guggenheim (and Gehry) beckoned, Thomas Krens made his livelihood teaching art history at Williams College and directing the school's museum. During a 1985 visit to Cologne, Krens saw a show by painter-sculptor Marcus Lüpertz in a raw factory space. Inspired by the building, he came home and set his sights on a cluster of nineteenth-century industrial buildings in sleepy North Adams, Massachusetts. MASS MoCA would eventually cost more than $30 million, and it didn't open until 1999, a decade after Krens had left for the Guggenheim—and (despite twice the lead time) two years after Bilbao did.
SEE ALSO: Who Should Get the Job?
E-mail: jerry_saltz@newyorkmag.com.