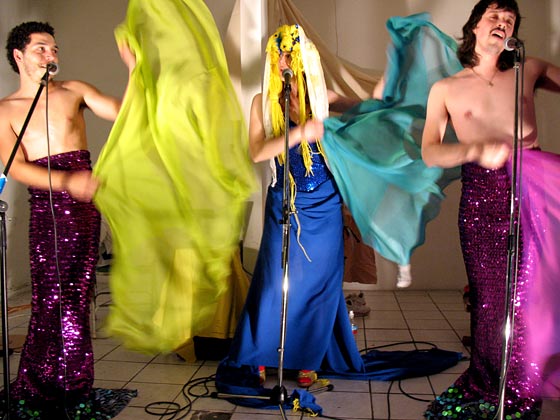 Yvonne Rainer's RoS Indexical
November 18 and 19, Hudson Theatre at the Millenium Broadway Hotel.
What: The radical sixties choreographer's newly commissioned work is an adaptation of an adaptation of Nijinsky's ballet, The Rite of Spring. Hersource: a kitschy BBC dramatization of the ballet's controversial 1913 debut (complete with audience gasps and hollers).
Who: Undergrads and academics. Rainer's sixties-era Judson Church performances are requisite art-history syllabi material; plus Baryshnikov and fellow postwar pioneers (Acconci, Carolee Schneemann, Joan Jonas, Richard Serra).
Fabulousness: 4, this is Rainer's first commission in seven years, and only her second since a 25-year hiatus from choreography.
Pretentiousness: 3, Rainer inserts her own quirky movements to keep it light, but she admitted in an interview last year, "I'm getting the sense that Nijinsky was a pretty weird guy."
Nonsense: 2, though self-induced, try watching a BBC "dramatization."

Nathalie Djurberg's Untitled (Working Title Kids & Dogs)
October 28 and 30, Zipper Theater.
What: Swedish claymation fiend Djurberg's new film, shown on the big screen with live accompaniment. The plot? Children at war, bloodily, with mangy pups on urban streets.
Who: Biennial junkies, European types (her work may be part of the Guggenheim's permanent collection, but as of now, she's primarily shown on the east side of the Atlantic), Linda Yablonsky, Michel Gondry.
Fabulousness: 2, dark humor's a plus, but there's little live action here.
Pretentiousness: 2, can clay dogs be pretentious?
Nonsense: 4, it all sounds very grim, but there's a touch of South Park in Djurberg's animated frenzies.

My Barbarian's Voyage of the White Widow
November 9, Whitney Museum of American Art.
What: The L.A.-based performance troupe, self-described as "spastically heartfelt," stages a nautical, musical tale in Bowie-meets-Disney getups.
Who: Outer-borough hipsters, penniless "Free Friday" attendees.
Fabulousness: 3, sparkly mermaid tails! On grown-ups! In the Whitney!
Pretentiousness: 1, location aside, there's little pretension to be found in a troupe that fancies capes and spandex.
Nonsense: 5, see above.

Allan Kaprow's 18 Happenings in 6 Parts (Re-doing)
November 5—11, Deitch Studios, Long Island City.
What: Tisch professor André Lepecki and a bevy of local collegiates reenact Kaprow's 1959 genre-defining happening: staged in-gallery performances of people lighting matches, squeezing oranges, painting, shouting, what have you.
Who: Matthew Barney, Paul McCarthy, Claes Oldenburg, art-history buffs; Kaprow's happenings have never been reenacted. He granted Performa permission to do so shortly before his death last year.
Fabulousness: 4, the quasi-return of sixties-era avant-garde and a posthumous Kaprow salute.
Pretentiousness: 3, art-historical ties are likely to bring words like significant and didactic into post-show analyses.
Nonsense: 3, squeezing oranges in galleries was weird then, likely still is now.

Isaac Julien & Russel Maliphant's Cast No Shadow
November 6—10, BAM Harvey Theater.
What: BAM's Next Wave Festival gets in on the action with a trio of Julien's migratory films (solitary figures navigating far-off lands), retooled for the stage.
Who: Culture snobs, Next Wavers, the Chelsea gallery set (Julien's solo show at Metro Pictures runs concurrently), Thelma Golden.
Fabulousness: 5, Maliphant's exquisite dancers take the stage, both onscreen and off.
Pretentiousness: 3, exotic locales (Iceland, Burkina Faso), breathtaking cinematography—all highbrow here.
Nonsense: 1.

Sanford Biggers, The Somethin' Suite
November 12, The Box.
What: Biggers tackles an early-twentieth-century motif: the minstrel show.
Who: Lost hipsters, hip-hop bigwigs (Russell Simmons, Damon Dash), record-industry pariahs, Thelma Golden.
Fabulousness: 4, D.J. Jahi Sundance's sure-to-be-rousing musical mix of 60-plus years of American pop, and Across the Universe's Martin Luther live.
Pretentiousness: 2, inevitable comparisons between the "Negro variety show" and the contemporary music scene.
Nonsense: 1, as long as Biggers's roster of still-under-the-radar talent delivers.

The X-Patsys
November 18, HighLine Ballroom.
What: Fassbinder stunner Barbara Sukowa and artists Robert Longo and Jon Kessler play Patsy Cline cover band. For this set, expect some cross-pollination as Tom Waits, Kurt Weill, and Joy Division classics enter the musical mix.
Who: Fassbinder groupies, Bowie, Laurie Simmons, Cindy Sherman, eighties-era Soho types.
Fabulousness: 4, Patsy goes punk.
Pretentiousness: 1, all successful in their own right, they seem to be having a good time.
Nonsense: 2, we're waiting to see how a Cline-meets-Weill ballad plays out.

The Long March Project—Xu Zhen, Qin Zhijie, and Zhao Gang
Various locations.
What: The Beijing-based arts organization comes town, bringing with them serious programming. Highlights include an avant-garde Chinese dragon dance, a backward procession from the China Institute to MoMA, and four Chinatown migrants suspended in a gallery at improbable (i.e., nerve-wracking) angles.
Who: Chinatown residents, bewildered pedestrians, collectors scoping out the contemporary Asian-art market, Vivienne Tam.
Fabulousness: 3, the in-gallery human suspensions are oddly beautiful and ripe with social context.
Pretentiousness: 3, symbolic, yes, but traffic-wise, a backward procession through midtown can be tricky/obnoxious.
Nonsense: 2, behold the camouflage dragon.

Christian Jankowski's Rooftop Routine
November 3, Rooftops in Chinatown.
What: The German-born Venice Biennale alum and his neighbor engage viewers in an odd bout of calisthenics atop his Chinatown apartment building.
Who: Lower East Side gallerists, Burning Man attendees, Kim Gordon.
Fabulousness: 4, but only if Kim Gordon hula-hoops.
Pretentiousness: 1, a low-maintenance project from one of Performa's most promising artists.
Nonsense: 4, arty types aren't known for their athletic endurance.

Francesco Vezzoli's Right You Are (If You Think You Are)
October 27, Solomon R. Guggenheim Museum.
What: Vezzoli reworks and restages Luigi Pirandello's 1917 portrait of fame and obsession.
Who: Vezzoli's megacast (Blanchett, Portman, Burstyn, Sarsgaard, Strathairn, Wiest) paves the way for a healthy dose of local bold-faced supporters (Diane Von Furstenberg, Lou Reed, Bette Midler, Maggie and Jake Gyllenhaal); institutional cred hails in the art-world brass (James Rosenquist, Francesco Clemente, Yoko Ono, Alex and Ada Katz).
Fabulousness: 5, if only for the cast.
Pretentiousness: 5, same reason.
Nonsense: 1, might be a bit empty, but it's glossy-empty.