If the glory, freneticism, excess, and sunny evanescence of the current contemporary-art boom has a symbolic home, it's Miami Beach. Thanks to the appearance of an exponentially more fabulous Art Basel Miami Beach fair each December since 2002, the once-tattered resort town has gained a new sense of itself as an aesthetic destination that goes beyond the mere appreciation of a set of well-wrought silicone implants. Now members of the local Establishment, enamored with their smart new friends—collectors, artists, and curators from around the world—want to see if they can get them to stick around. It's partly about wishing to be taken seriously as a cultural alternative to New York and Los Angeles. But it's also a bet that fertilizing the creative class is good economic-development policy—especially in a city hit hard by the real-estate meltdown. Which is why a local developer and collector, Craig Robins, is starting a free postgraduate art program in Miami.
He's not alone in this municipal-improvement gambit: Terry Riley, a former Museum of Modern Art curator, moved down two years ago to be director of the Miami Art Museum and oversee building its $220 million Herzog & de Meuron–designed home. Riley cites the example of Spain and its Guggenheim Bilbao as a model: "They wanted to catch up, join the European Union, and transform the country. They realized that to do that, they had to go from being a cheap vacation destination of sangría, sand, and sun to a place that could compete with the rest of Europe as a major cultural destination."
That's what Robins, a mam trustee, wants most of all, too. "Miami is on the verge, but we need to keep stimulating creativity," he says, rising from his office desk and passing a John Baldessari painting—a dead plant emblazoned with the credo that always happens. ("Looking at it keeps me sharp.") "I felt that the only thing missing was a graduate school. Our artists get to the next level and have to leave Miami if they want to continue their education. Why should we lose them to Yale?" In fact, the current Whitney Biennial features three Miami artists—William Cordova, Adler Guerrier, and Bert Rodriguez—more than any other city except New York and L.A.
The son of a local developer, Robins is a Miami Beach native who's always had an interest in art (he wanted to trade in his graduation Rolex for a Salvador Dalí print). He learned that there's added value in a cleaned-up bohemia. "Everybody thought these properties were useless," he recalls of South Beach's cheaply purchased Art Deco buildings, many of which his company restored as boutique hotels and chic retail strips. Artists were a key part of the mix that revived the area: Courtesy of Robins, many found themselves with subsidized studio spaces or special commissions—enough that in 1992, this magazine christened the resort "SoHo in the Sun." Art has been part of his real-estate strategy ever since, from the $250 million Aqua residences, bedecked with work by Guillermo Kuitca and Richard Tuttle, to Miami's design district, where the Robins-founded Design Miami fair (in partnership with the owner of Art Basel) has drawn crowds to otherwise deserted streets. Not coincidentally, Robins is the district's biggest landlord.
This area will also be home to his new program, headily named Art + Research. If all goes according to plan, it'll open in September 2009 with eight-to-twelve "resident artists"—who will receive full scholarships, studio space, housing, and stipends. They hope to expand it later. The University of Miami–operated venture already has an impressive roster of New Yorkers onboard. Founding faculty include artists Liam Gillick and Rirkrit Tiravanija, both of whom teach in Columbia's M.F.A. program; Yale instructor Steven Henry Madoff; and White Columns gallery director Matthew Higgs (they will all squeeze Miami tutorials into their current gigs). Former Columbia art-school dean Bruce Ferguson consulted on it. And for added star power, sitting on the board of Robins's nonprofit Anaphiel organization to guide the school are former Whitney director (and Robins's cousin) David Ross, John Baldessari, and ex–Art Basel director Sam Keller. Robins will kick in $2 million to help fund Art + Research for its first four years, and the University of Miami has promised to help raise another $2 million.
Unlike at Columbia and Yale, there won't be any formal M.F.A. degrees awarded to those who complete the two-year program, which will revolve around a topical theme that changes with each entering biannual class. Accordingly, don't expect to see the "resident artists" hunker down in front of easels and live models. "Most art is conceptually based now. It's art based on an idea," says Madoff. "It didn't turn out that the twentieth century's most influential artist was Picasso. It turned out it was Duchamp … We don't need to do foundation courses, how to draw, how to sculpt … You don't need three credits for American Art History From 1945 to the Present."
Such an approach, loosely akin to the Whitney's Independent Study Program, has its detractors. "I like Steven very much, but I think he's dead wrong," says Robert Storr, dean of Yale's School of Art. "The idea that somebody who has read all the critical literature on art can suddenly have an idea and make it is just nuts." In fact, Storr thinks knowledge of technique is central to an artist's effectiveness. "Yes, you should teach ideas. But you shouldn't teach theory and then send people off to subcontract the work to somebody else. I don't know how many times I've been in situations curatorially where somebody's had a great idea and an absolutely lousy work comes out of it because they don't know how to talk to the people who are the superior technicians in their field."
The thing is, the University of Miami already has a conventional M.F.A. program, and many of its professors wonder why Robins doesn't just support them. "To have $2 million given to this rich man's fantasy camp is more than annoying; it's a complete kick in the teeth to the art department," says UM painting professor Darby Bannard. "We are hurting so bad over here for basic facilities. I spent two years just trying to get the floor in the wood shop fixed—it was so rotted out you could put your foot through it." Bannard's own pedagogical style eschews theoretical discussions. "It's very simple," he cracks. "I teach people to paint. Inspiration is fine, but if you don't have the skills, it's not going to go anywhere."
Madoff groans out loud at that complaint. His role? "It's not classes and it's not teaching. It's advising. The founding faculty will be hovering presences. We're just going to give you a ton of information and allow you to live free in a place, have a free studio, and get to meet with other artists. Unless you're a millionaire already, who wouldn't want a two-year grant?" Indeed, Art + Research is so determined to be innovative that it's amorphous. At a certain point, Robins waves off further questions on the details of its structure. "It's not exactly clear how it's all going to work," he offers with a bright, knowing smile. "But everybody's always happy to spend time in Miami."
Lichtenstein on the Beach
How a faded resort transformed itself into a global art destination.
1983
Christo and Jeanne-Claude surround eleven Biscayne Bay islands with six and a half million square feet of pink fabric.
1984
Stylish Miami Vice premieres. The South Florida Art Center opens in the heart of crime-ridden South Beach, offering subsidized studios to local artists.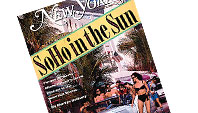 1992
South Beach attracts Gianni Versace, Roy Lichtenstein, Kenny Scharf, Jack Pierson, and Felix Gonzalez-Torres.
1993
New Yorkers Mera and Don Rubell relocate to Miami and purchase a 45,000-square-foot former DEA warehouse to house their collection.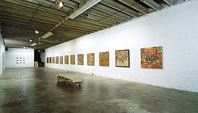 2001
The first year of the Art Basel fair is canceled after 9/11, but the Wynwood gallery area begins to take off, with Locust Projects and the Dorsch Gallery.
2006
Local grandees raid MoMA to hire curator Terry Riley to head up the new, $220 million Herzog & de Meuron–designed Miami Art Museum.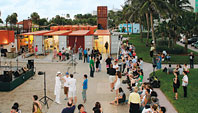 2007
Art Basel draws 43,000 visitors, 1,600 journalists, 24 satellite fairs, and general debauchery. Wynwood is home to nearly 70 art spaces.
BACKSTORY
For years, the Miami art scene was synonymous with the Cuban-exile experience—sometimes explosively so. In 1983, the Cuban Museum of Arts and Culture's first big show was "The Miami Generation: Nine Cuban-American Artists." The museum was bombed in 1988, and again in 1990, after showing artists still living in Cuba who were deemed by some to be sympathetic to Fidel Castro. But the art boom, and the arrival of an international crowd more interested in Cuba as a vacation spot, has changed that. Indeed, painter Hernan Bas, the city's reigning art "It" boy, may have been born to Cuban exiles, but that fact is not usually mentioned in his bio.