Christopher Brownfield was something of an oddity on his nuclear-powered submarine. While the other seamen hung out and watched taoks films—crew jargon for flicks involving tits, ass, ordnance, kung fu, and swordplay—the 28-year-old lieutenant was just as happy to curl up in his bunk and read T.S. Eliot. Perhaps not surprisingly, Brownfield wasn't long for the Navy.
Last October, he was honorably discharged and returned to civilian life in his New Haven bachelor pad, which, on a recent visit, looked like it had been converted into an art gallery's warehouse. Virtually every inch of wall and floor space was occupied by artwork. There were Cubist-like oil paintings, bronze statues, drawings so lifelike they could pass for photographs, and ornate collages that incorporated materials like old shirts, charred dolls, and election ballots written in Kurdish and Arabic. "They're on loan from artists in Baghdad," he explained. "I suppose I have become their agent."
Back when he still worked for the American military, Brownfield volunteered to go to Iraq, where he was stationed at the U.S. embassy in Baghdad. One day, while wandering around the Green Zone, he stumbled upon the closest thing to a museum that exists within the compound: a souvenir shop selling Persian rugs, hookahs, and a large number of oil paintings.
"The paintings were made for tourists, which means U.S. soldiers, and they featured the kind of clichéd images of Arabs and camels that would be too cheesy to make it into Lawrence of Arabia," recalls Brownfield. "But at the back of the shop I came upon a painting whose front was turned against the wall." He flipped it around to find an abstract depiction of a child holding a balloon against a collage of newspaper articles about recent suicide bombings. The painting was signed by a man named Mohammed al Hamadany. Brownfield found the shopkeeper reluctant to talk about Al Hamadany—"they were feeling me out"—but he persisted, and eventually the shopkeeper told him that he would ask the "supplier" to come with more "gallery pieces" like this one.
Several days later, Brownfield met the supplier, who, it turned out, was a painter in his own right. During the following year, the supplier—who Brownfield fears would be labeled as a collaborator and killed by extremists if he were identified—made frequent visits to the Green Zone, where he and Brownfield would meet at the souvenir shop to discuss art.
Brownfield would bring art books of American painters like John Singer Sargent and Jackson Pollock, and the supplier would unfurl his latest gallery pieces. These paintings came from several professional artists in Baghdad who, like Al Hamadany, couldn't sell their work amid the violence and were struggling to feed their families. These painters were so poor, and art supplies were so expensive in Baghdad, that their canvases often contained only the thinnest veneer of color. Indeed, on one of the few occasions that Brownfield encountered Iraqi painters in the shop, they told him that Vincent van Gogh, great as he was, used too much good paint.
Brownfield fell in love with the supplier's art, and promised to send much of it back to the U.S. and try to sell it. His smuggling technique was remarkably straightforward: the U.S. Armed Forces' postal system. At one point, clerks got wind of what he was doing and tried to stop him, suspicious that he might be looting. Brownfield said that he owned the paintings (untrue; he was just acting as a middleman), and when they became insistent, he pulled rank. "I said, 'Look, I am not going to argue with you—this is my property.' And they didn't challenge me, partly because I was a much more senior officer." Over the course of five months, Brownfield sent more than 100 paintings, as well as five drawings and two bronze statues, back to his mother's house in Detroit. On May 22, a show of all the paintings will open at the Pomegranate Gallery in Soho. He has priced them inexpensively (to make sure everything sells), and he plans to deliver all the proceeds, in cash, to the supplier when they rendezvous in Egypt later this summer.
Among the haul were paintings by Sat'aar Darweesh, whose childhood-themed canvases were once joyous but have taken on a much darker tone, and by Mohammed Hamdan, who has since (thanks to a French visa) moved to Paris. He is, Brownfield believes, the only artist among the group to have left Iraq.
As I perused the artwork in Brownfield's apartment, my attention was soon drawn to a haunting series of 25 paintings dubbed "Laylat an Nar," or "The Night of Fire," which depicts the shock-and-awe bombardment of Baghdad. The work of the same Al Hamadany who first attracted Brownfield's eye, the paintings show ghostlike faces being drawn to the windows of buildings as the city below is consumed in flames. I recently spoke with the 38-year-old artist over the phone from Baghdad. (I called his cell phone, and—rather miraculously—it worked.) It was quickly apparent, however, that Al Hamadany was distressed. "Right now, while I am speaking to you, there are rockets going over my house!" he said through a translator, Yale Near East expert Simon Samoeil. The phone crackled with static, and a great deal of commotion could be heard in the background. "The situation is very, very bad. The infrastructure is zero. Electricity is zero. I work with all the difficulties to put food on the table for my children." Al Hamadany went on to explain that he had four children and that he and his wife were expecting a fifth in just two days. It seemed inconceivable that, given the circumstances, he would want to continue with the interview. But he seemed intent on talking, so I asked him about the "Night of Fire" paintings.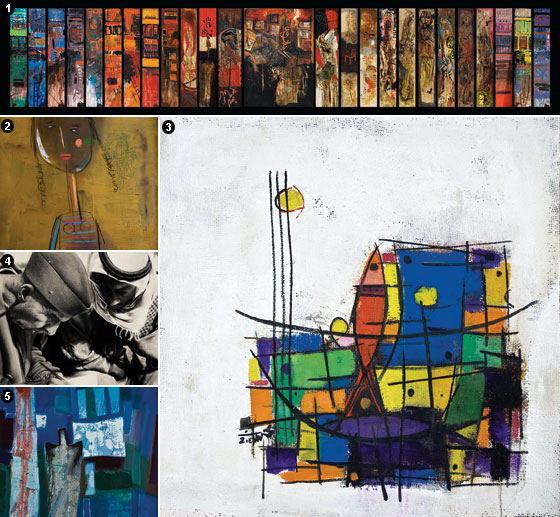 "Everything that happened in Baghdad I saw with my own eyes," said Al Hamadany. "I saw Saddam's statue when it was torn down, I saw the rape of women, I saw people stealing, I saw everything. These images were engraved in my head, and my paintings are an expression of what I saw." Al Hamadany said his brother, a former cabinet minister under Saddam Hussein, was murdered by Saddam's thugs. Hussein's presence looms in Al Hamadany's work, but in unexpected ways. In his largest canvas in the series, Al Hamadany focuses on the felling of Hussein's statue, showing a cheering crowd of monkeylike onlookers in Baghdad's central square. These were the same people, he said, who had cheered when the statue had gone up.
I asked Al Hamadany why he had been willing to trust Brownfield with so much of his work. He said that he and his fellow artists wanted to let the world know that, even in these dark times, art was still flourishing in Iraq. But barely. "Some artists are being forced to sell oranges and vegetables in the streets of Baghdad—that is how they are surviving," he told me. "Others have immigrated to the U.A.E. and are working very menial jobs, like cleaning the streets."
Brownfield, for his part, has been dipping into debt to prepare the exhibition. The project, he says, has helped him see the Iraqi conflict more clearly than he did during his months on active duty—when "I was living on a submarine and lied to." He plans to enroll in the international-studies program at Johns Hopkins this fall.
"Christopher Brownfield," says Al Hamadany, "is our bridge to the outside world."