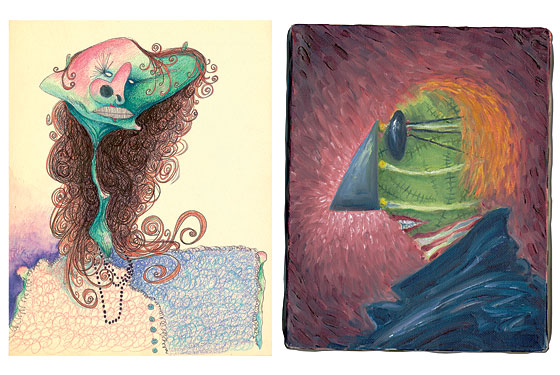 With characters ranging from Jack Skellington and Edward Scissorhands to Sweeney Todd and Batman, Tim Burton has spent his film career inventing and reinventing shadowy, mysterious anti-heroes—so much so that he's become enshrouded in his own mad-scientist persona. Our most deviously inventive director now looms like a future-gothic Dr. Frankenstein, reanimating our favorite pretty-monster Johnny Depp again and again. (Depp will next portray the Mad Hatter in 2010's Alice in Wonderland.) While not entirely off-base, that creeptastic idea of Burton has become a mask, obscuring both the creator and his craft. It's time for a clearer look, and New Yorkers can peek inside the director's secret laboratories at MoMA's retrospective "Tim Burton," opening November 22. "It's exciting and surreal and all the things that go with it," he says of the honor. "It's going to be an out-of-body experience."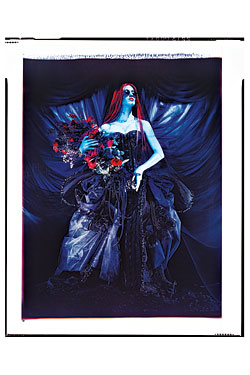 For the show, curators Jenny He and Ron Magliozzi raided Burton's curiosity cabinets for more than 500 photographs, paintings, doodles, storyboards, stories, sculptures, and sketches dating back to his student years at the California Institute of the Arts. Many have nothing to do with the films he's directed. Some are on canvas, many on notebook paper. Quite a few are on cocktail napkins. "Sometimes these things look like they're just weird," Burton says, "but I don't keep a journal or a diary. They help me to remember a certain feeling—they become time capsules."
For instance, he says his acrylic painting The Green Man (1996–1998) is a kind of self-portrait and memento mori. It's about "a feeling of being in a pub in England, thinking about my grandmother who had died, and feeling the connections she had with me." The sharp edges of the triangular blue mask invoke her death in a traumatic accident. The stitching all over the man's face is "a symbol for the internal, an indicator of a person's different sides and struggle to keep it together." The coat is classic Burton gothicism: "the exact opposite of Southern California," where he incongruously grew up. And the striped shirt? "I was depressed and disconnected. I couldn't feel my hands. I bought some striped socks and suddenly felt very connected to the Earth again." Really? Striped socks? "I have strange things happen to me." Which will come as a surprise to exactly no one.
Burton's films will, of course, be on view, but much of the pleasure of the show comes from seeing how his private work bleeds into his megaplex creations: the suddenly familiar stitches on Sally's face and body in A Nightmare Before Christmas, the striped red shirt in a powerful early sketch for Jack Nicholson's Joker. "People always say, But what does it mean? This doesn't have any meaning! Everything has meaning," says Burton. "It's just whether you can see it or not."
View the Slideshow
A Sneak Preview of the Exhibit
Tim Burton
MoMA.
November 22 through April 26.