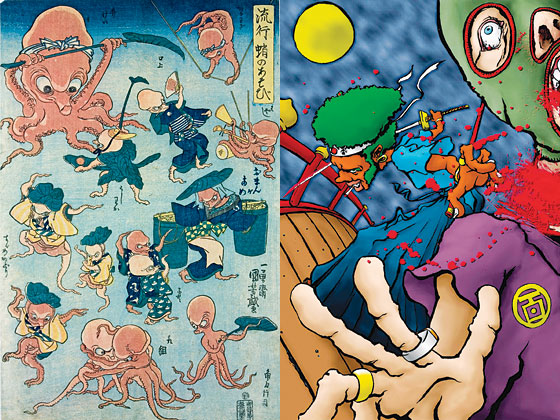 With their bold colors, graphic inventiveness, and narrative sweep, the woodblock prints of Utagawa Kuniyoshi look as fresh as this morning's manga. And not just to the unsophisticated Western eye: When I interviewed Takashi Murakami a few years ago, he mentioned the pioneering influence of the eccentric Kuniyoshi, on both manga and his own giddily off-kilter work.
In an almost 50-year career, spanning the first half of the nineteenth century, Kuniyoshi pushed across boundaries. He uses every part of the frame, deploying strong colors and powerful forms. He also works many genres: landscapes, beautiful women, actors, cats, and mythical animals, not to mention the battles of samurai and legendary heroes for which he is best known. Formally, he is brilliantly innovative: His three-panel compositions revolutionized Japanese art by spreading one image over an entire triptych. Less obviously (at least from our vantage point), he fought the censorship that was imposed in Japan in 1842, fashioning colorful scenes of monsters and demons that contain oblique symbols. They were subtle enough that the bureaucracy permitted his work to be published and widely distributed, while his knowledgeable audience could spot the subtext.
The immediacy of these prints helped attract crowds to last year's Kuniyoshi retrospective at the Royal Academy of Arts in London, and it should do the same when the exhibition comes to the Japan Society on March 12. It's nearly all drawn from the collection of Arthur R. Miller, who taught civil procedure at Harvard Law for 36 years, has moderated several acclaimed public-television series on the law, and is now a professor at NYU. "Power," he said, when I asked what it was about Kuniyoshi that initially captivated him. "I've always liked military history, and I liked the images of the samurai and the warriors." Over 30 years, Miller has acquired close to 2,000 of the 10,000 prints that the artist is thought to have produced.
Looking for a permanent home for his Kuniyoshi collection, Miller, who is 75, has donated the prints to the British Museum, which assured him that his holdings would be kept together. They also arranged for the shows at the Royal Academy and the Japan Society. Here in New York, some of the museum's own rare pictures will supplement the collector's. "Everything has exceeded my expectations," Miller says of the show. For a lover of this over-the-top, exuberantly imaginative artist, excess, you might say, is only to be expected.
Graphic Heroes, Magic Monsters
Utagawa Kuniyoshi.
Japan Society Gallery.
March 12–June 13.