On a Saturday morning in the early summer of 1988, Jean-Michel Basquiat stepped through the doorway of a bodega on South 4th Street in Williamsburg. It was a tough neighborhood back then, before the condos and restaurants arrived, and the store was a drug front. Basquiat had been hitting it up every couple of days, likely because his Manhattan source had dried up. Word on the street was that if you knew where to go, the drugs were better in Brooklyn, and rock stars and other wealthier users were starting to make the quick trip over the bridge.
Nobody there knew who Basquiat was, but, at 27, he was as famous as he'd ever be during his lifetime. His paintings had reached a then-astronomical $50,000 apiece. The Whitney and MoMA had showed him. Celebrities like Paul Simon had bought his work. In person, though, he looked ragged. He was skinny and had open sores and swollen pimples on his face. He had about $300 in his hand, and he spoke softly when he asked for his usual: "Two bundles," or twenty bags. The first few times, he'd sniffed the goods. When he'd introduced himself as "Michel," the dealer told him he'd get his ass kicked with a girl's name and said he'd call him "Mike."
As he became a regular, he'd hang around and smoke a joint with the workers in the little backyard—though the dealer, then just 18, remembers not wanting to "share saliva" because he looked so far gone. On this day, "Mike" eyed some cans of paint lying around the storefront and asked if he might do something on the steel front door. "Do whatever you want," the dealer said. "Just make sure you lock the door when you leave." Basquiat rather quickly painted a lone figure with devil's horns on the door and then left. "Mike" would return a few more times that summer, then disappear for a couple of months, and then come back one last time near the end of the summer, buying significantly less than usual.
On August 12, 1988, Jean-Michel Basquiat was found dead in his loft on Great Jones Street in Manhattan, overdosed on heroin. He'd just returned from Maui, where he'd gone cold turkey, and most of his friends believed that he (like many relapsing addicts) had lost his tolerance, turning his customary dose lethal.
The door remained on the Brooklyn storefront, and passersby now and then offered the owner money for it—once $4,000, another time $7,000—to his confusion. Eventually, around 1999, someone showed him a photograph of Basquiat in an art book. "I seen his picture, I said, Yeah, I used to sell heroin to this guy," he remembers. "I said, This is fuckin' Mike." He removed the door and put it in storage.
That's the story, anyway. It comes from the former dealer, who will go only by his first name, Alex, fearing implications in the artist's death.
Alex is now in his forties with kids, living an ordinary life. I heard about him in March 2009, when I met a woman named Anastasia at an art opening. Alex was an old friend of her father's, and she had seen the door in storage. She'd talked to the owner of 2B, the minuscule gallery–hair salon where we met, and they led me to Alex. It took well over a year's negotiation before he agreed to tell his story for publication.
Later in 2009, they had the door photographed and submitted it to the authentication committee for Basquiat's estate, which is run by the artist's septuagenarian Haitian-born father, Gerard. He is an unlikely art-world power, an accountant who never quite embraced his son's career in life but now manages it in death.
Two slides of the artwork, along with its backstory, went off to the committee by mail. An authentication like this is a one-step process: The submission is considered, and a verdict is handed down. An enormous sum was riding on the ruling. A Basquiat painting from 1981 had recently sold for $14.6 million. Julian Schnabel's 1996 Basquiat biopic starring Jeffrey Wright, the Reebok tribute collection of sneakers, a reference in a Jay-Z lyric: They all continue to boost his mystique and his prices. Michael ­Chisolm, a specialist in African, African-American, and Haitian art—but, he hastens to add, not a Basquiat expert—explains the estate's power thus: "It's a huge responsibility, because there's no recourse after that. If they say no, then it's a no."
The committee's members and advisers vary depending on who is available when a piece is being authenticated, but they have included the curators and gallerists Diego Cortez, Jeffrey Deitch, John Cheim, Richard Marshall, Fred Hoffman, and Annina Nosei (the artist's first art dealer), along with Gerard Basquiat.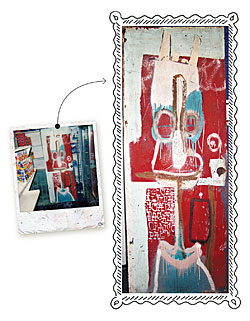 If the painting is a faux Basquiat, it would not be the first. As Phoebe Hoban reported in her biography Basquiat: A Quick Killing in Art, the FBI in 1994 investigated a matter in which Vrej Baghoomian, the dealer who represented the painter at the time of his death, had sold five fake Basquiats at a Paris art fair. Though he apparently hadn't made the fakes himself, and was never convicted, "Vrej was a big crook," says the artist Rick Prol, Basquiat's last assistant. "He got kicked out of the art world, and then he died." Another forger, Alfredo Martinez, went to jail in 2002. He had paired his counterfeits with original certificates from the Basquiat estate, which he'd obtained from the owner of the real artworks.
Authenticating Basquiat is tricky. He left unsigned scribbles all over the place: on grocery lists, on kitchen cupboards, even on a bra. "I know people who still have things he did on the walls, and [when they move], they're like, Can I get it removed?" says Fred "Fab 5 Freddy" Brathwaite, a close friend of Basquiat's.
The door painting is not signed, and it lacks Basquiat's signature symbols, like the crown or copyright trademark. It does display devil horns, which he'd painted at least once before. The saying painted on the figure's nose—YELL AN EYE FOR AN EYE—has the jangle of a Basquiat slogan. (The silver lettering at lower left is a later tag, almost surely not Basquiat's.) More than one expert pointed out that Basquiat's E's, unlike these, are usually three parallel lines, without the vertical stroke; however, paintings from his final year do contain traditional E's. They also include solitary figures, as in 1988's Riding With Death, one of Basquiat's last paintings, which shows a man riding a skeleton like a horse. Those in the know have called his later work "simple," "lazy," and "flatter and more cartoonish"—some of the same terms applied to this painting.
"I wouldn't say that it's his greatest painting, but it's not a bad one," says Kenny Scharf.
The estate said no. "This will certify that the Authentication Committee … has examined the work identified above, and is of the opinion that it is not a work by Jean-Michel Basquiat," said the letter that Alex received after six months. Its members declined to view the piece beyond the slides. The rejection included a standard disclaimer to protect the estate from lawsuits. Its decision is collective, so its members refuse to comment further. "We're talking about millions of dollars," explains Nosei, "so I can't put my name saying it is or isn't and influence someone's decision to buy it."
Most of Basquiat's former art dealers refused to comment for this story. A number of them, like Nosei, said they didn't want to have undue influence, and some also mentioned the provenance of the painting—one referred to it as "seedy." Of the qualified people who were willing to consider the painting, most were unsure. "I can't say definitively," says Franklin Sirmans, a Basquiat expert who's now the department head for contemporary art at the Los Angeles County Museum of Art. He adds that he's seen pieces that he instantly knew were fakes. "There are some [Basquiat] works that aren't as good as others and could have been made in certain moments that weren't the best, but this just doesn't give me a feeling," he says. "Of course that's not to say it couldn't be. It's possible."
A couple of people did stick their necks out. Glenn O'Brien, Basquiat's friend and the screenwriter of Downtown 81, in which Basquiat appeared, says he recognizes the painter's style and sense of humor. "I'd say his hand is evident in the main figure," he says. "If he's going to cop and there's a devil on the door, you know, that makes sense. That's very Jean-Michel." All the same, he does not dismiss the committee's ruling: "It's not like they're a disinterested party, [but] generally speaking, as far as I know, they've been really on the up-and-up."
Kenny Scharf, the street artist who grew up with Basquiat, sees in the painting a certain energy that is consistent throughout Basquiat's short career. "It looks like his work to me," he says. "It resonates this kind of energy that his line did, so that's how I can tell. He was going through obviously a lot, and it's just sadness and being alone. I see that. It goes perfectly in sync with everything he did. I wouldn't say that it's his greatest painting, but it's not a bad one."
We do know that Basquiat was falling apart in 1988. Prol helped the artist prepare for what became his final show, at the Vrej Baghoomian Gallery that spring. "He seemed like a ghost—like something was gone," remembers Prol, who had been hired by Baghoomian in hopes that he might inspire the barely functioning artist. "He didn't seem interested in anything—sex, or seeing anybody, or doing the work. He seemed very isolated and alone." That might explain its apparent lack of life force. Then again, so would forgery.
And here we get to the fundamental problem: If it's a legitimate Basquiat, it's worth a fortune to his drug dealer, a man who, some argue, was partially responsible for the artist's death. As Nosei puts it, "They killed him. To sell drugs and kill people is a crime, and they should not be rewarded." On the market, such an unsavory backstory, notes ­Chisolm, could easily be a strong selling point.
Gerard Basquiat almost certainly does not want millions of dollars going to a man who sold his son dope. The artist's drug habit was one big source of friction between father and son, who were rumored not to be speaking at the end of Jean-Michel's life. Gerard has claimed that he didn't know how bad his son's drug habit was. Never mind that, as Glenn O'Brien recalls, Jean-Michel "got these splotches on his face, so people were going around saying he had AIDS." (O'Brien adds that Basquiat was self-conscious about his bad skin, meeting with doctors about it and once showing up at the nightclub Nell's wearing an aluminum-foil mask that he kept on all night while "dancing like a madman.") Gerard allegedly kept his son's friends away from his funeral, blaming them for his overdose.
Scharf suggests that, since Basquiat's death, Gerard has tried to purify his image. "Look, I know the real everything," says Scharf about Basquiat's demimonde life. "And there seems to be a whitewashing of how he really lived. It's a big subject: Who controls a person's mythology and what is their agenda? Jean-Michel told me that a big part of his unhappiness had to do with his father. So knowing Gerard controls everything and profits, I can't help thinking about the irony. He gets to approve everything now, but he wasn't even there when all this was happening. He doesn't know what went on.
"Gerard has mostly done a good job of elevating his son's status in the world of art," continues Scharf. "It's pretty amazing—the prices—but Gerard should be more concerned about the art itself and less concerned about the life led, because you can't really change history." Gerard Basquiat refused to comment for this story.
It seems plausible that the door has been ruled inauthentic—no matter who painted it—because many who knew the artist believe that a painting from a drug den is not worthy of his canon. Simply "ugly" is what Nosei calls it. "The aesthetically meaningful pieces of Jean-Michel are projecting an idea, something special, and it's hard to look at this painting and understand the point," she says. "It's possible he did it at a point of misery, despair, and depression. But why would we want anything to do with that?"
Here's why: If it's a genuine Basquiat, it's part of his art and life, however diminished both were. "It's not a happy thought, of someone in despair and drugs at the end of their life, but that doesn't devalue the art," says Scharf. "In fact, maybe it increases it."