Keith Haring's breakthrough exhibition was at Tony Shafrazi's Soho space in 1982, and from then on his fame was secure. But that's the end, not the beginning, of the Brooklyn Museum's new show "Keith Haring 1978–1982." For the four years before that, Haring was merely one of the crowd hanging out in a church-basement rec room on St. Marks Place. It was called Club 57, named for its street address, and the Brooklyn Museum's show is devoted to the art he made during this time—the experimental sketches, collages, and video works that helped shape the pithy, singular visual language with which we've come to associate him today. It was, remembers the artist Kenny Scharf—a close friend of both Haring and Ann Magnuson, who presided over the club as den mother–artistic director—a place where "art merged with punk rock and lost its preciousness." Out in L.A., Scharf and Magnuson recently staged a small exhibition of Club 57–related photographs and ephemera at the Royal/T boutique and gallery, with an eye toward bringing the show to New York. "Suddenly, art wasn't this thing on a pedestal but something you can play with and dance with and smash. When you don't take yourself too seriously, it allows for a lot of magic and fun stuff to happen."
At the time, the club scene had its own rigid taxonomy. CBGB was for punks; Max's Kansas City, which had been for Warhol Superstars, was on its way out; the Mudd Club was for "No Wave" misfits and their hard-partying hangers-on. In the basement of that Polish church on St. Marks, yet another species thrived, one that overlapped with the Mudd Club crowd but was younger, scrappier, sillier, and more earnestly experimental than the rest. Scharf and Magnuson's crew watched monster movies, read poetry, threw doo-wop dance parties, staged musical revues, played putt-putt, mounted art shows, and, on one occasion, hosted a ladies' wrestling night where the contenders dressed up as cockroaches and nuns. Part basement den, part art gallery, part Dada cabaret, Club 57 was an ephemeral, anything-goes environment where artists and performers had carte blanche to test-drive their wildest dreams. It lasted only from 1978 to 1983. There was barely any money involved. Most events were one night only.
By day, Haring worked obsessively in his studio at the School of Visual Arts and, later, in the Lower East Side (Painting Myself Into a Corner, for instance, a 1979 video work on view at the Brooklyn, shows the artist frenziedly blanketing his studio floor with interlocking shapes until he is stuck curled up in the only unpainted patch that remained). But come dusk, he was often out on the town with fellow SVA students Scharf and John McLaughlin (a.k.a. John Sex) and his roommate at the time, artist and writer Drew Straub. They came upon Club 57 one evening in 1979 after meeting for drinks at the nearby Holiday Cocktail Lounge (which, after a long twilight, closed down just this year). Haring and his friends were drawn in by the sixties go-go music blasting form the jukebox. Magnuson popped up from behind the bar, and they all started to dance.
"My vision was that it was like a giant television set," Magnuson says, "and every night is a different channel." She fielded ideas from friends and friends of friends. "It was one gigantic Yes!" she says. "There were no barriers to what you did as long as you could do it on little to no money."
Regulars got cards declaring they were "members," a technicality that allowed Club 57 to serve liquor. Magnuson stocked the bar with three or four bottles of miscellaneous booze, plus beer bought in bulk from nearby discounters. The minuscule budget was less hindrance than challenge, forcing artists and performers to get creative with the very few resources they had. Sets were crafted out of cardboard boxes and furniture plucked off East Village curbs and tossed out yet again immediately after the show. Props came from thrift stores and often went back the next day.
During Club 57's short heyday, Haring would hop onstage and read poems in Morse code; Scharf and Straub performed as the Batusi Brothers, the world's cheesiest nightclub act; Klaus Nomi fine-tuned his glam-rock persona; and Magnuson developed an alter ego named Anoushka, a sultry Russian lounge singer for whom the crowd went mad. Found refrigerator boxes were transformed into a shantytown and putt-putt course; the Magnuson-helmed Ladies Auxiliary Club of the Lower East Side hosted proms and sleepover parties; and John Sex offered up an avant-garde take on burlesque.
Haring had his first New York art show at Club 57 and curated many others, including a sex-themed exhibition that happened to be up when the bishop of the church upstairs paid his "youth group" a rare visit. "I just remember everyone scrambling, screaming, 'Take down the penises!' " Scharf says with a laugh. Magnuson, fortunately, swooped in and escorted him out before he saw too much.
Things started to change around 1982. Steve Mass, proprietor of the significantly more profitable Mudd Club, hired away several regulars, Scharf and Haring among them. Magnuson left New York to be in movies. Haring's energetic subway drawings found a following, and he was signed to Shafrazi. International acclaim followed. "Suddenly money got in the picture, and that changed everything," Scharf says. "It created a bit of a panic with everyone. Like, 'Oh boy, I better get on that train before that train is gone.' Money kind of ruined it." Then aids. (Haring died in 1990, at 31.)
When it comes to Keith, what Magnuson remembers most is his giving nature. "At the beginning, no one had any money, so he would trade or give his art away. One of our Club 57 core members recently sold a piece of his to pay off their house. We knew he would have been okay with that. He loved hanging out with Andy Warhol and all that, but he'd give you the shirt off his back. Usually the one with the radiant baby on it."
Keith Haring 1978–1982
Brooklyn Museum. Through July 8.
Drew Straub and Kenny Scharf, performing as the Batusi Brothers. Photo: Robert Carrithers
Checking in at Club 57. Photo: Harvey Wang
The events calendar for August 1980. Calendar design " Ann Magnuson
Ann Magnuson works the door. Photo: Harvey Wang
Performer Klaus Nomi. Photo: Harvey Wang
Keith Haring onstage in 1980. Photo: Joseph Szkodzinski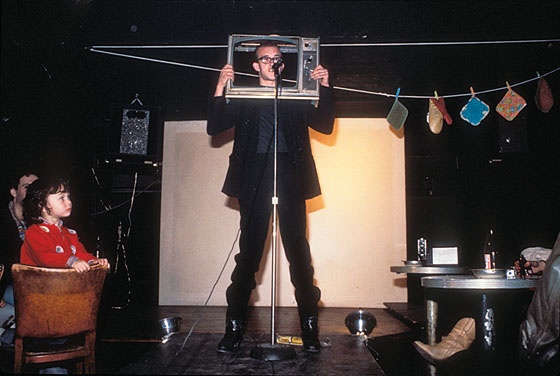 The club's logo. Photo: Kenny Scharf/Courtesy of Ann Magnuson