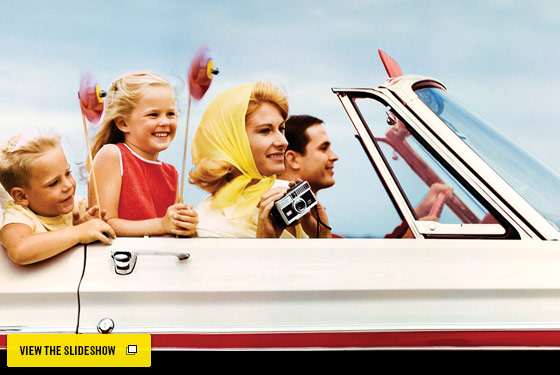 It used to be that if you wanted to see the world's largest photograph, all you had to do was take a train to Grand Central Terminal. For 40 years starting in 1950, the concourse's east balcony, where the Apple store is today, held a backlit display of an immense color slide advertising Eastman Kodak. Called the Colorama, it was a transparency 60 feet long and 18 feet high, assembled out of huge sheets of Ektacolor film, a bravura piece of analog technology. The images themselves were, of course, impossibly perfect Kodak moments: a stylish family in a convertible cruising on a Texas highway, a lineup of happy babies on a blanket, a cool swimming pool on a hot day. There may have been a slight bias in favor of New York State scenes. (After all, Grand Central's trains ran straight up to Rochester, Kodak's hometown.)
Over the decades, the big glowing billboard came to be seen not as a great piece of Americana but as kitsch unworthy of the terminal's Beaux-Arts architecture. When it was removed in 1990, few tears were shed, except maybe at Kodak. But the photographs themselves were preserved, and this week they'll return to Grand Central, where they'll be on view through November 1. They'll be displayed at the New York Transit Museum's annex in six-foot-wide prints, big enough to give some sense of their original scale. Walk in close and let them fill your field of vision for the full effect. And bring your camera.

This story appeared in the July 30, 2012 issue of New York Magazine.

Texas, 1968. Photo: Jim Pond/" Eastman Kodak Co. and Courtesy of George Eastman House

Oregon, 1961. Photo: Ansel Adams/" Eastman Kodak Co. and Courtesy of George Eastman House

Alps Skiers with airplane, near the Matterhorn in Switzerland, displayed January 27"February 17, 1964. Photo: Neil Montanus/" Eastman Kodak Co. and Courtesy of George Eastman House

Cabin and canoe, Saddleback Lake, Maine, displayed September 16"October 7, 1968. Photo: Herbert Archer/" Eastman Kodak Co. and Courtesy of George Eastman House

Cowboys in Grand Tetons, Wyoming, displayed October 5"26, 1964. Photo: Herbert Archer & J. Hood/" Eastman Kodak Co. and Courtesy of George Eastman House

Discotheque, displayed February 13"March 3, 1967. Photo: Neil Montanus/" Eastman Kodak Co. and Courtesy of George Eastman House

Fall scene and seaplane, Lake Placid, New York, displayed October 10"31, 1966. Photo: Lee Howick/" Eastman Kodak Co. and Courtesy of George Eastman House

Junior Miss Pageant, Bellingrath Gardens, Mobile, Alabama, displayed March 9"30, 1964. Photo: Lee Howick/" Eastman Kodak Co. and Courtesy of George Eastman House

Machu Picchu, Peru, displayed August 24"September 14, 1964. Photo: Peter Gales/" Eastman Kodak Co. and Courtesy of George Eastman House

Pirate's Cove, Paradise Island, Nassau, Bahamas, displayed January 10"31, 1966. Photo: Hank Mayer/" Eastman Kodak Co. and Courtesy of George Eastman House

Swimming Pool, Rochester, NY, displayed July 17"August 8, 1960. Photo: Charlie Baker/" Eastman Kodak Co. and Courtesy of George Eastman House

Taj Mahal, Agra, India, displayed June 1"22, 1964. Photo: Norm Kerr/" Eastman Kodak Co. and Courtesy of George Eastman House

Waterskiers, Cypress Gardens, Florida, displayed August 5"26, 1968. Photo: Hank Mayer/" Eastman Kodak Co. and Courtesy of George Eastman House