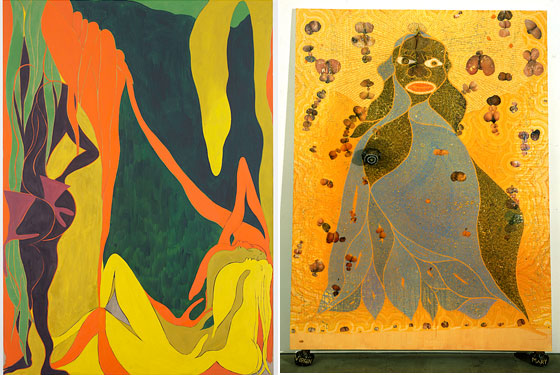 Chris Ofili's suave, stippled, visually tricked-out paintings of the nineties, with their allover fields of shimmering dots and clumps of dung, are like cave paintings of modern life. They crackle with optical cockiness, love, and massive amounts of painterly mojo. I sometimes imagine these paintings as blinged-out pimps from other dimensions, wearing feathered hats and flashy furs, striding into rooms, wanting to dance. They seem ludicrous, dangerous, almost psychotic. Looking at one of these painted peacocks is like looking at a van Eyck, like you're seeing a fizzy new reality. Sometimes the dots turn into thousands of eyes, other times they go hallucinogenic.
Brian Eno famously bemoaned the lack of Africa in high-tech music. In the nineties, Ofili not only dipped into Western art history, high modernism, and pop culture, but he also put a lot of Africa into his art. His stunning 2005 show of 175 watercolor portraits at the Studio Museum in Harlem was called "Afro Muses." Canvases have been titled Afrodizzia, Afromantics, and Afro Jezebel, as well as Seven Bitches Tossing Their Pussies Before the Divine Dung, The Adoration of Captain Shit and the Legend of the Black Stars, and Pimpin' ain't easy, this last with a black penis, blubber lips, and bugeyes, surrounded by male hip-hop artists and clumps of elephant dung.
In 2000, Ofili said, "I always think of the work as coming out of hip-hop culture … looking at things with no hierarchy … I am trying to bring in, not everything, but a lot of the stuff that has been left out … to bring something up out of the rubble that's pleasing to look at." Not only are many of Ofili's painting's "pleasing to look at," but they act as conduits to his consciousness, the "rubble," and the collective memory of painting itself. A good Ofili brings to mind Funkadelic album covers, William Blake, Zimbabwe rock painting, Sigmar Polke, Brazilian bead work, Op Art, carnival posters, Celestial Seasonings packages, Haitian voodoo figures, Australian Aborigine "dot paintings," and Post-Impressionistic pointillism. Yet Ofili isn't just some neo-primitive witch doctor folk-artist magician (except to the extent that all artists are). For me, Ofili and his good friend Peter Doig are the twin peaks of nineties' English painting. Ofili put painting to some of its oldest uses: ancestor worship and defying taboo.
Particularly the latter. As you probably remember, in 1999, Rudy Giuliani went bananas over The Holy Virgin Mary, then a part of the "Sensation" exhibition at the Brooklyn Museum. Virgin Mary depicts an undulating black female visage hovering in a dazzling field of enamel dots. Surrounded by cutouts of female genitalia and other body parts, she opens her glowing gown to reveal a black breast fashioned of elephant dung and ornamented with colored pins. The painting rests atop two more clumps of scat, festooned with pins spelling the words virgin and mary. (During the ensuing madness, everyone described the dung as "flung." In fact, the stuff—considered sacred and regenerative in some cultures, literally "holy shit"—was carefully placed and lovingly decorated.) The unspoken taboo was that Ofili, a black artist born in England to Nigerian parents, had Africanized a usually white icon. Ofili brilliantly and beautifully de-Westernized this most Western of images, imbuing her with her customary beneficent goodness but allowing her to exist in a much wider iconographic realm.
Ofili's first big New York gallery exhibition since the "Sensation" blowup finds him in free fall. The show is very large, very uneven, and very transitional. Installed in two of David Zwirner's enormous spaces, the exhibition has a juicy sex-death- religion-food quadruple-entendre title, "Devil's Pie," taken from the D'Angelo single, which contains the lyric "Fuck the slice/We want the pie." The show consists of fifteen paintings, six sculptures (a couple of them hideous if interestingly outlandish), a glorious suite of eleven prints depicting Judas kissing Jesus, and ten typically rhapsodic drawings. Most of the work has religious subject matter. We see angels, devils, Lazarus with an erection as he's raised from the dead, and Judas Iscariot hanging himself. Deeper themes include sin, salvation, temptation, and death. But subject matter takes a back seat. The real content of "Devil's Pie" is the change in Ofili's work.
Previously, Ofili unified his paintings in two effective ways. Early on, the fields of multicolored enamel dots over figures and abstract patterns created shimmering, Pollock-style curtains of unifying color, like mesmerizing magic carpets. It was as if Ofili were a savvy street drummer beating out a highly coded visual rhythm. The idiom reached its zenith in 2002 with the spectacular Upper Room, a chapel-like installation featuring thirteen large paintings of rhesus monkeys, said to be stand-ins for Christ and his disciples. Then, in 2005, Ofili and his family left England and settled in Trinidad (as had the Doigs, a couple of years earlier). Once there, Ofili discarded the dung and the dots and began producing a series of darkly lit works titled "The Blue Rider." The surfaces of these paintings were unified via very close, almost monochromatic fields of black, dark blue, and silver. The paintings were no longer like tapestries and instead became landscapes of pigment, as if covered in magma. Values were so close that it was as if you were looking at these works in moonlight; they were like songs that play in your head and drift in and out of consciousness.
Except for two brooding "Blue Rider"–like beauties, Ofili has abandoned this device as well. In "Devil's Pie," he's employing a more motley, discordant palette. Compositions are jagged and fragmentary; surfaces are jigsaws of thinly painted, saturated color; subject matter, while ardent, doesn't knit the pictures together. Instead, there are strange traces of all sorts of art-historical DNA, including Jazz Age graphics, various early-twentieth-century modernist styles, Lyonel Feininger, stained glass, Ludwig Kirchner, Romare Bearden, Art Nouveau, Jacob Lawrence, and Bob Thompson. It's like he's a black Matisse or Gauguin. The compositional flatness, handling of space, staining, and off-colors also bring Doig to mind.
As always, Ofili's deft drawing structures every move. Areas of paint are expertly laid down and held in place by carefully applied pinstripes of contrasting color. A narrow band of thalo green delineates a black coat sleeve, a gray line defines an arm, and so on. Ofili details these pictures the way car buffs detail their cars, and that lends the work a contemporary feel and creates optical pop. Still, the overall disunity causes the paintings to devolve into fragments or, occasionally worse, into poster design.
Some have said that Ofili has been living too far from the art world for too long, and that no one is saying no to him anymore. But Ofili, always a maverick, may be trying to see where only saying yes will lead. He knows this will mean periods of unevenness—now being one of those periods. Yet amid intense critical scrutiny and the distorting glare of the market, Ofili is doing something quite bold: He's giving up his formulas and looking for new forms. Cynics will say all the work will sell anyway. Perhaps, but this kind of jadedness dismisses an artist for all the wrong reasons. Obviously, an unknown painter couldn't mount a show this big and uneven at this gallery. In "Devil's Pie," Ofili is asking us to understand that an artist's work is not only about a slice but about the whole pie—about a long journey and the big picture. He wants you to see the arc of a career, the experimental parts, not just chart-toppers. Ofili is trying to create his own history and context, and I would take any drawing or print here. Additionally, four of the paintings suggest numerous ways through the perilous straits he finds himself in. Two canvases have rich swirling surfaces of aluminum paint; another is layered with collage atop a surface of aluminum foil. Ofili is still a champion. It would be a huge mistake to think otherwise.
BACKSTORY
Chris Ofili may have abandoned his signature medium for the time being, but where does Ofili get his steady supply of dung? He brought his first batch back from Zimbabwe, then enlisted the help of the traveling German spectacular known as Circus Krone. Lately, though, Ofili's primary supplier has been the London Zoo. Elephants Mya, Layang Layang, and Dilberta have helped him churn out (so to speak) many of his best-known works. To thank his thick-skinned supporters, Ofili donated a painting to the Zoological Society of London in 2002, which in turn auctioned the piece, taking in $105,000. It's a shame the society didn't wait a few years—in 2005, Ofili's Afrodizzia sold for more than $1 million.
Devil's Pie
Chris Ofili. David Zwirner. Through November 3.