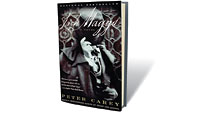 Jack Maggs (1998)
Carey's complex reshuffling of the world—both fictional and real—of Great Expectations. The action follows Maggs, a convict returning to London illegally after years of Australian exile. Via a brisk plot humorously soaked in Victoriana (colorful characters, busy coincidences, winding sentences), Maggs ends up telling his life story to a Dickens stand-in called Tobias Oates, an uncouth little dandy with a crooked smile, an insatiable need for love, and a secret obsession with his wife's sister. — S.A.
True History of the Kelly Gang (2000)
Ned Kelly was an Australian folk hero—bushranger, bank robber, and anti-colonial rebel. Carey's novel pretends to reproduce the outlaw's fictional autobiography, written on the run (in shacks, under his coat in rainstorms) for the benefit of his newborn daughter: "My dear daughter you are presently too young to understand a word I write but this history is for you and will contain no single lie may I burn in Hell if I speak false." It's a virtuoso performance of both tone and plot. Carey's Kelly writes in a lightly punctuated gallop of rough outback poetry that manages to be beautiful, touching, brisk, and funny: "At night every river has a secret twin a ghost of air washing above the living water down towards the sea I arrived at a flat white gravel bed where our shallow creek joined the river and there I felt the cold air on my cheek and with it an unholy smell it were poor Joe Byrne he were afflicted by the diarrhoea." The novel won Carey his second Booker, an honor he shares with only J. M. Coetzee. — S.A.
My Life As a Fake (2003)
Carey's eighth novel begins with a quote from Mary Shelley's Frankenstein and ends with an author's note about Australia's Ern Malley hoax, whereby two forties poets invented an absurdly modernist contemporary and got him published in a leading journal, whose editor was then prosecuted for indecency. The 286 pages in between are almost impossibly stuffed with incidence and significance: Thirty years after a similar hoax, a British editor meets the perpetrator in darkest postcolonial Indonesia, who tells of his comeuppance at the hands of the poet-monster come to life. Both, driven by obsession, are the most unreliable of narrators. A wildly digressive pastiche straining comprehension, saved by its linguistic and thematic brilliance. — B.K.