Before he revealed himself to be a cultural phenomenon on par with the Beatles, Brown had other ambitions, like being Barry Manilow.
1) What Child Is This? Dan Brown is born in 1964, to a math teacher at Phillips Exeter Academy and a church organist. A choirboy, he begins high school in 1978 on the campus where he was raised. He receives a C– on his first English paper (about the Grand Canyon). Teacher's advice: "Simpler is better."
2) Blood Line: A nonfiction book called Holy Blood, Holy Grail is published in 1982, just as Brown begins college at Amherst. Its authors put forth the hypothesis that Jesus Christ married Mary Magdalene, and that their descendants founded the Merovingian dynasty in France. Scholars scoff, but critic-novelist Anthony Burgess writes, "I can only see this as a marvellous theme for a novel."
3) Prodigal Son: After Amherst, Brown strikes out for L.A and releases a self-titled CD with such songs as "976-Love." Some compare him to Barry Manilow. In 1993, he returns to Exeter to teach English, abandoning his music career but bringing his manager and future wife. She helps him publish a book, under the pseudonym Danielle Brown: 187 Men to Avoid: A Survival Guide for the Romantically Frustrated Woman.
4) Immaculate Conception: On vacation in 1993, Brown reads Sidney Sheldon's The Doomsday Conspiracy and decides he can do as well. But he needs a hook. He'll later claim that, in 1995, the Secret Service raided Exeter, investigating a student who e-mailed that Bill Clinton "should be shot." Brown writes a techno-thriller called Digital Fortress, and quits teaching in 1996.
5) The Wilderness: St. Martin's Press publishes Digital Fortress in 1998. Kirkus calls it "inordinately complicated but reasonably exciting." The book sells only a few thousand copies, but Brown gets press for bringing to light a perceived threat to e-mail security. Cliffhangers and controversy: The Dan Brown formula is born.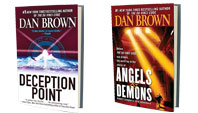 6) The Good Samaritan: Pocket Books buys Brown's next two books: Angels & Demons, starring geeky-dashing Harvard symbologist Robert Langdon, and a "palate cleanser" called Deception Point. But his editor leaves, stranding Brown—until Jason Kaufman arrives to take over Angels & Demons. Both books sell dismally, but Kaufman is excited by Brown's next project, which continues the symbologist's saga, yet uses the same premise as Holy Blood, Holy Grail. In fact, when Kaufman leaves Pocket for Doubleday, he insists that Brown be allowed to come with him.
7) The Word: Doubleday publisher Stephen Rubin not only agrees but, after reading a 60-page proposal, ponies up $400,000 for Brown's next two books. It's a gamble—they all breathe easier, though, when Janet Maslin writes in her Times review that "the word for The Da Vinci Code … is wow."
8) The Money-Changers: The Code explodes, staying on the Times best-seller list for 136 weeks. Foreign rights sell in a frenzy that will last through 2008, with the licensing of a Uighur-language edition. Under Rubin, Doubleday blows up, too, spending blockbuster money left and right. Brown's follow-up—another Langdon book—is scheduled for 2005.
9) Cardinal Sins? But the Code phenomenon proves hard to control. The Vatican even appoints a cardinal to rebut the book's assertions. Two plagiarism cases consume Brown (including one from the writers of Holy Blood), though he wins both. The publication of his next book (tentatively titled The Solomon Key) is pushed back.
10) The Deposition: The Da Vinci movie, starring Tom Hanks, has a good opening weekend in 2006. Angels & Demons, the prequel, is released in 2009 to less-impressive effect. Still, total worldwide grosses for the two exceed $1 billion. But where's The Solomon Key? Even as lawsuits publicize details of Brown's writing habits (waking at four and breaking for calisthenics every hour), the writer himself retreats.
11) Revelation: Finally, in January 2008, following a flurry of "Where's Dan Brown?" coverage, Rubin says a date is set for the book, but remains cryptic: "Dan Brown has a very specific release date for the publication of his new book," he tells The Wall Street Journal, "and when the book is published, his readers will see why."
12) Resurrection? In October 2008, Doubleday sheds 10 percent of its workforce; reps deny that Dan Brown's delay was a factor. A month later, the imprint is merged with Knopf, with Rubin later given the post of "publisher at large." The following April, they announce a release date (September 15) and title (The Lost Symbol). Two weeks from pub date, Amazon announces on its front page that its "stockpile" is "under 24-hour guard."