Illustrations by Charles Burns
You know Charles Burns for his epic black-and-white body-horror comic Black Hole (or his portraits on the covers of The Believer). This month, Pantheon publishes Burns's X'ed Out ($19.95), and he makes the most of his first full-color graphic novel: Blank-faced teens and fetal pigs have never looked more vibrant. The book takes place in two worlds: the seventies "real world" of our hero, Doug, an art student obsessed with William S. Burroughs, and the alien land where Nitnit, Doug's alter ego, travels with a mysterious, diapered guide. X'ed Out is the first of a planned three-book series, and in it, these parallel worlds begin to converge in tantalizing ways, as Doug becomes infatuated with a girl and Nitnit discovers her doppelgänger. It's a gorgeous head trip, equally indebted to Tintin artist Hergé, one of Burns's childhood inspirations, and Burroughs, whom Burns read avidly as a punk-listening art student in the seventies. Burns agreed to annotate a page of X'ed Out.
Illustrations by Charles Burns. Courtesy of Random House (X'ed Out); Courtesy of Hachette Book Group (Tin Tin)
The world where Nitnit lives is straight out of William S. Burroughs, populated by lizard-men and cyclopes. "Naked Lunch was originally called The Interzone"an agglomeration of places that Burroughs had visited, Mexico or New Orleans or Tangier," Burns explains. "Where Nitnit is wandering is a reflection of that, vaguely Middle Eastern"looking but full of diverse elements, like punk-rock posters on the wall." (Those posters, by the way, are lettered in one of several alien alphabets Burns developed for this story.) On this page of the book, Nitnit's and Doug's worlds intersect for the first time.
"Doug's father is rendered the way I would typically draw. Nitnit is in a more simplified, cartoony style, as you would find by Hergé. The two different styles play off each other, just like the two different threads of story play off each other."
It's no accident that the purple bathrobe appears in both worlds. "I like playing with this idea of slippage, from one story to the other."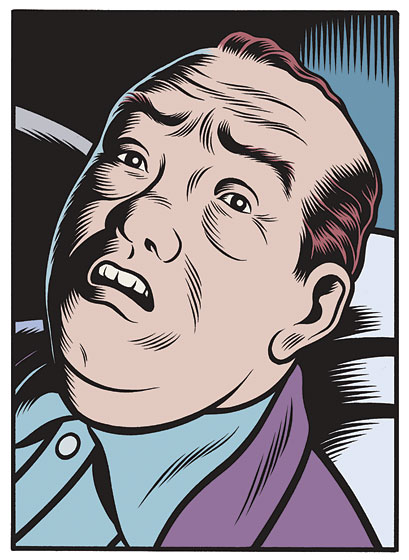 "I don't know exactly where he came from," Burns says with a laugh about the mysterious guide in Nitnit's world. "He's got diapers, a backpack that's got punk buttons on it. You can't tell whether he's young or old, but he's kind of a street urchin. I haven't figured out what to call him."
Nitnit's name"and shock of hair"betray his origins. "Golden Books put out six of the Tintin books in English. This was before I could read, but I was looking at them very carefully. The books' endpapers were filled with images from other Tintin stories that hadn't been translated. I studied these endlessly. There was a little sentence on the back of each book that said, "Look for future titles.' I kept looking but they never came."
"Something that is unique to comics is that you can play with the rhythm on a page. I wanted to tell a story with all these hiccups and odd turns but within a very rigid [three-by-three] grid structure." So Burns can add this two-panel cinematic pan upward, as Nitnit refuses to look at Doug's father, and the following all-gray panel that signifies a switch from one world to the other.