The Tiger's Wife
The young writer Téa Obreht's widely praised debut novel, made up of interwoven Balkan tales of dark magic. It features a dancing bear, a poetry-reciting parrot, and a tiger on the loose. The story centers on a young doctor's search to better understand what happened to her grandfather, also a doctor, who was obsessed with The Jungle Book and took the narrator to the zoo every week. Obreht wrote the book in part to deal with her own grandfather's death, and spent research time watching the Siberian tigers at the Syracuse zoo.
Tiger, Tiger
The young writer Margaux Fragoso's widely discussed, darkly sympathetic memoir of her fifteen-year relationship with a pedophile, whom she met when she was 7. His purple-shingled, child-beguiling home featured year-round Christmas decorations and a raft of indoor birds, rodents, and reptiles, as well as a sense that nudity was permitted given that they were "animals in the jungle." She visited him weekly; he bought her milkshakes and praised her ability to arouse. He eventually killed himself.
Battle Hymn of the Tiger Mother
The Yale law professor Amy Chua's widely criticized, notably unempathetic memoir/manual about raising kids who are not Disney-addled losers made soft by too much praise. Her children's homemade birthday cards come in for criticism, as do the family's pet rabbits (they're "unintelligent"). Her would-be winners are A students—one just got into Harvard—and musical prodigies, undistracted by school plays or computer games. She ultimately admits that she's "not good at enjoying life" herself.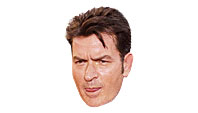 Tiger Blood
The celebrity train wreck Charlie Sheen's much-tweeted explanation for what enables him, biologically, to smoke lots of crack without addiction, in addition to his other winning attributes. It's also the name on amateurishly relabeled bottles of Xango Juice that he's been spotted drinking in public. Perhaps more relevantly, Tigerblood is also the name of a brand of anabolic steroids. Sheen has filed to trademark the phrase. He seems to have few problems enjoying life.