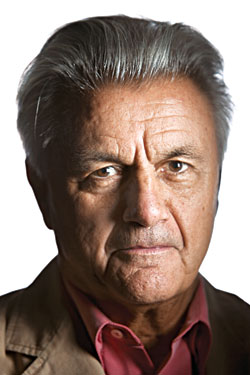 'This is why I have a gun," says John Irving, between bites of expensive roast quail at the Inn at West View Farm, which is a winding ten-minute drive from his house in Dorset, Vermont. Even his agent and second wife, Janet Turnbull, eagerly awaits the answer; tonight is the first she's heard of the twenty-gauge shotgun he keeps in his office. "The critters," he says finally, before launching into a story bearing all the hallmarks of his novels: digressive, violent, laden with symbolism, and exaggerated almost beyond credibility.
Late one night, it seems, the family's English chocolate lab, Dickens, was making some plaintive sounds in the garage. Irving investigated and found Dickens pierced with a dozen quills, courtesy of—he swears—a 70-pound porcupine. "So what should I do? Do I use the shotgun and scare my sleeping family?" asks the 67-year-old author. He opted instead for a baseball bat, which he used to bludgeon the animal to death, incurring several quill-stabbings himself.
His slim, elegant wife slowly shakes her head. "There was blood everywhere—all over the walls and the cars. What a mess," she says. "But I still didn't know you had a gun. Is it loaded?" "No," he says, with an oh-please expression. "The shells are somewhere in a drawer far away. It would take a long time to put it all together." (That the story does not illustrate the need for a gun seems beside the point.)
To those familiar with John Irving's tragicomic, operatic novels—from his 1968 debut, Setting Free the Bears, through The World According to Garp, which made him rich and famous ten years later, to Until I Find You, his most autobiographical—the existence of weapons, and their use, is a given. In his latest, Last Night at Twisted River, there is, yes, a twenty-gauge shotgun, but also a Colt .45, a cast-iron skillet, a vicious German shepherd, and a possibly driverless blue Mustang.
The bones of Irving's twelfth novel—a return to rich but tight plotting following the sprawl of Until I Find You—involve the Baciagalupos, a cook and his son who flee from a wild New Hampshire logging town, rediscover their Boston Italian roots, and spend their lives dodging a vengeful sheriff. The son, Danny—like a few Irving stand-ins before him—becomes a writer.
"That premise has been on my mind for, oh, maybe twenty years," Irving says during an interview in his custom-built mountaintop home, which contains a massive den covered with a 24-foot-square wrestling mat. An ex-wrestler whose arm bears a tattoo of a wrestler's starting circle (as well as a maple leaf and the names of his wife and children), he's passed his passion on to his characters (most notably Garp) and two of his three sons: The den's walls feature sequences of photos from their matches—and, as if in counterpoint, shots of his youngest son's theater performances (Carousel, Antigone). Wrestling pops up again in Last Night, alongside other favorite themes. Irving has been reticent about the sources of his obsessions—fatherless children, bears, Vienna, taboo sex, and writers of autobiographical fiction. He still protests loudly that he's nothing like Garp. But when Until I Find You was released in 2005, Irving gave a round of interviews discussing its twin inspirations: his longing for his biological father and Irving's sexual initiation, at age 11, by a woman in her twenties.
Last Night also returns to Irving's alma maters and home state. Danny Baciagalupo attends Exeter, the University of New Hampshire, and the Iowa Writer's Workshop—before settling in Vermont and later Toronto (where Irving lives part-time with the Canadian Turnbull). The Irvings even made a trek through a blizzard to an island in Lake Huron, where Irving has a writing cabin, to photograph the gnarled tree on the book's cover. "I tried to have fun with the self-referential stuff," he says. "I felt the need to be a little playful, because there were autobiographical parts of the last novel that were difficult for me."
The metafiction in Last Night is really about what makes someone a writer. Danny's vivid books and adventures are an Irvingized version of the author's own development. There is Danny's Vietnam novel (like Irving's A Prayer for Owen Meany), his abortion novel (The Cider House Rules), verbatim advice from real-life mentor Kurt Vonnegut, journalists asking annoying questions, and a poignant scene that is so important—and so uncomfortable—that Danny can only relive it by recasting it as fiction. Irving has experienced similar moments. Writing "comes from that moment as a young person when you wish you weren't there," he says. "This is good, I could use it, I just wish it weren't happening to me."
The prickly beast here has no actual quills. Ketchum (just Ketchum) is a bear-hunting logger whose extreme libertarianism perfectly embodies New Hampshire's motto, "Live free or die." Irving describes the family friend of the Baciagalupos as "the glue" of the novel. But there is no "real" Ketchum. "I look at him as a type of American I've known all my life," says Irving. "I purposely chose to make him an extinct species—there are no more river drivers. He belongs to something that was thrown away. And he's still angry about it."
Between rants against Republicans and hippies alike, Ketchum plays both godfather and political id to the motherless Danny. Prodded by journalists about why he lives in Toronto (in protest of Bush's policies?), Danny feeds them rote political tirades about Iraq. "He was getting tired of denying it," Irving writes. "Also, sounding like Ketchum was easier."
Irving himself needs little prodding to lay out his politics—strong liberalism shot through with a dollop of Ketchum. Asked, at dinner, why he opposed a Vermont law equalizing education funding (at the time, he caught heavy flak for referencing "trailer-park envy"), he's off on a long tangent about the perfidies of Howard Dean ("He's no liberal"), Al Gore's cowardice, anti-health-care-reform Democrats with "their dicks between their legs," and "fucking teachers unions." His voice rises, giving diners a hearty sampling of his unique accent: equal parts upscale Yankee and raspy bruiser. The inn's owners, whom he thanks in Last Night's acknowledgments, indulge him as a regular—and they've probably heard it all before.
In fiction, Last Night included, Irving has wisely given political rants to sympathetic but unreliable narrators, like John Wheelwright in Owen Meany. And in general, for all the stormy exuberance of his books, there's a hard-won distance from the source material and a careful control over the plot and language—a balance that divides critics but not his rabid and numerous fans (more than 10 million copies sold, by his rough estimate). "Whether it's a political anger," he says, "or an emotional, sexual, psychological anger, my instinct is, wait long enough so you know the difference between the things you should still be angry about and the things I just have to let go. Also, the longer you wait, the more liberties you can take with the memoirist's so-called truth."
Irving's writer friends include Michael Ondaatje, Salman Rushdie, and Edmund White, the gay writer who never met a sexual conquest he didn't set down in graphic detail. Irving offered a rare blurb for City Boy, White's new memoir of sexual awakening—a two-page encomium that became the book's introduction. He says White's novel A Boy's Own Story is everything The Catcher in the Rye should have been (he's not a fan of Salinger, or Hemingway, or Wolfe, or Pynchon, or most novelists after Dickens).
This past summer, Irving wrote to White about an important memory he had. "He said, 'Oh, God, you should write a memoir,' " Irving remembers. "I said, 'I can never write memoirs like you do, because as soon as I begin to like something that is autobiographical, the next thing you know, I have a novel.' "
What Irving had remembered was sitting in the wings of a theater where his mother worked as a prompter, watching a play from a unique perspective: "You may only have a partial view of the stage, but you know every line that everyone's going to say." The moment proved formative for a writer who, in fictionalizing life, stage-manages it obsessively, fixing his characters in place before he even puts down a word. Irving always knows exactly what's going to happen, because he starts with the last sentence. He boasts that he has changed a closing sentence in only one of his novels. Asked if the term "control freak" sounds like an insult, he laughs long and hard. "Not to me!"
The scene has since worked its way into Irving's novel-in-progress, which he might call In One Person, from a speech in Richard II. Irving sympathizes with the doomed, wordy tyrant, one of Shakespeare's most tragic control freaks. "I always thought part of his problem is he should never have been a king. He should have been a poet."