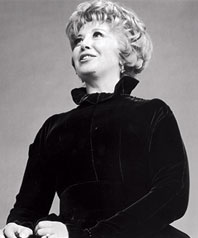 Beverly Sills ended her singing career as she did her recitals, with a fragile Portuguese folk song she'd learned at the age of 10. After the millions of notes she had uttered in that twirling, diamond-studded lariat of a voice, after all the colossal passions she had reenacted—mad scenes, flamboyant lamentations, suicidal soliloquies—she spent those final minutes in 1980 with a simple, touching tune.
Sills, who died last week at 78, made her living by dazzling. There were other fine sopranos in her day, but none was such an instinctive entertainer. YouTube yields a movie clip of an alarmingly adorable 7-year-old Belle Miriam Silverman, a.k.a. "Bubbles," tossing off an Italian aria. Already you can see the kernel of an operatic queen—the pinprick staccatos and insouciant phrasing, that light, nimble voice. And already she is a creature of the camera.
She was an amphibious performer, equally at home on the lyric stage and on TV. Alongside Danny Kaye, Carol Burnett, and various Muppets, she gave elegant parodies of her profession, without ever becoming ridiculous. In the live broadcasts she hosted from Lincoln Center, her natural unsnobbishness made a strong argument for the wide appeal of the high arts.
Sills took her work far more seriously than she took herself. She sang each role with total devotion, but also with a smile that communicated a subversive thought: What makes opera magical also makes it a little silly. Sills gave the impression that she could don the tiara, plunge into her tragic scena, then sweep offstage on a flood of applause and break up a stagehand with a Brooklyn wisecrack. Even in the desperate mad scene from Lucia di Lammermoor, she looked like she was having a blast.
On that last night in 1980, on the stage of her home company, New York City Opera, Sills sang, not quite as well as she ever did, but close. A bootleg video shows her standing behind the pianist Charles Wadsworth, digging her fingers into his shoulder as if clinging to her last moments, injecting affection, joy, and melancholy right through his jacket. Then, her face encircled by that stiff cloud of russet hair, her formidable bosom swathed in purple feathers, she grinned and strode offstage. And that was it.
Except of course it wasn't. Sills, it turned out, made a fearsome executive, first at City Opera, then as chairman—and it was always "man"—of Lincoln Center and, briefly, of the Met. Her mix of high purpose and gentle irony, of class and informality, made her something rare: a charismatic arts administrator. She was smart, bitingly articulate, perpetually cheery, and very tough. She could have coaxed donations out of Uncle Scrooge. And when City Opera threatened to abandon its acoustically troubled house, Sills insisted that her dear old company stay put. Who says audiences can't hear the singers? she demanded. After all, people could always hear her just fine.