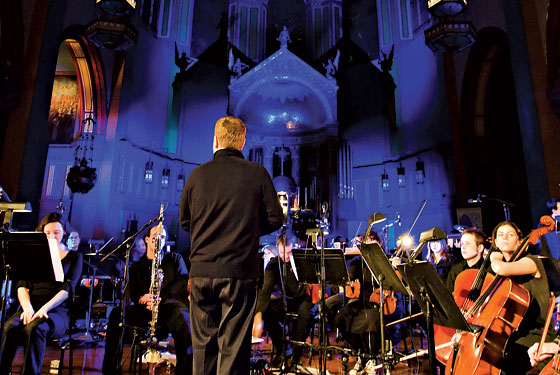 On my first visit to the Brooklyn Lyceum in Park Slope, Fourth Avenue had reached that unique pitch of joylessness characteristic of a dismal urban artery on a rainy winter night. A sign in front of a closed auto-parts store flickered in the downpour, and passing cars slung their wakes against the occasional pedestrian. The Lyceum showed every one of its hundred years, but it was full of people happy to be hearing music they didn't already know. Outside, the building still sports the markers of its former life as a public bath: women over one door, men on the other, and up near the cornice a flow of stylized water done in terra-cotta tiles. The cavernous interior has been scraped back to bare brick and given over to a mostly local assortment of live art and movies. On that night, hundreds packed in to hear the Iranian kamancheh virtuoso Kayhan Kalhor and his cross-cultural partners, the string quartet called Brooklyn Rider.
The concert opened with a short set by Zulal, an a cappella trio of Armenian-American women who refract ancestral folk songs through the prism of the collegiate close-harmony group, and do so to spectacular effect. Then it was on to Iran, where violinist Colin Jacobsen had traveled, collecting melodies and arranging them for string quartet, in the spirit of the composer-ethnologist Béla Bartók. Kalhor eventually emerged to play his own piece for quartet and kamancheh, a Persian fiddle. Silent City began with a quiet, amorphous buzzing that gradually thickened and acquired urgency, its repetitive shivers intensifying into a fortissimo throb. That broke off, and the kamancheh wandered plaintively and alone into the still night, before rejoining the other strings in a section that for me evoked a Biedermeier parlor, full of Schubertian counterpoint and accompanying pizzicati. It was as if Silent City had started out on forlorn Fourth Avenue, traversed a hypnotic, exalted landscape, and somehow wound up in Vienna.
New York's complicated new-music scene is thriving: Here, and in an assortment of other non–concert halls where ticket prices are modest, the dress code is scruffy and the vibe is one of curiosity rather than reverence. A musically voracious crowd packs into bars, Tribeca art galleries, raw performance spaces in Brooklyn, and ad hoc rooms with folding chairs. One piece might offer a raucous electric explosion, another an incantatory murmur, and a third a throbbing romantic melody—or all of the above, in quick succession. It's Soho in the seventies all over again, with more aesthetic variety. There's bad (and mediocre, and flat-out lame) along with the good, to be sure, but that's part of a healthy experimental-music world. Experiments fail, and in doing so they return results.
The scene has a virtual headquarters in New Amsterdam Records, an indie label started by William Brittelle, Judd Greenstein, and Sarah Kirkland Snider. All three are composers and musicians who saw that, in the absence of a system to navigate, they would have to create their own. The label's Website also serves as a kind of online coffeehouse, where audiences and performers mingle and swap enthusiastic support. A couple of weeks ago, New Amsterdam hosted a sold-out showcase at Joe's Pub that, with its dimly romantic lighting and limited legroom, makes a natural home for new music. First up was itsnotyouitsme, the electronically enhanced guitar and violin duo of Caleb Burhans and Grey McMurray, who would play a riff, then loop it, weaving their slender two-man counterpoint into a deep shag of sound. The music opened with a leisurely meditative murmur and stayed there, defying the audience to be mesmerized rather than bored. (I was bored.) The second act was the now Ensemble, one of those we-can-play-anything chamber collectives of Juilliard and Yale hotshots whose style molds itself to its repertoire: quick and light, in the case of Greenstein's Folk Music, with lots of tricky repetitions and smoothly handled turns.
Today's young composers and freelance musicians have become entrepreneurial multitaskers. They organize concerts and master electric versions of their instruments. They double as mandolin players, countertenors, sound engineers, and publicists. They play each other's music, attend each other's concerts, and ladle each other's successful ideas liberally into their own compositions. To pick one example among many, the Juilliard-trained violist Lev Zhurbin, also known as "Ljova," has played with Yo-Yo Ma and appeared at Zankel Hall, and it was he who arranged Kalhor's Silent City for string quartet. But he's probably most at home with his band the Vjola Contraband, which I also heard at Joe's Pub, performing what might be described as Eastern European avant-folk.
In a similar vein, the 29-year-old impresario Ronen Givony found his own interests spreading from rock to chamber music, so he created the Wordless Music series explicitly to desegregate the genres. Rockers share the stage with recitalists, and the concerts sell out. Givony's coup of the season was to secure the U.S. premiere of Popcorn Superhet Receiver, a string-orchestra rhapsody by Radiohead guitarist Jonny Greenwood. Wordless Music's first orchestral concert filled a capacious church near Columbus Circle, mostly with those mythical Young People that classical-music organizations are constantly stalking. Greenwood's piece was neither an avant-garde masterpiece nor one of those twee, portentous cantatas that pop icons often come up with when they go classical. Instead, it was a confidently strident string lament, full of angry, percussive plucking, and tremolos and glissandos piling into thickets of mournful dissonance. The pickup orchestra, led by Brad Lubman, dug into those textures with gusto and gave it a gorgeous sheen.
Ironically, this underground scene can exist in part because the classical establishment has been both envious and supportive. Carnegie Hall commissioned Kalhor's piece and has hosted many of the musicians. Givony holds a day job with the ever-intrepid record label Nonesuch, and I suspect his former employers at Lincoln Center are trying to figure out how to siphon off some of the energy he has tapped. In return, events like these help keep the juggernauts healthy because they disprove the theory that audiences demand only greatness and a repertoire triple-filtered by history. That's a form of condescension I have never understood. I didn't love Popcorn Superhet Receiver, but I'm happy to have heard it. We don't ask that every meal be reliably ambrosial. We don't read only novels that we know will be transporting. In music, too, the public can tolerate disappointment in exchange for the nourishment that comes from a lack of expectations and the exciting uncertainty of not quite knowing how to judge.