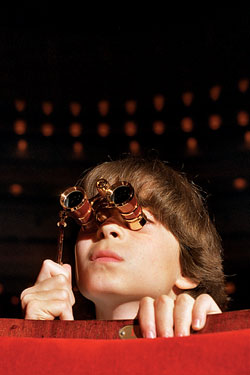 A skinny man with dreadlocks sits alone in a circle of light on the stage of Carnegie Hall. Bobby McFerrin decants a soft falsetto into a microphone, and in the seat next to mine, my 10-year-old son, Milo, tenses with delight. McFerrin's voice jumps and twirls over four octaves, spinning a filament of notes into rich polyphony. I first heard that liquid sound strewn with percussive nuggets twenty years ago in a Village club; now I enjoy Milo's fresh amazement. The kid has taste.
But how, exactly, did he form it? I observe his blissful quiver, and wonder: What nerve center has this voice touched to trigger such a visceral reaction? I can't be sure that my son will continue to love McFerrin's quiet virtuosity, or even that he'll always remember the concert. But somehow, I'm sure, the experience has impressed itself in the warm wax of his consciousness. Afterward, I quiz him on what he liked best, expecting him to opt for the ten-minute Wizard of Oz, in which McFerrin took the roles of Munchkins, twister, flying monkeys, and all the principal characters. But no: Milo loved the solo simplicity of the improvisations—as he put it, that McFerrin "can do things with his voice that no one else can."
The classical-music world desperately needs Milo. He belongs to a generation of kids who look at a violin and see a strange, archaic object, who think of opera as a faintly embarrassing pastime of the upper crust, rather like riding to hounds. The good people at Carnegie Hall have erected a costly and wonderful educational apparatus to nurture audiences of the future. But bequeathing musical taste—like cultivating a penchant for good food, or ethical behavior—is a parent's job, and it can only be done with conviction.
To steer a child's taste in music feels vaguely countercultural. Each generation is supposed to discover its own primal sounds and reject its parents' loves—although these days, parents rush to follow their kids' tastemaking. American adults will blow a fortune at Walt Disney World, affect a fondness for SpongeBob SquarePants, and frantically Google "Miley Cyrus" to stay abreast of the news. I have a memory from another era of Frank Zappa scoffing at Tipper Gore's suggestion that parents screen their children's enthusiasms for wholesomeness. The idea of families gathered around the hearth to listen to Devo struck him (and me) as funny. Yet here I am, a generation later, sitting on my son's bed, tapping my foot to the Christian-rock diva turned pop star Natasha Bedingfield's relentlessly upbeat "Pocketful of Sunshine."
If we want to be part of our children's aesthetic world, then why do we equivocate about bringing them into ours? We wall off grown-up culture behind a barrier of ratings, warning labels, and vigilant software. We leave it to educators to filter the arts for consumption by the allegedly innocent. We are terrified of exposing children to material they might not understand, whether because it's too crude or too complex. In the process, we shortchange the kids we are trying to protect.
As a music critic, I go to concerts for a living, and for a long time I questioned whether taking Milo with me too often would wind up turning him off. I feared a symphony would strike him as a tedious expanse of orchestral sludge, or that he would think of opera as a murky rite in which large people bump bellies and shriek. But these are my preconceptions about him, not his about music. I have come to feel there's no point in waiting until he's ready, because by that time it will be too late. For now, he is curious about live classical music because he knows it makes his father tick. At some point, he may reject it for the same reason. I place my faith in the thought that taste implanted in childhood may go dormant for years and then revive.
So, for the past year, Milo has become my semi-regular escort. Before each outing he worries that he will be the only child in attendance, and sometimes he is. He has heard the Berlin Philharmonic open the Carnegie Hall season with Beethoven's Ninth Symphony; Gustavo Dudamel make his electrifying New York debut with Beethoven's Fifth; and tenor Juan Diego Flórez nail his nine high C's in the Met's new production of La fille du régiment. He suffered through an amateurish evening of Renaissance dance music in a church, and was baffled by a live orchestration of the Beatles' "Revolution 9" by the group Alarm Will Sound. He loved South Pacific enough that he could sing most of it from memory after one performance. He will wait a year or two for the full-throated tragedies of love and fate. He has heard me remark how much his beloved J.R.R. Tolkien absorbed from Wagner's four-opera excursion into Norse mythology, Der Ring des Nibelungen, and he's expressed interest in seeing it. Not yet, I think. In the meantime, the Met has plenty to offer a 10-year-old: the creepy, saccharine horrors of Hansel and Gretel, the over-the-top wizardry of Julie Taymor's Magic Flute, and the antics in The Barber of Seville. Whether all this stimulation will coalesce into affection or merge in an undifferentiated memory of sitting silently among rows of old people in red velvet chairs, I have no idea.
A few days after the Carnegie Hall concert, I ask McFerrin why he thinks his music speaks to a fifth-grader with such powerful clarity. "Most people's experience with singing is when they're alone," he says. "At the same time, there's a part of them that wants to sing in front of others. It's obvious to everybody that I'm having a really good time." I ask him whether he thinks parents can guide their children's taste, or can merely sprinkle the home with a sampling of the world's variety of sounds and then let fate decide. He answers with a memory of himself as a small boy lurking under the family piano in the fifties, when his father was a well-known operatic baritone, the first black man to sing at the Met. Robert McFerrin Sr. gave lessons, pressing on his sometimes unworthy students a zeal for vocal music that the hidden boy absorbed, stored up, and deployed when he was ready. The younger McFerrin didn't understand at the time that he was receiving a message, but the elder one knew he was imparting one. And I wonder: What is my version of that sheltering piano? What can I do to share my passions with my child? What is happening in his malleable brain as he sorts "like" from "don't like," and leaves openings for music to slip back and forth between them?
Science is of limited use on this topic. In his 2006 book This Is Your Brain on Music, neuroscientist Daniel J. Levitin devotes a chapter to the evolution of one's musical taste, skimming lightly over several unsatisfactory theories. He accepts the notion that taste starts to form in the womb, based on the muffled sounds that filter through. (Milo's in luck: He attended Carmen at the Met the night before he was born.) Once they are sprung from their maternal casings, Levitin continues, kids start by enjoying simple consonance and then progress to greater dissonance and complexity. (Most people don't get very far down that road.) The lightning bolts come later: Teenagers attach lifelong emotional meaning to whatever they happen to like when their souls are warm and receptive.
This strikes me as a glaringly incomplete narrative. Can taste really be such a random combination of the mechanical and the haphazard? Levitin's exposition of the determining factors in a child's taste boils down to a tautology: They like music that sounds like other music they like. This is the assumption behind Websites like Pandora, which analyze customers' reactions and produce a steady stream of recommendations. But it does not go far toward explaining what is happening to Milo now—what interplay of physiology and experience is crystallizing into predilections that will probably form the basis of his life in music. In his new book, The World in Six Songs, Levitin explores the universality of certain musical archetypes, but has little to say about individual quirks: All human beings recognize a joyful song, but why do certain tunes cause an upwelling of misanthropic acid?
I trace a strain of my adult tastes to a string-quartet concert I attended at 15, featuring a late Beethoven masterpiece, a few hushed, strangled utterances by Anton Webern, and George Crumb's Black Angels, a work of somber electric beauty from 1970. The three pieces, from three different eras, share a compressed rhetoric of morbid dissonances that landed on my ears with an explosive force. But that was no accident: I was primed for revelation. I had spent time studying the composers on the program; I tried to follow the common thread of weirdness. No doubt I was also plumbing my own inner well of darkness at the same time, an exploration that Milo started much earlier than I. He recently spent months immersed in the acrid tang of Sweeney Todd, memorizing the morbid lyrics and watching the original Broadway production, clip by YouTube clip. That's my boy.
I can't predict what music he will enjoy. About movies, museum exhibits, or books, his parents are rarely wrong. (Recent hits: 3:10 to Yuma, Cai Guo-Qiang at the Guggenheim, and Bill Bryson's The Life and Times of the Thunderbolt Kid.) But I slip him tracks without any confidence that they will rate a spot on his iPod. He tries new sounds, sifts through recommendations from friends, adults, and anonymous algorithms, organizes his preferences, and keeps continuously shuffling his favorites. For a while, he was conducting Beethoven's "Ode to Joy" before bed and once insisted that a recalcitrant friend join him at the podium. His iTunes library includes Amy Winehouse's hymn of drug-bedraggled defiance "Rehab" as well as Wyclef Jean's merger of immigration politics and hip-hop romance "Sweetest Girl." He listens to vulgar lyrics that he doesn't understand and I'm not about to elucidate but won't censor, either. When he figures them out, we'll discuss the attitudes behind them.
I know that Milo will soon strike off alone into his dale of enthusiasms—he already has. I can try fitfully to catch up, but I doubt he will want me there for long. Already I find him looking at me blankly, silently mouthing words, and I know my voice must sound to him like a low mutter in another room, familiar but incomprehensible. Down in that mysterious cerebellum, Linkin Park's "Numb" is thudding mightily, drowning out all other sound. No doubt, my son has inserted his own slender soprano, deepened and strengthened as only the imagination can. In that moment, he is living in a recording studio of his own. Who am I to intrude? But though he may prefer I stayed out of his world of taste, I very much want him in mine. The Met has a new production of Wagner's Ring coming in the 2011–2012 season. I hope Milo will invite me along.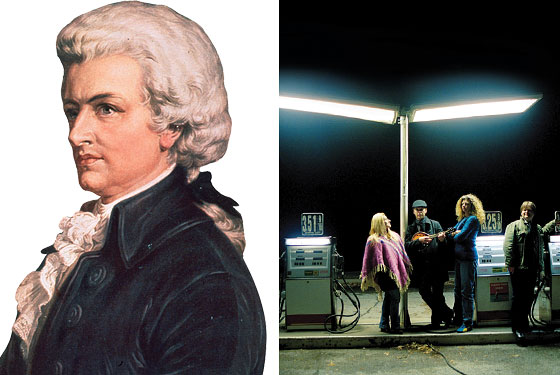 They'll Hear It Here First
High culture for the short set.
The great thing about taking children to concerts is that they have no prejudices, no weariness of standard repertoire or fear of unknown territory. The less great thing is that feeding their curiosity can get expensive: Kids need to sit close to be absorbed. Watching La Bohème from the Met's stratospheric Family Circle, for example, is a recipe for boredom. Fortunately, Juilliard presents free and often excellent concerts by its student groups, and the People's Symphony Concerts (pscny.org) are the best deal in town.
The Mostly Mozart Festival has grown up in recent years, but there's no reason a 10-year-old can't be stirred by Mozart's overture to Le Nozze di Figaro or by the grandeur of his Piano Concerto No. 25 in C major (August 6). And it's hard not to be swept along by the galloping third movement of Beethoven's Symphony No. 7 (August 12).
In September, Carnegie Hall and the New York Philharmonic divide up the labor of a huge tribute to Leonard Bernstein, whose televised Young People's Concerts introduced a generation of children to symphonic music. (Go to carnegiehall.org for details.) The Encores! series at City Center will also present his irresistible On the Town (November 19 to 23). Bernstein was indifferent to genre, and so is the string quartet Ethel, which presents "TruckStop: The Beginning," a program of music and friends the group has collected on its cross-country travels. There'll be a Texan accordionist, a Hawaiian slack-key guitarist, a bluegrass banjo player, and a Native American flutist at the party. (Brooklyn Academy of Music, October 14 and 16 to 18.)
The Philharmonic opens its subscription season (September 18) with arms open to the preteen audience: Ravel wrote the piano version of his Mother Goose suite for two performers ages 8 and 10 (though the orchestral version taxes grown-up pros), and Steven Stucky's brief Rhapsodies is geared to a modern attention span. Older siblings will be equally riveted by Bartók's swashbuckling and steamy ballet score, The Miraculous Mandarin. Just hide the program notes.