Since the mid–nineteenth century, conventional wisdom has held that concert music requires rich acoustics and performers posed on a raised, distant stage. Now, I adore hearing an orchestra in a good symphony hall, but some music feels constrained in a vast and decorous room. Fortunately, the city has a scattering of less formal venues, where ticket prices are low and programs adventurous, and where, in some cases, you can listen with a glass in your fist. Music may feed the soul, but it still goes best with a drink.
The anti–concert hall is hardly new. In the seventies, performers began to colonize galleries and lofts, adding only folding chairs and a jug of Almaden. In recent years, a contracting music world forced musicians to be entrepreneurial, forming a loose network to produce their own events. The new ecosystem feeds the Establishment; musicians flow from Galapagos and the Tank to Zankel Hall and Lincoln Center. And back, too: The A-list pianist Marc-André Hamelin recently came by (Le) Poisson Rouge and, rather than delivering one of his powerhouse Liszt performances, played work of his own.
A couple of weeks ago, the Metropolis Ensemble gave a single performance of Jakub Ciupinski's Brownstone. Listeners, fortified with noshes and wine, trooped through three floors of a house in Brooklyn, while ten musicians and a soundtrack of nature sounds enveloped them in an acoustic landscape. At moments like this, new music sheds its academic strictures and finds its way back to the era of dinnertime entertainments. The list that follows is a snapshot of a fluid scene where groups form, dissolve, and realign, and where $10 or so (plus, perhaps, a two-drink minimum) entitles the curious to sounds they've never heard.
Roulette
20 Greene St.; 212-219-8242; roulette.org
After 32 years in a 74-seat Soho loft, Roulette is following its constituency to Brooklyn, where it's renovating a 600-seat theater that will open next spring. In the meantime, it continues to run as an avant-garde fermentation center, suffused with a yearning for scruffy vintage authenticity. Past and future slosh together in performances by lifelong iconoclasts and the more reverent young. On November 18, Roulette will present new works by Alexandra Gardner, who combines live instruments and electronics in precise but magical textures.
(Le) Poisson Rouge
158 Bleecker St.; 212-505-3474; lepoissonrouge.com
(Le) Poisson Rouge, whose motto is "Serving Art and Alcohol," opened just four years ago and already has become a kind of Carnegie Hall for the experimental set—even for artists who usually play the other Carnegie Hall. The place makes a virtue of its imperfections: Limited acoustics means everything gets amplified, and even the obstructive columns provide something to lean against if you're too late to get a seat. This week's calendar hints at the programming breadth: On November 16, an annual performance of Terry Riley's canonical work of minimalism, In C; a few days later, on the 20th, the guitar god of the avant-garde, Glenn Branca, arrives with his Symphony No. 15, ominously subtitled Running Through the World Like an Open Razor (Music for Strange Orchestra).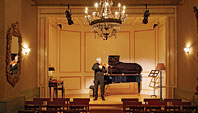 WMP (Workshop for Music Performance) Concert Hall
31 E. 28th St.; 212-582-7536; wmpconcerthall.com
The violin dealer and restorer Emmanuel Gradoux-Matt maintains a tiny auditorium next to his shop, a miniature version of a European aristocrat's music room, complete with gilt mirrors, chandelier, and lyre-back chairs. The doll's-house hall hosts regular Wednesday lunchtime violin recitals and evening chamber-music concerts a couple of times a week. The violinist Gil Morgenstern curates a series of themed concerts, including one, on November 18, that evokes the musical soirées that Winnaretta Singer—a Singer sewing-machine heiress and Princesse de Polignac—held a century ago in her Parisian salon.
Galapagos Art Space
16 Main St., Dumbo; 718-222-8500; galapagosartspace.com
Last month, I walked across a miniature causeway that hovered above a film of water, ordered a Dumbo Iced Tea, and installed myself on one of the little islands, equipped with café table and banquette, that form the audience's archipelago at Galapagos. The club is an ideal habitat for composers who don't sit around waiting to be noticed. On the stage (raised above the floodplain) a chamber ensemble played music by Missy Mazzolli and Sarah Kirkland Snider, including Snider's The Reserved, the Reticent, a solo cello work of impassioned, old-fashioned eloquence. Galapagos's fantastically eclectic calendar includes the Chiara Quartet performing the world premiere of Calligraffiti, by the delicately inventive composer Huang Ruo, on December 5.
Baryshnikov Arts Center
450 W. 37th St.; 646-731-3200; bacnyc.org
Baryshnikov Arts Center's severe performance spaces are largely dedicated to dance, but one alluring series offers an antidote to classical concerts that are overlong, expensive, and inchoate: It's called the Movado Hour, and its free, compact, intermissionless 60-minute programs include music you can't easily hear elsewhere. On December 8, for example, the Ensemble Organum will perform Guillaume de Machaut's Messe de Notre Dame, the fourteenth century's most bracingly beautiful and influential work of sacred music.
Issue Project Room
232 3rd St., Gowanus; 718-330-0313; issueprojectroom.org
Since its founding in 2003, Issue Project Room has moved twice and lost its founder, Suzanne Fiol, to cancer. A measure of stability is on the horizon in the form of a new executive director (Ed Patuto) and a future long-term home at 110 Livingston Street. Meanwhile, it cultivates a studied unpredictability, leaping from a genre mysteriously called "minimal synth electro techno body wave" (on November 19) to a four-part festival of canonical twentieth-century works, ranging from Berio to Stockhausen and Philip Glass (December 1 to 4).
Barbès
376 9th St., Park Slope; 347-422-0248; barbesbrooklyn.com
Barbès, named after a funky North African neighborhood in Paris, is a hangout for musicians who have little use for categories: Regulars include Chicha Libre, purveyor of something called "psychedelic cumbias"; the Balkan funk collective Slavic Soul Party; and the Guinean band the Mandingo Ambassadors. But some recognizable labels are helpful. The bar has repeatedly hosted Opera on Tap, an extroverted collective of singers and composers who believe in the divine pairing of arias and beer.
The Tank
354 W. 45th St.; 212-563-6269; thetanknyc.org
A "low-cost, high-concept" home of experimental arts, the Tank crams a vast range of video, theater, comedy, film, and dance into a cozy professional theater and a tinier black-box space. (Even the most esoteric programs can fill the seats here.) The series "Pairings" divides each of four concerts between music by a venerable composer and a much younger colleague. On November 22, the ensemble Either/Or joins the avant-gardist Helmut Lachenmann, an old-school high priest of weird clashy sounds, with his instrument-bending heir from Iceland, David Brynjar Franzson.