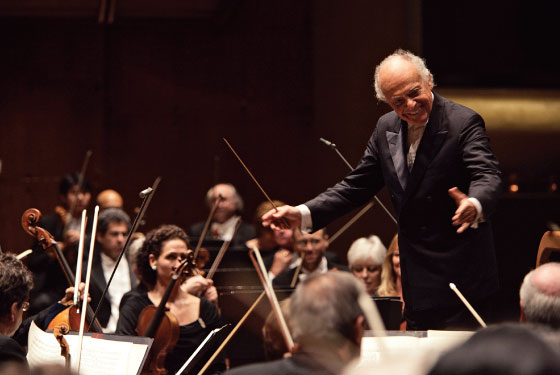 Difficult as it is to right a foundering orchestra, it may be even tougher to rescue a prosperous one. The New York Philharmonic, now heading into the home stretch of a monthlong Tchaikovsky marathon, has a problem, which is that it doesn't believe it has any problems. The accountants are content; the seats are almost full. Phil-o-philes from Bangor to El Paso can hear its concerts via satellite, iTunes, or old-fashioned radio. The group returns from glamorous tours with fistfuls of foreign-language paeans. It has even acquired a corporate sugar daddy—"Global Sponsor" is the official term—in Credit Suisse. The New York Philharmonic brand is intact, even aglow.
If corporate rosiness were a symphony orchestra's ultimate goal, then all would be well. But the New York Philharmonic exists, or should exist, to reflect today's creative musical life and to continually reinvigorate the past. On many nights, it gives perfectionist executions, pedantically "great" interpretations of certifiably great works—but not performances full of the feverish urgency that comes from an encounter with mind-altering music. What use is Beethoven's enduringly radical "Eroica" to the uninitiated teenager in the audience if the orchestra wears it like a comfortable pair of pajamas?
It may be too much to ask for revelation to be given four nights a week, 35-plus weeks a year—playing in the Philharmonic is a job, after all. But at any given concert, the orchestra is capable of rousing itself to exaltation. Lorin Maazel has the orchestra sounding muscular, lively, and ready to raise the hair or stir the blood whenever the conductor should desire it. Alas, he rarely does.
I heard the first three programs of the season, beginning with Yo-Yo Ma's swashbuckling performance of Dvorák's Cello Concerto on opening night, and was struck each time by the council of blazing talents on the stage. Philip Myers led a horn section as powerful and lovingly polished as a collector's vintage Porsche. Principal cellist Carter Brey sat a few feet from Maazel's right elbow, playing with such visible intensity that I suspect his colleagues sometimes looked to him when they needed a little extra juice. The players also drew excitement from young soloists like Lisa Batiashvili, who played an elegant and effervescent Beethoven Violin Concerto, and the Macedonian pianist Simon Trpceski, who rollicked grandly through Tchaikovsky's First Piano Concerto. The future of virtuosity seems secure.
Yet in the early weeks of fall, the Philharmonic leapt from the coziness of opening night into the coziness of the Tchaikovsky festival. In theory, such extended orgies can immerse both orchestra and audience in one artist's mind, time, and city. The festival might have explored Tchaikovsky's adoration of Mozart, his distaste for Wagner, his use of Russian folk song, or the complicated legacy he bequeathed to Stravinsky and Rachmaninoff. None of that happened. Maazel has nothing to say about Tchaikovsky that he hasn't expressed a million times before, and he seemed disinclined to search for—or even simulate—epiphanies. The exception was the First Symphony, subtitled "Winter Dreams," a work that the conductor, who knows virtually the entire Western canon by heart, has neglected long enough that he occasionally had to glance at the score. The freshness was good for him. His easy mastery of tempo—that weird ability to twitch a baton and cause 100 people to inhale a shade more deeply—brought out the playfulness of the Scherzo, where woodland winds chime in on a cantering waltz. The next movement begins with the bassoons groping toward a theme, answered by a mournful exhalation in the clarinets. Then an exhausted pause, and another try. But Maazel doesn't do doubt. Once the full-fledged cello melody emerged, the conductor's serene assertiveness took over, dispelling the gloomy beauty and touching hesitations.
Orchestras have been entrusted with the care and feeding of the musical past, just as museums have to protect their Rembrandts. I'd love to see the Philharmonic raise its quota of new works, but the real difference between a dynamic ensemble and a stuffy one has more to do with how creatively it curates the repertoire. Luciano Berio, an Italian composer who died in 2003, wrote the first sounds of the subscription season, a sweetly haunting reworking of Boccherini's The Night Retreat From Madrid. That lovely piece, which the orchestra played with tenderness and care, served as a teaser for another halfhearted Philharmonic tribute. Maazel will lead Berio's exhilaratingly eccentric Sinfonia of 1968 in January, Audra McDonald will sing his Folk Songs in March, and May brings Rendering, Berio's freely assembled collage of Schubert sketches for a symphony. All of which would be wonderful, except that it sends the wrong signal to scatter a few works over many months, allowing few to hear more than one, or to neutralize Berio with plenty of Beethoven. To build a mini-festival around a composer, and then administer his music in such cautious doses, suggests that the stuff is medicinal at best.
When the conductor Alan Gilbert, a New York Philharmonic brat whose mother still plays violin in the ranks, takes over as music director in 2009, when he is 42, he will inherit an ensemble primed to dazzle and an organization in need of transformation. He will have to be deft. I trust he is already strategizing, programming, winning allies on the board and staff, and learning how to handle his newly acquired power—not to mention developing a vision for the Philharmonic's future. It will be fascinating to watch a fine musician of modest fame and untested clout start some ferment in a vacuum-sealed corporation.
The Tchaikovsky Experience
The New York Philharmonic. Through October 16.