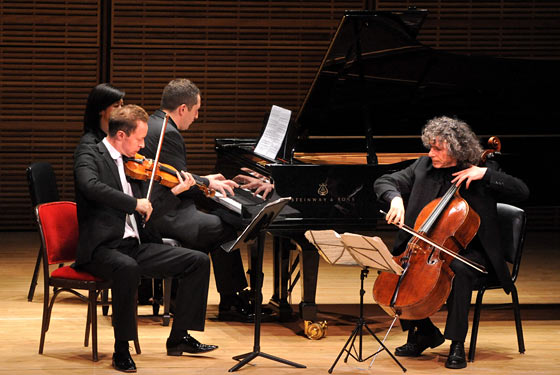 Thomas Adès is that rarest of artistic creatures: the complete musician. A composer-pianist-conductor, he represents a versatility that was once the norm. Mozart led his own piano concertos from the keyboard; Bernstein hopped from writing desk to piano bench to podium. But the forefather Adès emulated during his recent Carnegie Hall series was Franz Liszt, who enraptured audiences by performing his own diabolically difficult piano music, and also conducted like a man possessed. During that Carnegie run, Adès made the connection explicit during a solo recital, pairing Liszt's pianistic embroidery of Wagner with a solo elaboration of his own irresistibly lurid chamber opera Powder Her Face. Liszt's intent was to use the piano to export opera on the cheap, replacing sets and singers with ten fingers and a keyboard, and recordings long ago eliminated the need for such re-creations. But Adès has resurrected the genre as an exercise in the wizardly arts, and his virtuoso fantasia leaves his opera far behind. Adès is the rare contemporary figure with the confidence and the talent to go head-to-head with an Olympian like Liszt, and carry it off.
Now 39 and already an elder statesman of the British musical establishment, Adès leapt to prominence in his mid-twenties and spent the ensuing fifteen years raising (and mostly meeting) the expectations of a breathless press. He revisited baroque conventions in Three Studies From Couperin, plunged into the throbbing nocturnal netherworld of his orchestral piece Asyla, and composed a Shakespearean opera, The Tempest, which will come to the Met in 2012. As varied as his music is, any given minute reveals the whole cragged topography of his imagination. A new CD of his recent orchestral music includes Tevot, which, though it lasts only 22 minutes, feels like a vast and gripping giant. The Violin Concerto, also on that disc, opens by dropping the listener in a magical clearing teeming with elfin squeaks. Four scant minutes later, the movement closes on a heavy, limping beat, like some rough beast's slouching tread. Few composers can cover so much expressive territory with such insouciant agility.
For an artist who thinks on a gargantuan scale, his Carnegie Hall stint was cozy: an evening of chamber music with the cellist Stephen Isserlis and the violinist Anthony Marwood, a short chamber orchestra program in which he paired himself with Purcell, and the solo recital. His playing is an extension of his compositional mind—cool, analytic, and given to outbursts of wildness.
The linchpin of the chamber-music concert, and one of the season's most memorable half-hours, was the U.S premiere of Adès's cello and piano piece Lieux retrouvés ("Rediscovered Places"). It opens with an incantatory melody in the cello over a simple lilting accompaniment, but a quiet urgency creeps in almost immediately, prodding both instruments into extremes of register. Adès uses swirling lines and watercolor textures reminiscent of French music from a century ago. Nothing remains fixed; allusions flit by faster than the ear can register them. Gossamer textures grow dense. Lacy passagework becomes agitated.
Toward the end of the third movement, the piano texture thins out, to single tolling high notes, and the cello slides up the register to a hushed, poignant whistle. Close your eyes, and you might almost think you were hearing someone gliding a moist finger around the rim of a water glass, just before a finale full of wild, euphoric glissandos. It's a moment of tender genius, the product of a fanciful and tragic sensibility.