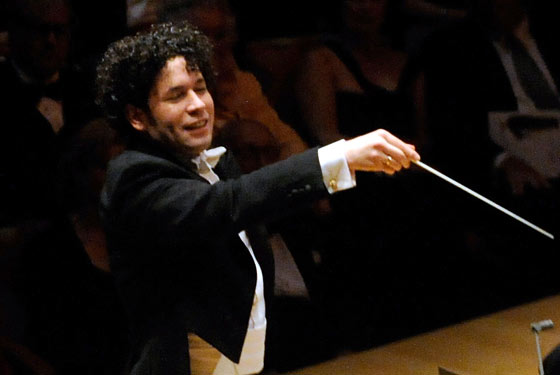 When Gustavo Dudamel had ripped the last, fierce chord of Mahler's "Symphony No. 1" out of the Los Angeles Philharmonic on Saturday, he stepped quickly off the podium without a bow and tried to melt into the ranks, as if the surf of applause were directed at all his fellow musicians and not at the superconducting superboy. Part of being a star is acting as if it's not really about you.
It would be churlish to deny the excitement and joy that the orchestra and its new 29-year-old music director fomented in the hall. Dudamel is both a serious artist and podium showman, and several New York appearances with other orchestras in the past two years attest to the depth of his talents. But the partnership's two concerts at Avery Fisher Hall made it clear that the new era begins with a couple of trade-offs: The L.A. Phil has itself an enormously gifted but incomplete musician, and Dudamel has inherited a lively and willing group that has still not graduated to the top rank of American orchestras. Like its hometown, the L.A. Phil is exciting but diffuse. It suffers from a thin, generic sound, a casual approach to coordination, and a tendency to let shades of color get washed out in the sodium glare. One hopes it won't be long before orchestra and conductor start bringing out the best in each other, but they're not doing it yet.
With his infectious zeal and springy podium style, Dudamel regularly gets compared to Leonard Bernstein, and he claimed the legacy outright by opening with Bernstein's Symphony No. 2, "The Age of Anxiety." Maybe he believed he had found a fresh way through the symphony's neurotic murk, or that he could grip a structure that tends to crumble through the fingers of most conductors. But he didn't. Instead of wringing psychological clarity from the score, he produced a lump of wet clay, studded with moments of micalike brilliance.
Dudamel enjoys a good bout of emotional intensity, and he ought to have made the jump from "Age of Anxiety" to the "Pathétique" with aplomb. Instead, the performance of Tchaikovsky's symphony resembled a movie made mostly of car chases. He directed exciting preludes and stunning climaxes, and he screeched into the final chords of the third movement with such force that he thrilled and confused the audience, which burst into heartfelt, if premature ovations. But when the score subsided into serenity, he lost interest. The moonlit lilt of the second movement came out as perfunctory shuffle; the confessional finale was a tragic anticlimax.
The second concert reinforced the impression that the ceaselessly quivering conductor is only fully engaged about half the time. He came alive for "City Noir," a smoothly built machine of a piece, full of contrived drama and sexy noise, written by John Adams to inaugurate the Dudamel era in L.A. The last megawork of the series, Mahler's "Symphony No. 1," should create a sense of spaciousness and topography, of fanfares ricocheting off distant cliffs, birds yodeling from lofty nests, a village band suddenly swinging into view. Dudamel forced all these details into the foreground, where they jostled brashly for attention. At the same time, he let long passages drift into vagueness. The effect was like sitting too close to the screen in a movie theater, so that a sudden movement has the force of a hurricane but subtle inflections are amplified beyond recognition. Bernstein, too, indulged in voluptuous exaggeration, but at these concerts, Dudamel's love of the obvious, his weakness for overeager blurts of brass, his indifference to delicacy (which he offset with extra dollops of rubato), and his enthusiasm for noisy finales evoked a different forefather. Maybe Dudamel isn't the next Bernstein after all, but the new Zubin Mehta, a charismatic wunderkind of uncertain taste, who took over the Los Angeles Philharmonic in his 20s and then settled into a long, distinguished, and musically infuriating career.