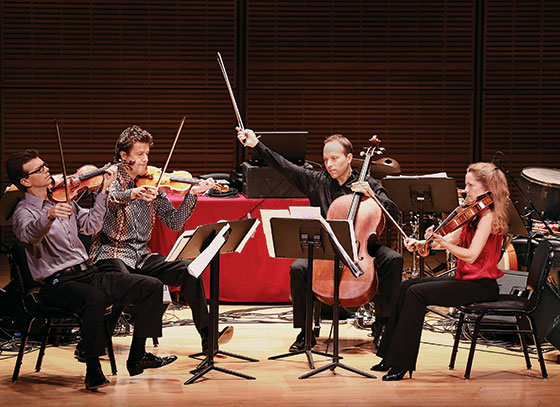 In 2000, Osvaldo Golijov unveiled the first musical blockbuster of the 21st century: La Pasión Según San Marcos. It was an electrifying pageant of Venezuelan choristers, Latin percussionists, an orchestra, an operatic soprano, a smoky-timbred Brazilian jazz vocalist, and an Afro-Cuban performer with a lacerating voice. The work became an instant classic, vaulting the composer out of the remote taiga of new music and onto festival and concert stages all over the world. A few years later he followed up on the success of Pasión with an opera, Ainadamar, and Ayre, a song cycle full of epic melancholy. Based in Newton, Massachusetts, but born to an Eastern European Jewish family in Argentina, Golijov embodied everything a post-Y2K culture could hope for: hectic cosmopolitan liveliness, proudly bared emotions, sophistication without snobbery. There were tributes, festivals, recordings, commissions, movie scores, and awards (including a MacArthur "genius" grant). Then came years of troubled silence. A violin concerto that was due in 2011 and scheduled for performances in Los Angeles, Berlin, and at Carnegie Hall never materialized. Golijov seemed blocked.
Adding to both his honors and his burdens, Carnegie Hall anointed Golijov as this season's composer-in-residence and asked him to help curate a festival of Latin American music last fall. Golijov arrived with a portfolio full of well-thumbed works; an evening of his music this past week in Zankel Hall yielded the nearly decade-old Ayre and a short piece for clarinet and string quartet from 1994. (Pasión returns on March 10.) The one recent addition to his catalogue, the string quartet Qohelet, suffers from the same blurry emotiveness that Golijov's music often seems to pass through on its way from first draft to final version. He is one of the few composers who can consistently deliver pieces late and half-baked and still get asked for more.
Some years ago, I heard the first performance of his cello concerto Azul, and the piece struck me as a musical peat bog, shrouded in fascinating mists. I heard it again a year later, and it was as if Golijov had burned away the clods of confusion to unearth a rapturously iridescent score. He learns in public. In an onstage interview at Zankel Hall, Golijov described this process of slow maturation. Qohelet, he said, had been performed before, but never in its current incarnation, since he had been trying to get its disparate elements to melt more completely into a gooey whole. Stay tuned.
There was another reason for Golijov to revise Qohelet, though he addressed it only obliquely in his remarks: It's one of two works shadowed by accusations that he lifted music by other composers. (The other is his orchestral overture Sidereus.) Plagiarism is an odd charge to slap on such a proudly collaborative artist, one who has always thought of himself as a musical Dumpster-diver, recycling finds into fresh concoctions. He transcribes tunes sung by performers who don't read music. A Sardinian folk song, a Jewish prayer, a percussionist's impromptu riff on the cajón—all these wisps find their way into his scores. But the rumbles, and the Zankel concert, hint at just how stuck Golijov appears to be.
The highlight of the evening concert was the return of Ayre, a suite of folk songs that traverses the Mediterranean from Sardinia and Spain to Palestine, with gratuitous but lovely detours to passages written by the Argentine guitarist and film composer Gustavo Santaolalla. The influences and inventiveness come so fast and thick that description dissolves into list-making: The chamber orchestra includes a wheezing "hyper-accordion," a South American ronroco, a laptop firing off a digital pulse, and the hummingbird-fast fingers of percussionist Jamey Haddad. The vocal part, originally tailored for the inimitably versatile Dawn Upshaw, had to be split between soprano Jessica Rivera and the Venezuelan jazz vocalist Biella da Costa. By turns exotic, raucous, and tender, Ayre makes it clear why so many institutions and musicians are willing to wait, nudge, and be disappointed while Golijov agonizes in private.
La Pasión Según San Marcos: A Creative Learning Project
By Osvaldo Golijov.
Carnegie Hall. March 10.