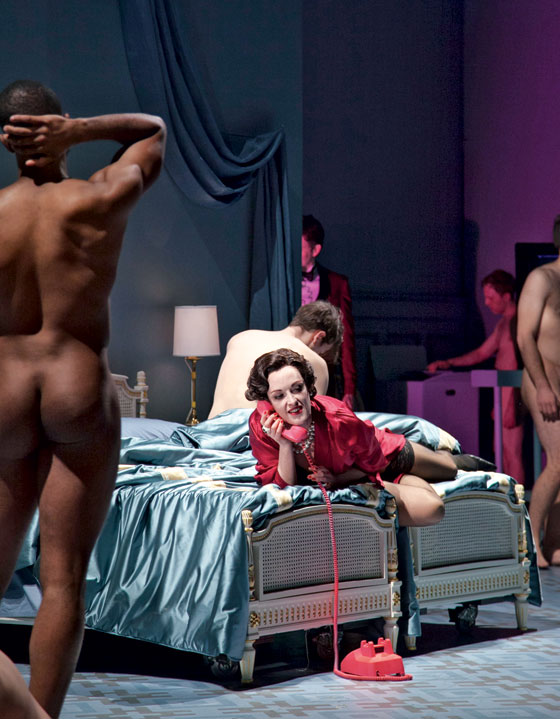 A few weeks ago, I spent a full day in some of the sourer corners of the recent past. In the morning, I paid a visit to the New Museum's "NYC 1993" exhibition, and in the evening, I went to BAM for New York City Opera's production of Powder Her Face, which Thomas Adès wrote in 1995. The pair of exhibitionistic shows seemed like two parts of the same discomfiting experience. The art, shadowed by aids, disassembled love into an arrangement of dying bodies and deglamorized genitalia. The opera portrayed a glamorous but dead-souled duchess, whose memories consist of a parade of anonymous nudes. Taken together, the two shows proclaim the joylessness of sex—desire as a desperate, doomed business.
I'm not sure why that current is resurfacing now, but it's strong. Gotham Chamber Opera recently gave the seventeenth-­century opera Eliogabalo a staging that transformed the title character, a dissipated Roman emperor, into the male counterpart of Adès's voracious duchess. They are both by turns dominating and kittenish, self-pitying and proud, dignified and outrageously carnal. In the Lower East Side burlesque hothouse known as the Box, beneath all the fishnet-stockinged camp, I sensed a layer of rage—one that had nothing to do with the composer, Francesco Cavalli. I was starting to feel as if I'd happened on a new Weimar, where prurience mingled with puritanism and celebrations of decadence seemed simultaneously like warnings of decay.
At BAM and at the Box, intimacy intensified the sensation. City Opera has left grandeur to its former competitor, the Metropolitan Opera, and challenged Gotham and a swarm of new rivals on a tinier but less forgiving battlefield. On the Met's scale, even empty passions have a certain juicy allure, amplified by outsize décor and great swells of sound. In chamber opera, the stage is closer, the orchestra thinner, the sets sparer, the singing less reliant on overwhelming force. Even nakedness is more naked.
City Opera isn't quite comfortable with such close quarters yet, which may be why the first half of its season, at BAM, was so stylish and distant. (The company returns to its birthplace at City Center this month with Rossini's Moses in Egypt and the Offenbach operetta La Périchole.) When I first saw Powder Her Face in 1998, I was bowled over by the exuberance of the score, which was raucous, dissonant, entertaining, and ostentatiously complex. Adès was in his late twenties, a young Brit who wanted the world to know that he could do anything. (And so he has; his deeper, more ambitious work The Tempest arrived at the Met last fall.) I never forgot the spectacular soliloquy in which a bewigged judge delivers a verdict that moves from solemnity to tumescence to falsetto spasms of excited outrage.
But this bedchamber opera couldn't quite support the cargo of stage business with which director Jay Scheib burdened it this time. During the overture, an onstage camera filmed the chambermaid and the electrician in a rough grope, which was projected live on a movie screen, and later looped on a TV monitor. The effect was to turn two minor characters' romp into a cable-news event, distracting from the central character, the Duchess. Elderly and about to be evicted from a hotel room she can't pay for, Her Grace reflects on a lifetime of debauchery. But instead of leaving her alone with her memories, Scheib had her navigate through a crowd of milling ghosts who appeared in the, um, flesh. Nearly 60 years after the character's heyday, and 50 after the sensational divorce trial that made her habits public, we saw her sashaying youthfully through a sadness too shallow for tragedy. The charismatic soprano Allison Cook seemed to enjoy both the score's technical challenges and the production's bathhouse atmosphere, but she also seemed to be chuckling at the role, as if even she were watching from a great distance.
Next, City Opera presented another claustrophobic opera about emotional chill and primal horror: Benjamin Britten's The Turn of the Screw. To his chagrin, Adès has often been compared to Britten, but the two composer-pianists—both precocious, English, and gay, both onetime heads of the ­Aldeburgh Festival—have profoundly different sensibilities. Where Adès's Duchess is an extrovert, uttering fatuous pronouncements in exaggerated tones, Britten's governess can't distinguish reality from the projections of her own imagination. Adès's score is over-the-top. Britten's is dark and full of undertows. Powder Her Face is fueled by rampant sexuality; The Turn of the Screw runs on repression. Director Sam Buntrock moved it to Thatcher's England and mined the period for bleakness. The result was a smoothly creepy production in which the audience had to take it on faith that Sara Jakublak, as a poised and proper Governess, was spinning into haunted hysteria.
Unlike City Opera, Gotham Chamber Opera is utterly at home being homeless, and hopping from one idiosyncratic space to another. (Its next outing is Daniel Catán's Rappaccini's Daughter, to be performed in June, at a still undisclosed outdoor location.) It's a company that regularly manages to get everything right; this time, though, it turned a Baroque rarity into The Rocky Horror Show: The Opera. The costumes seemed foraged from a glam-rock thrift store: spiked codpieces, lamé tails, platinum-bob wigs, leather harnesses, and, oddly, football pads for the centurions. Rather than clinch the opera's modern reputation with excellent music-making, Gotham and director James Marvel offered a workaday performance by an ensemble that must have had a rough time hearing itself in its spread-out formation. Emily Righter and Micaëla Oeste brought emotional intensity to the roles of a couple that is genuinely in love, but they couldn't compensate for the all the yuckety-yuck stage business: One gag involved wiping down a wall after an especially explosive encounter. How are you going to sound exquisite over that?
The real emperor Elagabalus was a raunchy teenager, but Cavalli made something refined out of a vulgar life. This production reversed the process. Maybe it's just me, but I found the leering and gyrating profoundly unsexy. I sat at a table that doubled as a catwalk for singers who stomped by in boots and Lucite heels or writhed so close to my wineglass that I could see the goose bumps and smell the latex. One topless dancer had a German invocation tattooed on her belly: gib mir stärke, "give me strength." There were times during the show that I found myself muttering the same thing. Then, after intermission, something remarkable happened: The show turned around. With the sex gags played out, the love story emerged, set to a score affecting enough that the company might consider a toned-down revival: Cavalli sans codpiece.
Powder Her Face
By Thomas Adès.
New York City Opera.

Eliogabalo
By Franceso Cavalli.
Gotham Chamber Opera.

The Turn of the Screw
By Benjamin Britten.
New York City Opera.