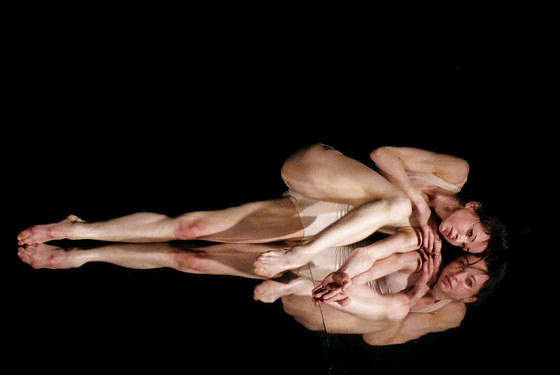 Great dancers are attuned to a strange fact: Dance doesn't distinguish artist from art object, the dancer from the dance. Working to pry the two apart, dancers often end up proffering metaphors of escape—from circumstance, station, self-delusion.
The young Rudolf Nureyev, to use an extreme example, seemed to be trying to overtake his own steps. You couldn't tell whether he was a demon or shaking one off, but the possession was impressive. Diana Vishneva, 31, is also a mesmerizing beauty from the illustrious Kirov Ballet, a master of channeling feeling through a classical vessel's restraint, and so peripatetic a performer that her repertory has become her only real home. She plays both character and creator at once. She digs into her role and lifts herself out of the story to reveal, godlike, its scope.
If our culture ever developed a hunger for honest transcendence, Vishneva would become a real celebrity, with hordes of sensitive young women throwing practice tutus over their street clothes. In the meantime, next week brings "Diana Vishneva: Beauty in Motion" to City Center—a program of works made for her (including a major piece by the much-admired Bolshoi director Alexei Ratmansky, who, as of last week at least, looked poised to replace Christopher Wheeldon as City Ballet's resident choreographer). In April, the Kirov moves in. And beginning in May, Vishneva dances as usual with American Ballet Theatre.
Her take on Kenneth MacMillan's Romeo and Juliet at ABT the past two years gives some idea of how she weds pathos to insight. In the scene where Juliet downs the sleeping potion that will lend her the "likeness of shrunk death," Vishneva doesn't just depict Juliet's fear of death, she previews her dying. Gulping the ghoulish drink, she sinks to her knees and staggers up, again and again: a glimpse of Juliet's terrible future that intensifies our suffering when it finally arrives. Vishneva does that Shakespearean thing of taking a modest theme (in Macbeth, ambition; in Hamlet, indecision) and letting it roll. On her knees, she echoes an earlier moment, when Juliet prays at the bedroom altar. The second, unstrung prayer confirms what the first merely hints at: Juliet is desperate, and she's doomed. As the potion overwhelms her, she crawls splay-kneed like a baby onto the bed. She's burrowing back to before she was a Capulet, when she and Romeo had a chance.
Vishneva believes in story ballets. "They last because they are so rich," she says. She even believes in the stories: Betrayed heroines predominate because "in real life, women are always betrayed." But she doesn't need a story to illuminate a dance.
Last month, she learned an intricate duet with Desmond Richardson for Dwight Rhoden's plotless ballet in "Beauty in Motion." The piece is about two people who never quite connect, I was told. But this section, at least, was such a micromanaged, push-pull affair that it wasn't clear how regret or loss would enter in. Then Vishneva started playing with timing. She stretched out the transitions between the exquisite tangles with Richardson until she was falling from one position to the next. And there it was—longing.