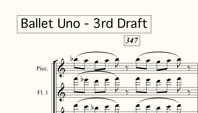 1. The Title
This is my working title, injecting humor into a probably overambitious work—it's my first ballet. It's actually called Rabbit and Rogue, Twyla's pet names for her two main male characters.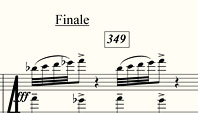 2. The Piccolo Part
There are definitely instruments fighting to be heard, especially when I have this tiny little woodwind section. The whole structure is a competition; the finale wraps all the movements together.
3. The Dynamics
A big, old-fashioned ending: fortissimo, then subito piano, with a slow crescendo to the end. You never get to do it in film.
4. The French Horns
There are six—but for me, that was, "Oh my God, only six horns?" I tend to wear out brass sections—I like to give 'em some cardio.
5. The Ethnic Drums
I wrote this for three African drums and a Brazilian drum used in parades called the surdo. I had them made specially so they can be mounted on a regular stand.
6. The Digital Percussion
Prelay refers to a pre-laid track. The notation says, "This may not be played, depending on what city we're in." It comes down to reality—how many people can fit in the pit.
7. The Letter Block
Oh, you are so asking the wrong person what this means! This is something the orchestrator put in. I believe it's the pedal markings for the harpist.
8. The Huge Glissando
This is the harp player's bllrrrrblbrpbrp!, all the way down and all the way up. There's no rhythm at all; it's like going into a dream sequence. That tiny note at the top is saying, Go ahead, honey. Take it all the way, baby.