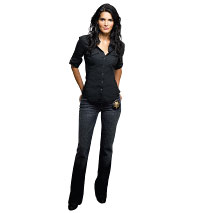 1. BEST NEW SHOW
Women's Murder Club
Alongside Kyra Sedgwick in The Closer, Kathryn Morris in Cold Case, Holly Hunter in Saving Grace, and Emily Deschanel in Bones, add Angie Harmon to the list of women with badges, guns, and handcuffs by whom one wouldn't resist arrest, or fight custody. (It gets even kinkier with doctors.) The genius of ABC's Murder Club is twofold. For starters, this is an ensemble cop show that is congenial, witty, and occasionally even mysterious. Add to that an Angie who's thrown away her sleek Law & Order style—barracuda pantsuits, castanet high heels, fashion-model Kabuki look—for jeans, running shoes, and a head of suggestive hair half-Medusa, half-Klimt, while bringing with her that husky, torch-song, Pall Malls–and–single-malt insinuation of a voice.
2. BEST SEND-UP OF THE AMERICAN DREAM
The Riches
Eddie Izzard and Minnie Driver star in FX's series about a lunatic family of travelers, Irish gypsies on the road in the Louisiana outback with a fiddle and a con, looking for "buffers" to sucker. Even when the Riches end up installed in ritzy suburban digs, impersonating the middle-class behaviors of a family that died in a car crash, they are pursued by a drooling nemesis. Since The Beverly Hillbillies, TV has had a hard time deciding which side to take in the class war; The Riches suggests that class itself is a charade and an imposture.
3. BEST BAD-FAITH SCUZZBALL
Walton Goggins as the Loathsome Shane
Against heavy competition all over the dial—whackers and whackees on The Sopranos, Dexter, CSI: Miami, Law & Order: SVU, 24, and pro wrestling—on FX's The Shield, Walton Goggins prevails, looking sort of like an ashtray. On a cop show that specializes in scenery-chewing, he's managed to steal the limelight from everybody else in the station-house "Barn," including fellow cops Glenn Close and Forest Whitaker. Even Michael Chiklis's Vic, that badass baldy, looks principled standing next to Shane. It is as if, before our eyes, Shane putrefied.
4. BEST PERFORMANCE IN AN OLD-SCHOOL TELEVISION MESSAGE MOVIE
Queen Latifah
An all-star cast including Anna Deavere Smith and Gloria Reuben added heart and bite to Life Support, Nelson George's Bed-Stuy social-worker film on HBO, but it was Latifah, as an HIV-positive reformed crackhead turned angelic bully, who seized, shook, and baked us. As she carried out her tireless rounds of condom distribution, telling everyone that AIDS is the leading cause of death for black women ages 25 to 34, she hadn't, naturally, left enough time for her own kids.
5. BEST DOC, DEPARTMENT OF GUILTY CONSCIENCE
Ghosts of Abu Ghraib
Not only did Rory Kennedy wander the corridors of the infamous prison, interviewing military police, abused prisoners, wardens in denial, and witnesses now reviled, but, in this HBO film, she also explores sensory deprivation, dogs, nudity, chains, sandbags, Nerf balls, pyramids, sexual humiliation, and electrocution—in sentences so simple and images so stark that even a Republican presidential candidate should be able to grasp the basic idea.
6. BEST MEGALOMANIACAL COUNTERSPY SINCE TIMOTHY HUTTON AS ALDRICH AMES
Michael Keaton as James Jesus Angleton
In TNT's The Company, an otherwise disappointing inside-the-CIA mini-series, Keaton gave us a chain-smoking, orchid-growing, poetry-reading, paranoid chief of counterintelligence at Langley who was practically deliquescent, as if his ego boundaries had dissolved in booze and grandiosity. That the mini-series chose in its concluding half-hour to rehabilitate this man I take to be a tribute to Keaton's artifice rather than a perversity or point of view.
7. BEST FREDERICK WISEMAN DOC (AND THEREFORE BETTER THAN MOST OF THE OTHER GUYS')
State Legislature
Over twelve weeks, Wiseman watched the "citizen legislators" of Idaho deliberate to the best of their sincere abilities everything from teachers' salaries and mad cow disease to illegal immigration and secondhand smoke. Wiseman, who never editorializes on what his cameras so skillfully record, signals his stealthy approval of this grassroots democracy by concluding this PBS documentary with a bagpipe version of "Amazing Grace" that makes you want to vote.
8. BEST DOC, DEPARTMENT OF WHO KNEW?
Billy Strayhorn: Lush Life
Robert Levi's PBS documentary follows musical prodigy Billy Strayhorn from Pittsburgh to Harlem to Paris to Hollywood, while fellow musicians Gunther Schuller, Elvis Costello, Billy Taylor, and Chico Hamilton discuss his work. The result is something more than another celebration of big bands or visit to the civil-rights movement—it's a moving account of a gay man's troubles in the homophobic jazz world of the forties and fifties, and a remarkable case history of Oedipal struggle. Duke Ellington, Strayhorn's mentor, collaborator, and surrogate father, never got around to crediting him even for such signature compositions as "Take the A Train," and the surrogate son never quite managed to escape his surrogate home.
9. BEST DRESS REHEARSAL FOR A REAL-WORLD FLOP
Fred Thompson as Ulysses S. Grant
Although Bury My Heart at Wounded Knee took some liberties and shortcuts, HBO's version of Dee Brown's best seller still deserved more oomph from Fred in his brief appearance as the Great White Father. But his couch-potato performance wasn't so much mailed in as it was negligent, like a picked nose or a spilled beer. During the last several seasons of Law & Order, as we watched him impersonate a D.A., what we perhaps imagined as masterful lassitude turned out instead to have been plain laziness. Fred the Ulysses was a premonition of Fred the Candidate.
10. BEST IDEAS THAT SOMEHOW WENT SOUTH
Mad Men and State of Mind
It should have been a slam dunk: a silvery boss, hotshot creative directors, lean and hungry account executives, and a new girl in the steno pool, all at a New York advertising agency eager to sell cigarettes and Richard Nixon. But despite the look, AMC's Mad Men is Men in Black hugger-mugger; see George Clooney instead. Likewise, how wrong could State of Mind go, written by novelist-shrink Amy Bloom and starring indie misfit Lili Taylor as a family therapist in a psychiatric commune in Connecticut? Alas, the dreams and hallucinations were more interesting than the psychotic plotlines—predictable Lifetime cutesifying.
Debut
Anna Friel, Pushing Daisies
Although the critics love Pushing Daisies (ABC) more than the public does, there can be no disagreement about Anna Friel, who brings a pure heart, nimble leg, and lascivious eye to her role as love interest. I'm tempted to say, "Not since Carole Lombard"—so I will.
Stinker
John from Cincinnati (HBO).
From the David Milch who gave us blue cops and dead wood and the Kem Nunn who invented the surf-noir cult novel, we may have expected to be perplexed, even confounded, but probably not embarrassed. And yet, whatever could have gone wrong with a dramatic series about surfing, angels, and heroin addiction promptly did so.