What you see here is our first concerted year-end effort to peer inside the city's cultural hive-mind: We polled 153 people—actors, musicians, museum directors, even a columnist or two—on what they loved, hated, and avoided in 2007. Should Wikipedia entries be amended from these results? Um, no. In many cases, a "winner" got all of twenty-odd votes. Not everyone answered every question, a few picks came out late last year (see The Lives of Others), and of course only movie critics have seen all of 2007's films yet. But think of this as a mini Oscars/Tonys/Grammys/Pulitzers. Or at least the Golden Globes.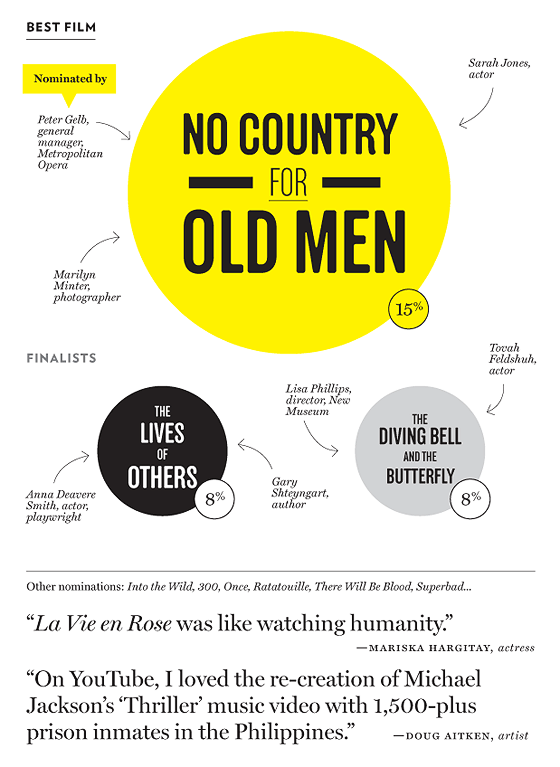 BEST NONFICTION BOOK
The Rest Is Noise 9%

BEST FICTION BOOK
Tree of Smoke 7%
Other nominations: Schulz and Peanuts, Jonathan Franzen (author); The Shock Doctrine, Nicole Aragi (literary agent); A Life With Picasso, Renée Fleming (singer);Harry Potter, Jacqueline Z. Davis (executive director for the performing arts, New York Public Library)
BEST MUSIC
Best Album and Concert nominations ran the gamut. Some standouts:

"I'm From Barcelona's album is probably the happiest big-hearted record I have heard all year."
Michael Cerveris, actor

"It's not often that you see a group that sends shivers up and down your spine for more than one song. The National managed to do that."
Michael Stipe, musician

"Hands down the best performance I saw was by the Gossip. Beth Ditto's like Tina Turner in a five-foot, hefty white frame kicking your ass."
John Cameron Mitchell, filmmaker

"I really loved Mark Ronson's new album, Version. It's such a good album for dancing and otherwise. There's literally nothing you can't do to that CD."
Anne Hathaway, actor

"Kanye West's Graduation. Not even close. Lyrically, it's topnotch. Add that to the production value, and man—the guy is a genius."
Swizz Beatz, producer
Only eleven respondents copped to downloading the Radiohead album. What did they pay?
$20
Gregg Pasquarelli, SHoP architects
$15
Carter Foster, curator, the Whitney
$12
Adam Duritz
$0
Nathaniel Rich, senior editor, The Paris Review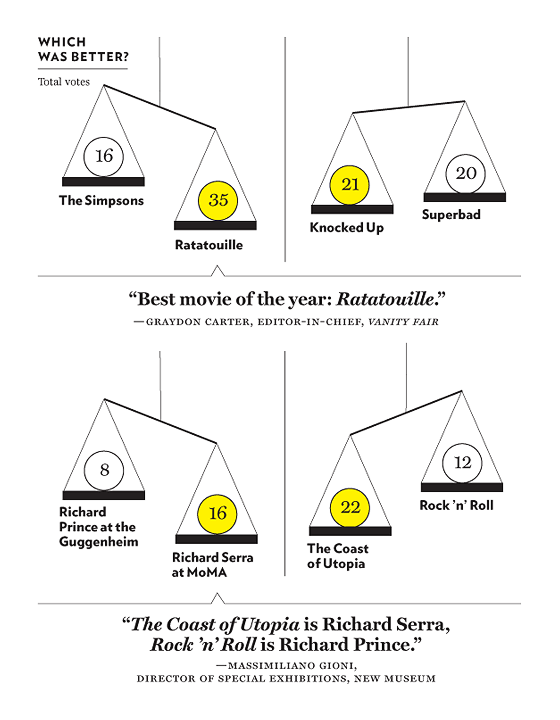 2007 Survey Respondents: Doug Aitken, Florence Almozini, Kurt Andersen, Brooke Anderson, Carl Andress, Nicole Aragi, Karole Armitage, Jeff Ayers, Jon Robin Baitz, Fred Bass, Marty Bell, Jed Bernstein, Amy Bissell, Holly Block, Mark Blum, Steve Bodow, Andy Borowitz, Maureen Bray, Frank Bruni, Matthew Buchholz, Laura Bell Bundy, Sara Caples, David Carr, Graydon Carter, Michael Cerveris, Glenn Close, Malaak Compton-Rock, Karen Cooper, Lauren Cornell, Christopher Cox, Stephen Crone, Alan Cumming, Blythe Danner, Joshua David, Jacqueline Z. Davis, Dana Delany, Jonathan Demme, Donny Deutsch, Anna Deavere Smith, Adam Duritz, Mike Egan, Sam Elliot, Tovah Feldshuh, Renée Fleming, Carter Foster, Christina Foxley, Jonathan Franzen, John Freeman, Jose Freire, J. Michael Friedman, Peter Gelb, Jeanne Gerrity, Massimiliano Gioni, Bruce Goldstein, David Marshall Grant, Judd Greenstein, Michael Greif, Mamie Gummer, Tim Gunn, Maggie Gyllenhaal, Robert Hammond, Mariska Hargitay, Bruce Haring, Meredith Harper, Patrick Harrison, Anne Hathaway, Larry Henry, Emile Hirsch, Jim Holt, Karen Brooks Hopkins, Archana Janardhanan, Tamara Jenkins, Edgar Jerins, Nadine Johnson, Radhika Jones, Sarah Jones, Gabriel Kahane, Lauren Kelly, Anthony King, Geoffrey Kloske, Wayne Koestenbaum, David Kuhn, Sara Lasser, Leigh Lezark, Ruby Lerner, Donna Lieberman, Tod Lippy, Bradford Louryk, Victoria Lynford, Mike Maggiore, Aasif Mandvi, Stephanie March, Ryan McGinley, Charles McGrath, Sarah McNally, Christopher Meloni, Paul Menard, Marilyn Minter, John Cameron Mitchell, Shamim Momin, Meredith Monk, Emily Mortimer, Nico Muhly, Vik Muniz, Geoffrey Nauffts, Gordon Nicol, B.J. Novak, Gregg Pasquarelli, Richard Peña, Piper Perabo, Lisa Phillips, Francine Prose, Pusha T, Phylicia Rashad, Lynn Redgrave, Frank Rich, Nathaniel Rich, Dakota Blue Richards, Barbara Roan, Mo Rocca, Jane Rosenthal, Alex Ross, Meredith Rothstein, Keri Russell, Andy Samberg, John Schaefer, Collier Schorr, David Schwartz, Jason Sellards, Howard Sherman, Gary Shteyngart, Janet Silver, Ira Silverberg, Russell Simmons, Andrew Solomon, Aaron Spangler, Michael Stipe, Swizz Beatz, Jessica Szohr, Johnny Temple, Rob Thomas, Safi A. Thomas, Lyn Trotman, Christine Vachon, Gianni Valenti, Ron Warren, Juliane Wanckel, Veronica Webb, Chris Weitz, Edmund White, Eric Winick, Carol Woods, Jeffrey Wright, Robert Wuhl, Janet Zarish, Julián Zugazagoitia.
Photographs: Jim Spellman/WireImage (Cotillard, Kline, Redgrave); Patrick McMullan (Bardem, Blanchett, Hawke); Craig Blankhorn/courtesy of HBO (Gandolfini); Gene Pittman/The Walker Art Center/Courtesy of the Whitney (detail of Walker's "Gone, An Historical Romance of a Civil War As It Occurred Between the Dusky Thighs of One Young Negress and Her Heart"); Lorenz Kienzle/courtesy of MOMA (Serra's "Intersection II," 1992-93); Courtesy of the Metropolitan Museum of Art (detail of Glitter and Doom: German Portraits from the 1920s); Steve Granitz Archive/WireImage (Langella); Joan Marcus (Cox); Monique Carboni (Michele), Patrick McMullan (Anderson, Brooks, Carell, Danes, Gosling, Prince, Stevens, Swinton, Wheeldon); Iwan Baan (40 Bond); Michel Denancè/courtesy of Renzo Piano Building Workshop (New York Times building); Richard B. Levine/Newscom (IAC building); Courtesy of Warner Bros. Pictures (Clooney); David Lee/Courtesy of Universal Pictures (Washington); Jasin Boland/Courtesy of Universal Pictures (Damon); Courtesy of Sony Pictures Entertainment (Maguire); Richard Young/Rex USA (Seymour Hoffman); Kent Eanes/Courtesy of NBC (30 Rock); Courtesy of AMC (Mad Men); Courtesy of Showtime (Weeds)