1. Tino Sehgal
I often see shows I don't like, but this was the only show I've ever seen that didn't like me. Last winter at Marian Goodman, Tino Sehgal had performers stand in the rear room of this gallery and discuss art and Western thought. Viewers were acknowledged as they entered and were occasionally included in conversations. After I answered one of the performers, he basically upbraided me. I was horrified, mortified, and thrilled.
2. Landscapes Clear and Radiant: The Art of Wang Hui (1632–1717)
The most mind-blowing work I saw all year was at the Met, a long stretch of a 740-foot scroll by the Chinese master Wang Hui depicting an emperor's 1,700-mile journey made in 1698. It walks through mountains, lakes, palaces, and everyday scenes—people weaving, selling rice, walking dogs—plus the emperor's arrival, deploying landscapes and figures in myriad imaginative spatial perspectives and atmospherics. It's a machine of sheer pleasure.
3. Pipilotti Rist
Rist's enveloping MoMA video was the trippiest, most visually alluring installation seen in New York since Rudolf Stingel's aluminum-foil room at the Whitney last season. Vibrant images of flowers, blood, earthworms, and nudes covered the walls. Rist mixed the essences of modernism, Matisse's colors, and Picasso's forms with her own sensuous sensibility.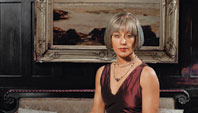 4. Cindy Sherman
With no pictures of spring chickens in sight and crow's-feet the order of the day, the perennially shape-shifting avenging angel of photography donned the psyches of aging women torn by conflicting social proscriptions and inner yearnings. For an artist who has set up such narrow parameters, it's amazing Sherman isn't making boring, narcissistic pictures.
5. Klara Liden
For this solo show at Reena Spaulings, Liden built a wall containing a narrow doorway inside the gallery. That portal led to a dark living room, where, if you listened, you'd hear pecking, scratching, and cooing from above. It turned out the artist had left the gallery windows open and pigeons were roosting atop the enclosed living room. It was creepy and mysterious—as scintillating as an Edgar Allan Poe novel.
6. Jeffrey Wells
For his sleeper show, Wells projected barely visible auras of light, shifting blips, and flickering effects on the white walls and onto the furnishings. Visitors experienced the vision that happens without lenses, the glitches, negative images, flashes, and floaters our eyes produce.
7. Fia Backström
In her White Columns outing, Backström mined the scraps of her life, using art by friends, copies of e-mails, texts, and other bits of print. In the process, she transformed appropriation art for the Web era, saying (as one bit of her text puts it), "Sometimes words are more than enough, or not sufficient at all."
8. Carroll Dunham
A survey of Dunham's paintings from the eighties illustrated the ways this artist carried on a shamanic call-and-response between his inner self and his materials. He didn't just paint over wood; he painted in concert with it, augmenting grain, knots, and irregularities—in a sense, speaking with trees and art history. His technique paved the way for many artists who used material as a living thing rather than just something to cover up.
9. The Olympics: Opening and Closing Ceremonies
Two performances were as far as possible from the gallery system, but both sent a big message: China rules. On 8/8/08, in one of the most terrifyingly totalitarian events ever organized, the Beijing Olympics began with 15,000 perfectly synchronized performers. Sixteen days later, Great Britain laid out a sad pastiche: a double-decker bus, Jimmy Page playing "Whole Lotta Love," and David Beckham kicking a football into the crowd. No comparison.
10. "Who's Afraid of Jasper Johns?"
Alternative spaces staged a lot of good group shows this year, from Sculpture Center's "We Burn, We Shiver" (pictured) to "Minus Space" at P.S. 1. But the gold goes to "Who's Afraid of Jasper Johns?" at Tony Shafrazi, where aesthetic hierarchy ran wild, art hung over pictures of other art, and Shafrazi nearly apologized for vandalizing Guernica—then didn't.