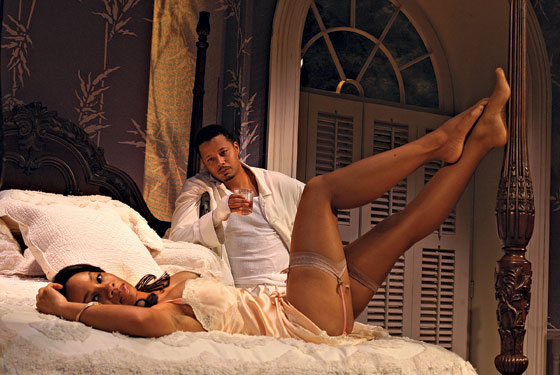 The Race-Blind Season
Three vintage American plays. And three fascinating and provocative examples of racially unconventional casting. We watched the trend play out in Clifford Odets's The Country Girl, as Frances McDormand steeled herself against the false promises and crashing failures of Morgan Freeman. We saw it in the unjustly maligned all-black revival of Cat on a Hot Tin Roof, in which Anika Noni Rose and Terrence Howard offered a livelier, funnier, sexier, and far more credible Maggie and Brick than the last duo to hold the gigs on Broadway, Ashley Judd and Jason Patric. But it was S. Epatha Merkerson, as Come Back, Little Sheba's cheerful, chatty, desperate Lola Delaney, whose performance, above all others this year, stayed with us: Her nakedly intimate portrayal of a lonely woman helplessly in love with an abusive drunk made a schematic but sturdy warhorse of a play into a devastating evening of theater. Come to think of it, that's a second theme these three plays share: how to cope with, fight against, and survive your alcoholic husband.
• The Year in Superlatives
• Unfogettable Performances
• The Top Ten Plays
The Year in Superlatives
Best Ten Minutes on Broadway: 'Solidarity' From Billy Elliot
The sequence is an old-style showstopper, one in which striking miners, baton-wielding cops, and dainty preteen ballerinas leap, dodge, and weave across a crowded stage, every near-collision illuminating the show's mix of the personal and the political. A gold star to whoever on the choreography team kept all those little kids focused and in line.
Best Performances in Nonhuman Roles: Equus and Shrek
In Equus, they were six horses—silent, muscular, moving with elegant precision except during one shockingly violent, beautifully choreographed scene. In Shrek, they were eight trilling segments of a lithe smoke-breathing dragon, confessing her many-voiced love of a prancing donkey. Thanks not just to costuming but to the wonders of dance, song, and other human talents, these troupes of creature-players managed to steal their (very different) shows from their star counterparts, whether Harry Potter or Sutton Foster.
Best Delivery of Actual Popular Music to Broadway: In the Heights and Passing Strange
Lin-Manuel Miranda's In the Heights mixed reggaeton, merengue, hip-hop, and cheesy balladry into a stew that really did sound like West 187th Street on a hot July day. And Stew's Passing Strange included the sublime wall of sound "Keys (It's Alright)," in which—as at the best rock concerts—great lyrics were almost completely washed away by crashing waves of guitar. Coming up next year: the crisp, complex Afrobeats of Fela! are rumored to be moving to Broadway.
Best Writer-on-Writer Violence: The Four of Us
In his sharp and cruelly funny The Four of Us, Itamar Moses tackled the professional issues that writers live and breathe every day: Competitiveness, ambition, envy, Schadenfreude! His premise: What happens to two writer friends when one becomes (a thinly disguised) Jonathan Safran Foer, and one does not? Gideon Banner and Michael Esper played this amiable yet acrid symphony of forced smiles and benign shrugs to passive-aggressive perfection.
Best Sets: American Buffalo, Blasted, and Macbeth
There was a fourth character onstage in the quick-to-close revival of David Mamet's American Buffalo, and that was the expertly curated junk shop. Santo Loquasto's set seemed to double as fight choreographer, intensifying the play's contentious claustrophobia. For Blasted, Louisa Thompson's cunning staging transformed from posh hotel room to bomb-struck hellhole in a mere twenty seconds of light and noise. And would Macbeth's Patrick Stewart have been as terrifying (and terrified) without the kitchen-abattoir, ghostly projections, and flashes of witchy electro-lightning in Rupert Goold's menacing interpretation?
Best Debuts: The Three Billys, Billy Elliot
Whom to praise when there are three boys taking turns in a role, each with his own strengths (David Alvarez's classical grace, Trent Kowalik's jazzy ebullience, Kiril Kulish's angry intensity)? Instead, these three performers stand together as proof that meritocracy and ambition can still make stars—at least on Broadway—no matter how many American Idol also-rans and slumming movie stars crowd the stage.
Best Downsizing: The Smart Solo Show
For a while there, the solo show seemed relegated to B-list attention hogs, untalented thumb-suckers, and Jackie Mason. Then Danny Hoch resurfaced after a decade, his grievances and myriad personalities fresher than ever in Taking Over; Mike Daisey managed brainy intensity without ever rising from his chair in If You See Something, Say Something; and Mike Birbiglia, in Sleepwalk With Me, reminded the post-Seinfeld generation that stand-up and storytelling aren't mutually exclusive. They all arrived just in time for a new era of thrift, with its premium on the ability to tell stories without a 30-person chorus.
The Unforgettables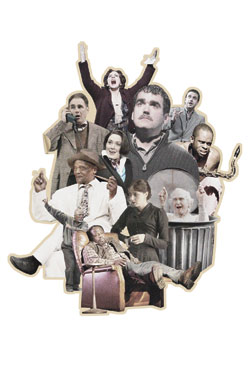 Clockwise From Top Left
Patti LuPone, Gypsy
It really was Patti's turn—the moment for this actress to assume this legendary role. She made it her own.
Raúl Esparza, Speed-the-Plow
An utterly controlled performance in Mamet's bitter shot at Hollywood. They can't deny him a Tony again, can they?
Brian d'Arcy James, Port Authority
Understated enough to miss—until you realized his transformative range.
Sahr Ngaujah, Fela!
Part expert impersonation, part eerie reincarnation, the triple threat (singer, dancer, musician) brought the house down as the Afrobeat pioneer.
Alvin Epstein, Endgame
An extraordinary, concise report from the abyss enriched an okay revival.
Zoe Kazan, The Seagull
Stealing the show yet again, she gave Chekhov's morose Masha a drily witty and snappish makeover.
Cedric the Entertainer, American Buffalo
Playing it looser and sadder than most Mametians, the comic was a cool surprise in his legit-stage debut.
Winston Ntshona and John Kani, Sizwe Banzi Is Dead
At BAM, the final reprise of their three-decades-old show was eerily great, filled with humor and sensitivity.
Elizabeth Marvel, Top Girls and Fifty Words
The electrifying verbal gymnast lived up to her surname—twice in one season.
Mark Rylance, Boeing-Boeing
He made a comic meal out of a trifling sixties play.