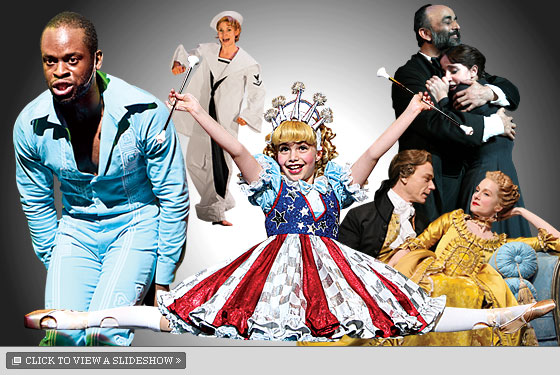 1. Fela!
2. South Pacific
3. Gypsy
4.The Seagull
5. Top Girls
6. Blasted
7. Hair
9. Les Liaisons Dangereuses
10. On the Town
1. Fela!
Bill T. Jones's Afrobeat musical begins as a concert: a re-creation of an evening in Fela Kuti's Lagos club in 1977. But by show's end, it's become much more: a phantasmagorical mix of séance, political protest, and dance party. The groove, the projections and costumes, the dancing all add up to theater as sensory overload"the fullest, most compelling show of the year.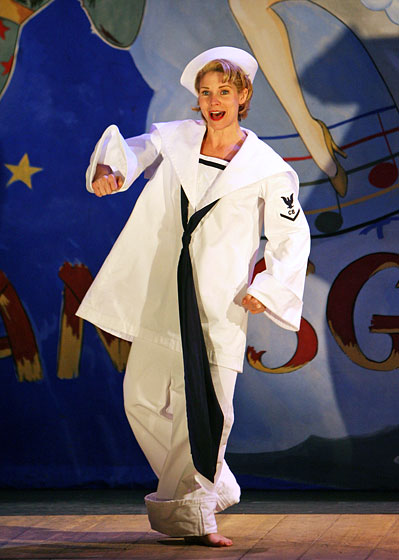 3. Gypsy
Even apart from Patti LuPone's role-of-a-lifetime turn as Momma Rose, this revival hit the heights. Laura Benanti's development from wallflower Louise to Miss Gypsy Rose Lee was a knockout. And Boyd Gaines made Herbie understandable"a guy who really could fall for Rose's aggressive charm. It was no surprise that they went three for three at the Tonys.
4. The Seagull
Though Kristin Scott Thomas is the draw as a wonderfully irritating Arkadina, it's the supporting cast"including Mackenzie Crook, Zoe Kazan, and Art Malik"whose performances make Ian Rickson's stately transfer from the Royal Court the most coherent and enjoyable of the flock of Seagulls to swoop through New York in the past few years.
5. Top Girls
The first act of Caryl Churchill's drama is invigorating; Top Girls' fantastical feminist dinner party is bravura playwriting, briskly directed by James Macdonald in MTC's revival. More surprising, though, is how moving the play's tricky conclusion became in the hands of Elizabeth Marvel (as the rising businesswoman Marlene), Marisa Tomei (her beaten-down sister), and Martha Plimpton (a teenager caught between them).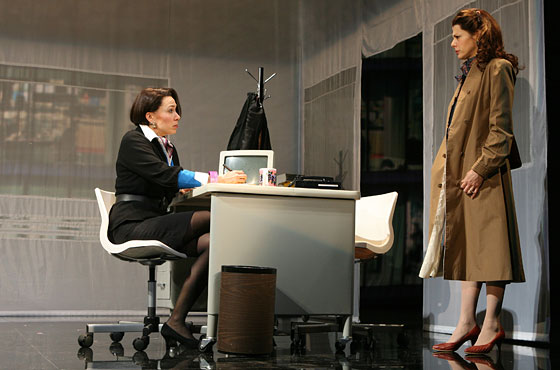 6. Blasted
Soho Rep's production of the late Sarah Kane's Molotov cocktail of a play is brutal, harrowing, and difficult to endure. In its stripped-down view of inhuman atrocity stemming from human appetites, though, it's also an indelible theatrical experience.
7. Hair
Forty years on, it's still less a musical than a Happening, which is one reason why Hair was perfect for Central Park's Delacorte Theatre. Audiences at this summer's Public Theater revival felt like they were part of the production, enduring rainstorms and participating in a joyous full-house dance party at the curtain call. The transfer to Broadway (in March) will be tricky. One hopes the show can hang on to some of that alfresco magic.