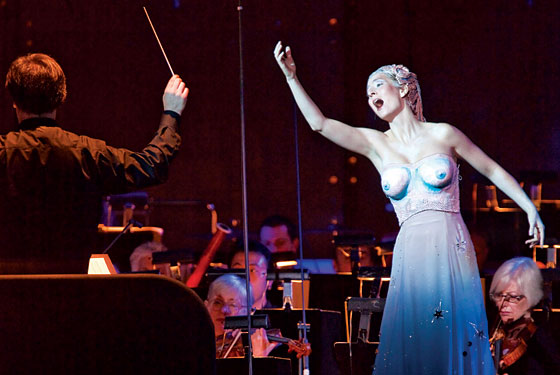 1. Le Grand Macabre, New York Philharmonic
Music director Alan Gilbert has been carefully sending up flares to guide a once-stodgy orchestra toward more audacity, and Doug Fitch's exuberantly ghoulish production of György Ligeti's apocalyptic opera from 1978 delivered an avant-garde triumph that took even the Philharmonic by surprise.
2. Oedipus Rex, New York Philharmonic
Igor Stravinsky has been a victim of his own early fame: The wild originality of Petrushka, the Firebird, and The Rite of Spring so overshadows his later works that a richly neoclassical opera-oratorio like Oedipus Rex sounds frigid by comparison. But Valery Gergiev reclaimed and adrenalized it, laying bare the impassioned Russianness beneath the Apollonian veneer.
3. Make Music New York's Persephassa, On the Lake in Central Park
On a pleasant Monday afternoon in June, an audience of boaters fanned out across the water to experience Iannis Xenakis's percussion extravaganza the way he meant it to be: in 360 degrees of thunder. Musicians stationed themselves on rafts and on shore, and the surface of the lake acted like an enormous drum skin, bouncing beats back into the air and filling the park with a soundtrack of pastoral percussion.
4. The Nose, Metropolitan Opera
Director-artist Wiliam Kentridge turned Dmitri Shostakovich's hectic, absurdist comedy into a soundtrack for his own copious graphic imagination. This is not usually the recommended approach for an unfamiliar opera, but here a communion of ironic sensibilities produced an evening of deliberate, galvanizing overload.
5. Carmen, Metropolitan Opera
With Yannick Nézet-Séguin sizzling on the podium and Elina Garança smoldering nicely in the cigarette factory, the Met, for the first time in years, got the temperature high enough in Bizet's Carmen. Richard Eyre's astutely conventional direction highlighted the score's irresistible mix of lust, violence, romance, and charm.
6. A Quiet Place, New York City Opera
A generation after it was first performed and buried, Leonard Bernstein's last stage work made its New York debut. The opera turned out to be not the fiasco of legend but a work of seriousness and pungent wit, quivering with ambivalence and wearing its imperfections proudly. Director Christopher Alden eked fun out of all the depressive fury, and the performance made it clear attention must be paid, both to Lenny's score and to conductor Jayce Ogren.
7. Der Ferne Klang, Bard SummerScape
Few operas deserve their obscurity less than Franz Schreker's The Distant Sound, a diffuse but compelling drama about a feckless composer and the doomed woman he casts adrift. A hit in 1912, Schreker's brilliantly florid opera has recently reemerged after a long dormancy and made its U.S. stage debut at Bard last summer in a performance good enough to whet the appetite for a major opera company's attentions.
8. Vespers, Green Mountain Project
Claudio Monteverdi was the colossus who loomed unchallenged over all other composers for 100 years, and his Vespers, published in 1610, is one of the most sublimely theatrical religious pieces in the history of church music. To celebrate the work's 400th anniversary, an ad hoc group of early-musickers adopted the composer's name (translated into English; monte verde means "green mountain") and gave a lush, vibrant—and free—performance that deserves to become an annual tradition.
9. Lieux Retrouvés, Thomas Adès in recital at Zankel Hall
The British composer-conductor-pianist performed his own ravishing duo with the cellist Steven Isserlis. It's a masterpiece of hushed urgency, all whispers and poignant whistles, culminating in a finale of wild, euphoric glissandos. Rarely have so many high notes sounded so deep.
10. Jeremy Denk Plays Ives, CD; Think Denk Media
Charles Ives's Piano Sonata No. 2 bears the subtitle "Concord," which refers to the Massachusetts town but also upends the alternative: "Discord." Even the work's champions have had difficulty navigating the thickets of harmony, allusion, and eccentricity. Denk's balance of passion and precision makes its strange beauty come suddenly clear, without losing any of its improvisational radicalism.