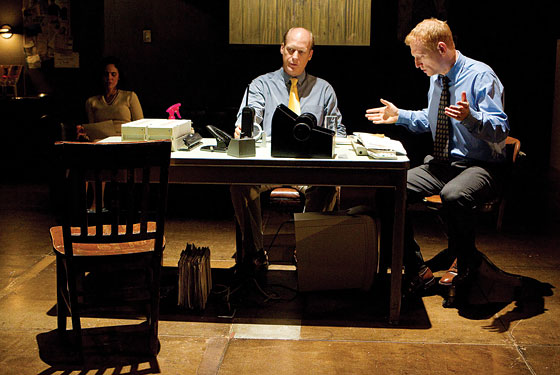 Theater is always dying," according to its undertaker-in-chief, David Mamet, but this year, the corpse really started to turn. Or so you'd assume from the headlines: Gape at the tangled boondoggle of Spider-Man: Turn Off the Dark! At the spiritless debut of The Addams Family! At the gazpacho-spattered breakdown of Women on the Verge of a Nervous Breakdown! Maybe rooting for collapse is a given for a recession-era theater season. And maybe I picked up the tiniest touch of tea party–ism myself: Smaller, stranger, angrier little shows, no matter how commercially anathematical, have had a powerful appeal to me.
Don't get me wrong: I loved The Merchant of Venice, La Cage Aux Folles, and La Bête— all thrilling reinvigorations of their source material, all built around singular performances people will be talking about for years. But they don't haunt me the way, say, Gatz does.
Granted, it did have seven hours and 45 minutes to seep in. An unabridged reading/staging/hallucinating of The Great Gatsby from pioneering theater troupe Elevator Repair Service, Gatz presented us with no mansions, no flappers, just a supernaturally drab office purgatorio. Champion procrastinator Nick (Scott Shepherd) starts reading Fitzgerald's fetishized classic aloud to pass the time and ends up conscripting his co-workers into an epic reenactment. They are puppets of a cursed, recursive American dream/nightmare. Similarly hamstrung: the forbidden lovers in the glittering ad hoc bricolage Brief Encounter, a sort of melo-romantic marionette show with real humans from mixed-media queen Emma Rice.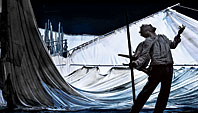 Yet bad as the puppets had it this year, those who struggled in the snare generally had it worse. I'm thinking of Elizabeth Marvel's mother-of-all-capitalists in the brass-knuckled recut of The Little Foxes, from notorious Flemish deconstructionist/pugilist Ivo van Hove. But doom and futility can't stop good old American puerile fury—and nothing embodied that sentiment quite like the slangy, fratty, history-moshing (and soon to be gone) Bloody Bloody Andrew Jackson (directed and co-created by my former collaborator Alex Timbers). From its rock-club inception to its much-debated Broadway auto-da-fé, it's the only new musical with something truly new, scary, and funny to say about our bipolar national character. Speaking of which, the pop-eyed, trap-jawed Michael Shannon—pupils blown, stops out—gives the greatest stand-alone performance of the year as Mistakes Were Made's volcanic, deluded theater producer: a man on a much-abused phone hastily improvising a happy ending to the French Revolution, against a backdrop of carnage, artistic and actual. Mistakes pits the dreamer against the dream, a theme repeated by latter-day French revolutionary and tumbler-conceptualist James Thiérrée, in his practically wordless dance-clown phenomenon Raoul. Full of existential portents, tricky rag-doll stuntwork, and gorgeously ominous puppetry, this bam import never used its stunning visuals as an excuse to skimp on narrative and character.
The Collection and A Kind of Alaska, a spiky pair of terse Harold Pinter revivals, also employed a sort of human puppetry, trapping its characters in thwarted corridors of desire and distrust: Looking for an enemy to lash out against, they find only a hall of mirrors. Whom to attack? The Scottsboro Boys, Kander and Ebb's final collaboration, had a resonating answer: the audience. The weapon of choice? Old-fashioned, toe-tappin' minstrel-tainment. Employing a radioactively un-p.c. stage format to tell the story of a shameful racial tragedy (the notorious thirties Alabama rape trial of nine doomed black teenagers) sounds fatally arch and smug, but Susan Stroman and her electrifying triple-threat ensemble pulled it off with sheer theatrical blunt force. They, like Bloody, were swiftly rewarded with a notice of closing.
So is there hope among this season's big flops, noble failures, and metatheatrical ruins? Consider Michael Greif's downsized Angels in America, the first Second Coming of Tony Kushner's beyond-brilliant politico-cosmological soap opera to a major New York stage since 1994. This Angels is proof that great stage sagas are still mountable, and American plays with Brechtian ambitions continue to have a place. On the other end of the body-mass index is A Bright New Boise, the young playwright Samuel D. Hunter's bracing breeze of naturalism about a man (the remarkable Andrew Garman) torn between his estranged son and the biblical Armageddon he not only believes in but counts on. Like Kushner, Hunter takes plastic middle-American tropes beyond cliché to the brink of apocalypse, without losing his head up his own Rapture. Maybe salvation awaits after all.
1. Gatz
2. The Little Foxes
3. Angels in America
4. Bloody BloodyAndrew Jackson
5. Raoul
6. Mistakes Were Made
7. Brief Encounter
8. The Scottsboro Boys
9. The Collection & A Kind of Alaska
10. A Bright New Boise