Nellie McKay Pretty Little Head (Hungry Mouse)
Twenty-four-year-old Harlemite McKay, a nervy piano chanteuse who received nice marks for her performance in the otherwise pilloried The Threepenny Opera earlier this year, may not have any nieces or nephews, but she's every bit the eccentric spinster aunt: mostly unencumbered by men, prone to whimsy, and a fascinating self-made mystery. Her second album, which she put out herself after battling her label, is an ambitious two-disc set that showcases the kind of genre dabbling you'd expect from a well- established star with the power to do whatever she wants, mixing all manner of pop, from pre-rock to hip-hop. She even manages to sing about real-life issues, like gentrification, and make them sound as seductive as a love song.


The Decemberists The Crane Wife (Capitol)
The first single off this Portland indie-rock troupe's major-label leap is "O Valencia!," a ballad about two doomed lovers from feuding families, one of whom is shot by her own brother—presumably with a flintlock pistol, or perhaps a musket. Colin Meloy, the band's pinched-voice singer-songwriter, drapes his songs in sepia tones, sometimes accented by accordion, and always full of dusty but deft literary language and allusions. But unlike many of his hyperintellectualized, multi-instrumentalist indie peers, Meloy doesn't indulge, he edits, and even the twelve-minute track "The Island" perfectly and maturely portions out his newfound interest in slow-burn grooves and frenetic keyboard scales.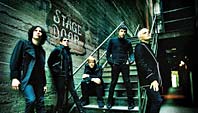 My Chemical Romance The Black Parade (Reprise)
Emo is 20 years old but still seems trapped in its own adolescence, as if it's all been one unending teenage tantrum. No bandleader has emerged to become a grown-up rock hero, in the traditional sense. Until Gerard Way—or so the charismatic, Queen-loving My Chem front man would have it. He's parlayed his love of comic books and an army of fans into a wildly cathartic strategy for teen unification that draws its main inspiration from crescendoing seventies rock and the strutting rock stars who made it. In taking his cues from likes of Freddie Mercury and David Bowie, Way has made emo finally sound like it's going somewhere.