The smash Beatles-for-kids compilation All Together Now was only the beginning. Our panel reviews five albums that both you and your tot can stand to listen to. Again and again. And again.
RATING SYSTEM
1 = Skip it
5 = Try it
10 = Buy it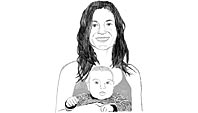 Barbara the Musical Mom
On maternity leave from touring with kids'-rock star Dan Zanes on ukulele. Brought two sets of parents and children in for review session. Her 3-month-old, Magdalena, is into Kirsty MacColl's Tropical Brainstorm for dancing around and Arlo Guthrie's Hobo's Lullaby for nap time.
Luke the Literary Dad
Working musician turned literary agent. Once listened to a lot of Sabbath, now mellows out with Sparklehorse and Air, and raises 3-year-old August, who loves Giant Drag and fronts rock outfit Heavyfoot alongside Davis Diamond, spawn of Beastie Boy Mike D.
Keshia the Nanny
Brooklyn–by–way–of–St. Lucia undergrad swears by the reggae of her Caribbean youth but has grudgingly grown tolerant of the kids' music she's subjected to on the job. Says impromptu dance parties are a common work hazard.



Kids Rap Radio: Vol. 1 & 2
Various Artists
A two-volume collection on which a cadre of anonymous prepubescent rappers—a.k.a. the Giggle Club—record cleaned-up versions of top rap hits.
BARBARA [Rating: 8]: [Parents] Cass and Jim liked this one best. It's pretty pared down, apart from the eighties-drum-machine sounds, and the household-friendly lyrics and high proportion of girl rappers are unusual. Sam [age 6] listened for a moment and said, "This sounds like a kid is talking," which intrigued him—maybe because the lyrics are easy to understand—and Henry [age 4] said it was "fun."
Best track: "Back Then"
LUKE [Rating: 9]: I thought this was going to be lame. I was picturing little kids throwing gang signs … ugh. It is, however, really, really good. Great hooks, really nice and empty production, and great emcees with cute little voices and surprisingly good flows. "At dinnertime I try to get my eat on / But I can't have dessert till my peas gone"—does it get any better than that? My only complaint is that it's a bit similar from track to track.
Best track: "Lil Bit"
KESHIA [Rating: 5]: It's funny to listen to popular rap songs made non-explicit, but I'm not a fan. Some rap albums fail to address positive messages and are filled with songs about materialism, and this is no different, just in a kiddie version.
Best track: "Lil Bit"


'Open Season' Soundtrack
Paul Westerberg
The famously hard-living Replacements front man goes PG, recording a collection of rootsy originals for an animated kids' picture starring a deer and a bear.
BARBARA [Rating: 9]: Well, this one immediately brought back memories of drinking beer in the dorm room. It still sounds like Paul Westerberg—just his lyrics have changed. This got the repeated-listening stamp of approval from four out of five parents, and I think Jim, the holdout, was just being contrary. Cass noted that the sound was "pitched towards parents," but to me it was just good.
Best track: "Meet Me in the Meadow"
LUKE [Rating: 7]: The first song, "Meet Me in the Meadow," almost sounds like Prince when he wrote pop songs. The thing is, if it weren't the soundtrack to a major-studio animated feature, it'd just sound like a really nice pop album by a happy Replacements—not a kids' album but an album some kids might like, in a passive kinda way.
Best track: "Meet Me in the Meadow"
KESHIA [Rating: 6]: I can't decide yet whether I like it or not. The songs are long and slow, and don't succeed in keeping my attention. But it does have catchy hooks and melodies. Maybe for long, long trips in the car.
Best track: "I Wanna Lose Control"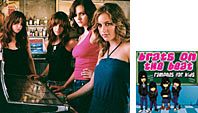 Brats on the Beat: Ramones for Kids
Various Artists
An impressive collection of punk-rock veterans (Alkaline Trio, the Donnas, Pennywise) plus a kiddie chorus belt out Ramones classics. The album's a benefit project for St. Jude Children's Research Hospital.
BARBARA [Rating: 5]: All of these sound pretty identical—true to their inspiration—and I was bored by the time track two came up. The upbeat tempos inspired dancing from the boys, however, and enthusiastic banging on things from the 10-month-old. I would never play this to a baby, however; it's too relentless. I'm also biased—if I want to hear Ramones songs, why not just put on a Ramones album?
Best track: "Sheena Is a Punk Rocker"
LUKE [Rating: 5]: The Ramones were the ultimate kids' band right out of the 1974 box. Witty and childish, amazing attitude, awesome cartoon look—they were perfect. So this just feels like Ramones Lite to me. I feel bad saying that because they're raising money for St. Jude's. But what's next? Velvet Underground for kids? Wait a minute … I would buy that one for sure.
Best track: "Suzy Is a Headbanger"
KESHIA [Rating: 8]: I was a little hesitant that a kiddified version of classic Ramones songs would be any good, but the production is full of energy and life. I love that they have kids singing all the choruses and background parts—it makes it a little more entertaining.
Best track: "Rockaway Beach"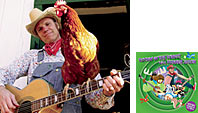 Rockin' in the Forest With …
Farmer Jason
Farmer Jason is the alter ego of alt-country pioneer Jason Ringenberg (Jason and the Scorchers), an overalls-clad firecracker who loves him some forest livin'.
BARBARA [Rating: 4]: If you're going to name your CD Rockin' in the Forest, please don't start every song talking. Oh, my God—it was all I could do to sit through the minute-and-a-half spoken introductions. Once the songs started, the kids called them "fun," and Henry said he liked the "tune" of "Ode to a Toad." I just couldn't stand the whole "Hey, kids!" enthusiasm—it didn't sound sincere.
Best track: "Mrs. Mouse"
LUKE [Rating: 10]: It's great. Jason doesn't talk down to kids, nor does it feel like he's trying to live his rock-and-roll dreams via a kids' album. The songs are good and feel like stories—a winning combination if ever there was one—and it's obvious he loves kids. My kid will love this. (I am also very fond of Jason and the Scorchers' version of "Absolutely Sweet Marie.")
Best track: "He's a Moose on the Loose"
KESHIA [Rating: 9]: Each song is different and has a captivating story to keep children's attention and educate at the same time. The introductions to the songs add some insight, too. It's catchy, clever, funny, musically interesting, and definitely danceworthy.
Best track: "Punk Rock Skunk"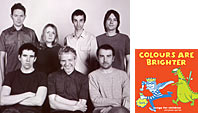 Colours Are Brighter: Songs from Children
Belle and Sebastian, et al.
For this import-only Save the Children charity record, curators B&S brought together a variety of Brit-indie-rock gods plus Jonathan Richman.
BARBARA [Rating: 10]: It's "indie" in all the best ways—interesting and offbeat, and not at all condescending. "Go Go Ninja Dinosaur" reminded me of something that would have been on a Cibo Matto record, and Jonathan Richman's "Our Dog Is Getting Older Now" sounds just like a Jonathan Richman song. I would edit a couple of songs out and play this a lot for my baby and me.
Best track: "Pooh Trilogy" and "Night Banking"
LUKE [Rating: 9]: It's got an amazing lineup, but it's not really a children's album. All but five songs or so are cool pop songs with slightly kiddish themes and some sound effects. If I put my kid hat on, my favorite track was "Mud," by the Ivor Cutler Trio—it's a riot, and I can see August singing it. And the Flaming Lips track is, as usual, gorgeous. It's a really enjoyable thing.
Best track: "Mud"
KESHIA [Rating: 9]: Fantastic! This CD had 5-year-old Russell singing along from the first track. I loved the structure, where the more up-tempo songs in the beginning were followed by the slower melody songs.
Best track: "Go Go Ninja Dinosaur"