RATING SYSTEM
1 = Skip it
5 = Try it
10 = Buy it

Tina the Real-Estate Agent
Grew up rockin' to REO Speedwagon and Genesis before "graduating" (her word) to Bad Brains, Sonic Youth, Public Enemy, and the like. Used to frequent the Knitting Factory on Houston Street; now married and living in Brooklyn.
Fred the Venture Capitalist
Invests in Web start-ups; lives downtown with musically opinionated wife and children. Favorite concerts: Van Halen at the Garden in 1978, the Flaming Lips at Hammerstein Ballroom last year. Currently high on Kings of Leon.
Melissa the Internationalist
Works for NGOs and, in her spare time, travels in search of spicy food. Supplements the indie rock of her adolescence (Yo La Tengo, Elliott Smith) with excursions into African pop and globalized D.J.'s like Manu Chao.




Back to Black
Amy Winehouse
Motown-philic second album from the U.K. singer, whose throaty throwback-soul stylings and boozy nightclub antics have delighted British music fans and tabloid editors in equal measure.
TINA: I'm reasonably certain I won't be the first person to note what a great voice Amy Winehouse has. But gee, people, she has a great voice! Her phrasing is assured and surprising, and she has some of that damaged skinniness that worked so well for PJ Harvey. This girl should be a star! That said, the unrelenting Motown sound gets a little kitschy, like it's a concept album.
Rating: 6
Best Track: "Back to Black"
FRED: The whole album has a great sixties soul sound, and some great singles, though I think Amy Winehouse will eventually think about the hit "Rehab" the way Tobey Maguire thinks about Spider-Man. It's going to define her, and though it's a terrific song, it's not clear if she'll be able to move beyond it.
Rating: 8
Best Track: "Some Unholy War"
MELISSA: A doo-woppy creation that taps into more than one base urge. Amy Winehouse reminds me of Lauryn Hill minus the socially responsible Zion business. It sort of makes me want to slow-dance with someone else's husband.
Rating: 8
Best Track: "Rehab"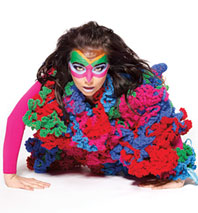 Volta
Björk
A straightforward indie-pop outing, straightforward being a relative term when applied to an artist who recently scored a film about a giant, disintegrating blob of Vaseline on the deck of a Japanese whaling vessel.
TINA: Björk may be ridiculous, but driving to Connecticut with the album on, on a late spring morning threading between lanes on I-95, the sun bright, the kids nodding out in the back seat, I can't be cynical. Then the petulant spoken-word rant "Declare Independence" cycles onto the stereo. "Oh, Björk!" I lament to my husband. But we forgive, and drive on …
Rating: 7
Best Track: "Wanderlust"
FRED: Björk is an artist with serious indie cred, and I've always felt like I should like her records. But I don't. They irritate me, and her new CD is no exception, although I do like the two duets with Antony Hegarty. I'll still head for Sigur Rós when I'm in the mood for Icelandic music.
Rating: 4
Best Track: "My Juvenile"
MELISSA: I've always found Björk's grandiosity and penchant for foghorns inaccessible, but on Volta she's brought her sound down to earth—hand drums and other elements that give it a sinewy, organic feel. She's her best at her most intimate.
Rating: 9
Best Track: "Hope"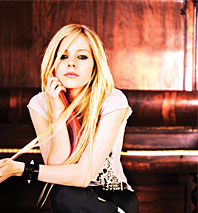 The Best Damn Thing
Avril Lavigne
Third album from the Canadian faux punkstress, still topping the charts with the eminently hummable mix of bratty-teen attitude and SoCal-style rock that propelled her to fame in 2002. If it ain't broke …
TINA: I've always liked Avril Lavigne's bright, melodic voice, and I'm a sucker for her ballads. If she'd been less packaged and channeled her anger in a less adolescent way, maybe she could have had Sinéad O'Connor's career. Here, I like "Innocence," as well as the Joan Jett–ish tracks "I Can Do Better" and "Hot," though the rest of the songs are pretty weak.
Rating: 6
Best Track: "Innocence"
FRED: I'd suggest that this is perfect for the teen-girl scene, but my teen girls want nothing to do with it. I don't really, either, although on the second trip through the record, I was taken with the song "I Don't Have to Try"—great guitar riffs with Ramones-style rapid-fire lyrics and a driving beat. Other than that, though, there really isn't much reason to recommend the album.
Rating: 3
Best Track: "I Don't Have to Try"
MELISSA: A wide range of emotions—from bitter to really, really bitter—are covered here. Every songwriter (every sentient human, really) ought to have a little restraint and subtlety; this album is so blunt and obvious as to be laughable. The most interesting thing about the 40 minutes was wondering if her tweaked-out cheerleader persona is intended ironically, à la "(Hey) Mickey" or "Love Shack."
Rating: 3
Best Track: "Runaway"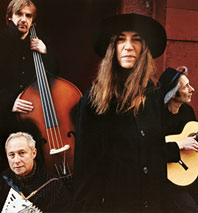 Twelve
Patti Smith
New York's downtown godmother and a gang of ace sidemen cover a dozen songs: eleven by rock titans such as Neil Young, Bob Dylan, and Paul Simon, and one by Tears for Fears.
TINA: Smith's singular voice elevates this set from cover tunes to canon, with the notable exception of Tears for Fears' "Everybody Wants to Rule the World," which gets dragged down by the gravity of her delivery and ends up sounding like humorless karaoke.
Rating: 7
Best Track: "Smells Like Teen Spirit"
FRED: I saw Patti Smith sing a couple of covers at this year's Tibet House concert—she certainly has a way with other people's songs. That said, I'm not sold on this record. Her version of Jimi Hendrix's "Are You Experienced?" starts out the record on its low point; the peak is Bob Dylan's brilliant "Changing of the Guards." It's hit or miss—listen to the songs online and buy the ones you like on iTunes.
Rating: 6
Best Track: "Changing of the Guards"
MELISSA: A one-woman circus that very nearly hits its lofty mark—check out the alarmingly lovely "Smells Like Teen Spirit," which goes from sparse rural plucking to urgent fiddle symphony in six minutes, and the odd play on Stevie Wonder's "Pastime Paradise." Still, I could have done without the spoken-word rants and spliced-in lyrics of the America's-sick-children/ban-nuclear-war! variety.
Rating: 6
Best Track: "Are You Experienced?"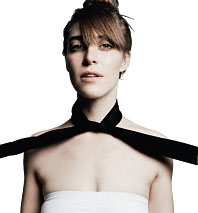 The Reminder
Feist
The hipster songbird of Toronto follows up 2004's breakout Let It Die with a more angst- and inner-turmoil-influenced take on that album's novel acoustic disco sound.
TINA: As a big fan of the sophisticated cocktail-cool of Feist's last record, I was initially suspicious of the vulnerability she exhibits here. You don't want to see the really smart, with-it girl drunk on warm beer, crying over some dumb guy. It's a relief to find that even when faced with romantic disarray, she can still be cold-blooded (see "I'll be the one who'll break my heart / I'll be the one to hold the gun").
Rating: 9
Best Track: "I Feel It All"
FRED: We've got a soft spot in our house for female singer-songwriters with a pop sensibility. Names like Annie Lennox, Sinéad O'Connor, and Sophie Zelmani are all on our most-played list. Feist fits right into that mold with a lovely voice, wonderful songs, and varied arrangements, although the girls think she has a "whiny" voice.
Rating: 8
Best Track: "I Feel It All"
MELISSA: Occasional blips and beeps confirm my laptop's classification of this album as electronica, but the sneaky thing keeps scaling the wall into pop, lounge, and even gospel. It's surprisingly palatable thanks to Feist's dynamically lo-fi voice, which gives the album a coherent personality it might otherwise have lost among the cross-genre drama.
Rating: 9
Best Track: "I Feel It All"