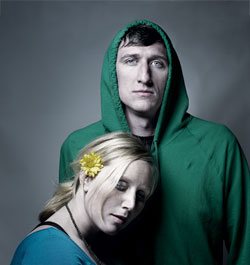 I'm sitting in the living room of Kori Gardner and Jason Hammel's Connecticut home, waiting for my gag reflex to kick in. Everything is happy. The house is happy, with scattered toys, a Magic Marker–inscribed play table, and comfy, mismatched furniture; tour posters for Gardner and Hammel's art-pop band, Mates of State, decorate the walls. The kids are happy: 4-year-old Magnolia—Mags for short—amuses herself on the floor with a jigsaw puzzle, patiently turning pieces at different angles until they match, while baby June, born in January, bounces and gurgles on her father's lap. Even the neighborhood is happy. Stratford is one of those adorable postwar suburbs with maple-shaded lanes and old-fashioned concrete sidewalks, where drivers are so conscientious that parents put the basketball hoops right in the street. All this happiness is infecting me, drying up my reservoirs of skepticism, washing over me like a Prozac haze.
Hammel, 31, and Gardner, 34, are indie rock's modern-day Ozzie and Harriet, a self-consciously unconventional duo carving out a picket-fence corner of the hipster world. Over the course of a decade, their peppy, progish compositions have earned them an impressive roster of fans, from chipper indie grads Death Cab for Cutie to NPR's Ira Glass, who hired them as the between-act musical entertainment on last year's "This American Life" concert tour. As happily married suburbanites in a genre that typically celebrates angst and misery, Gardner and Hammel exhibit a self-esteem that—no surprise—ranks legions above the average musician's. So much so, in fact, that it doesn't seem to have occurred to the couple that someone might view their relentless cheer as a deficit.
For all my mistrust of their perky good life, the only thing preventing my inner jury from hanging Gardner and Hammel is Re-Arrange Us, Mates of State's fifth album, out this week on Barsuk. Early releases like My Solo Project, from 2000, and Our Constant Concern, from 2002, struck me as virtually unlistenable: Hammel bashing out jarring rhythms on his drum kit, Gardner honking and baying on a beefy organ, and the two of them shouting excited harmonies and cryptic lyrics on top of one another. It felt like psychedelic math homework. Bring It Back, from 2006, was more melodic and less stressful, but Re-Arrange Us is a bona fide breakthrough. Gardner and Hammel have opened up their sound, adding cello, trumpet, bass, and guitar to the mix; Gardner's also traded in her organ for piano, lending new delicacy to the arrangements. The vocals are breathy and sweet instead of antsy; the orchestral textures and multipart harmonies evoke the Beach Boys' 1966 landmark, Pet Sounds, with Gardner a long-lost Wilson sister. Mates of State admit that suburban living has helpfully mellowed their music. "I want to make sense," Gardner says. "I want people to relate to us. It's way harder to write a concise, meaningful pop song than it is to write chaotic rock songs."
"Like our old ten-parters," Hammel chimes in.
"We don't even know what those songs were about," Gardner says. "When we hear our old stuff, we're like—"
"'What were we thinking?'"
"Major ADD."
Re-Arrange Us even contains strands of melancholia. The track "You Are Free" rationalizes a breakup, although Gardner and Hammel admit that, being happy themselves, they had to imagine what a terrible breakup would feel like. And "My Only Offer" depicts the soullessness inside suburban perfection: "Bought a home we bartered right / Two kids, two-car delight / Posed pictures on the walls / Small talk in the bedroom halls." When I mention this song, Gardner and Hammel look guiltily at each other. They explain that they moved to Connecticut from San Francisco in order to be closer to Gardner's mother, who helps with child care. "Connecticut's just a weird place," Gardner says. "It should be really cool. It's close to the city, it's liberal, it's on the coast. But it's very materialistic."
"We're a lot more free-spirited," Hammel adds.
"Don't get me wrong—we chose to live here," Gardner says. "It's a safe place for kids. But in theory this area could be a lot more."
"We probably sound judgmental," says Hammel. "Like Connecticut."
Hammel and Gardner don't mind being mistaken for suburban poster children, but if you ask, they'll eagerly puncture the myth. "We have dark sides," Gardner assures me. Hammel grew up in a small town south of Minneapolis; his parents divorced when he was in second grade, and his mom, after dating a few men, quietly moved her girlfriend into the house. Hammel and his siblings were the last in town to know that she was gay. "It was not honest," he says. "I think my playing music was an escape from that."
"Everybody plays music to deal with something," says Gardner, who grew up in Kansas and spent her high-school years in Trumbull, Connecticut. "In high school I dated an abusive guy. I was 16, and I didn't tell anyone. That's when I started writing songs."
They met at the University of Kansas in Lawrence while both were playing in different bands—she a fan of Indigo Girls, he of Fugazi. They began dating, dumped their guitars for drums and organ, and eventually decided they didn't need other musicians around. "It was our dirty little secret that we played in this keyboards-and-drums band," Hammel says. "Everybody else was doing rock, but we were doing this weird thing. Then we played our first show, and we were like, 'Actually, that worked.' "
After graduation they flourished in San Francisco's indie-pop community, but they migrated back east in 2002. Since Mags was born, Mates of State has taken its family act on the road; she sound-checks, plays Rapmaster on the bus, and croons "Blowin' in the Wind" when jets are stuck on airport runways. June will join the show this summer, along with a rotating cast of nannying friends. "We have a system down," says Gardner. "We keep them regulated."
"Sleeping and eating has to happen before we can play a show at night," Hammel adds.
It dawns on me that perhaps Gardner and Hammel aren't immune to the struggles and pains of ordinary existence—they just choose not to dwell on them. "Overall, we're positive people," Gardner says. "We've always looked on the bright side."
Hammel leans down from the couch and places June in a groovy lime-green plastic baby seat. Sitting upright all by herself, she looks at her parents with a proud, lolling grin. Mags crawls up and strokes her. Hammel and Gardner beam.