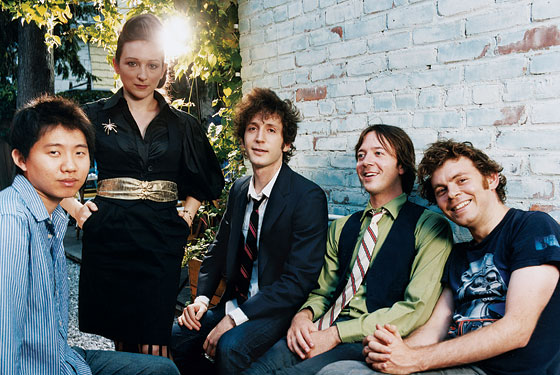 Gabriel Kahane does not suffer from artistic schizophrenia, his current slate of projects notwithstanding. There's the piano sonata he's composing; the "arts-presentery" musical genealogy of his family he's writing; a fellowship with the Public Theater to write a show based on the book February House; and, of course, the tour for his self-titled new album, which showcases his warm tenor in a set of immaculate pop songs. It's a sound that speaks to the company he keeps—a group of music-school graduates (in Kahane's case, a year at New England Conservatory, then Brown) who, as he puts it, are "making themselves indispensable" to all sorts of musicians. There's Rob Moose, a jack-of-all-strings on speed dial for Antony and the Johnsons, Beth Orton, and the Orchestra of St. Luke's, among countless others; Shara Worden, who's putting her opera degree to use as the singer of My Brightest Diamond; and winds player Hideaki Aomori and his Juilliard mate, trumpeter C.J. Camerieri, who play with Moose on Kahane's album. The silent partner of the crew, Sufjan Stevens (Moose introduced him to Kahane), has played with each of the above at one point or another.
These musicians aren't playing with rock bands to pay the bills, says Kahane. "They genuinely believe in everything they're doing." But there's also a sense that classical avenues can be confining. "I'd see people in major orchestras," Moose ventures, "and they seemed a little … jaded? I don't want to feel that way about music." The mini-family of musicians is paving the way toward a more expansive definition of pop. "The idea that there are no rules," says Kahane. "More broadly, this generation of musicians are just finding their outlet, and it's not playing assistant principal in X Orchestra."
Ditmas Park—the quiet, decidedly un-sceney Brooklyn neighborhood the musicians have adopted as their creative base— is the physical manifestation of their music, providing an escape from parts of the city that feel trendy and creatively overextended. The crew often hangs at Camerieri's "really awesome" house. Recently, Kahane recalls, some of the group "listened to the slow movement of Opus 132, Beethoven, on vinyl at three in the morning, and it was so fucking beautiful." He still grudgingly lives in Park Slope. "When you're down here, it's incredibly intoxicating. It's just, do you have the courage to move really far away from convenience?"
Kahane and his band will tour this month. See gabrielkahane.com.