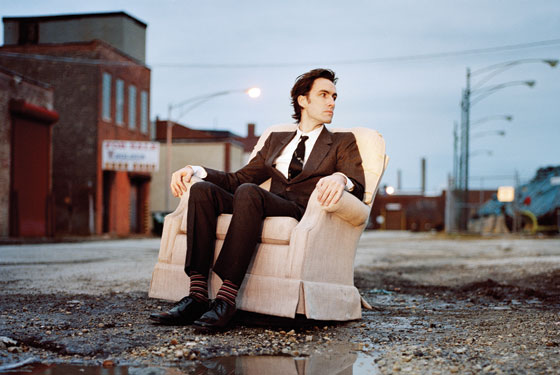 Carnegie hall isn't a natural destination for most indie rockers, but it makes perfect sense for Andrew Bird. The born-and-bred Chicagoan is a classically trained violinist who has developed into one of the most distinctive and creative songwriters working today. This week, he performs with his four-piece band at Carnegie Hall; his fifth solo album, Noble Beast, is just out. Hugo Lindgren talked with him about his musical roots.
How old were you when you started playing music?
I was 4. In the seventies, the Suzuki Method was sweeping American suburbs. The philosophy is to teach people when they're young, make it fun, and it's all by ear. It's like the one-room schoolhouse, with everyone from the beginner to the most advanced all in the same room together, all playing the same tunes, and when you don't know it you drop out. There's no written music, so you don't access that part of your brain. It's very intuitive—they kind of mold you.
Were your parents musical?
My mom's an artist. She does copperplate etchings. Audrey Niffenegger, who's a fairly famous novelist now, was my mother's teacher, and she did my first couple of record covers. When I was 14, my mom went to grad school for art therapy—my oldest brother is pretty severely autistic, and I think that was her reason for wanting to do that. She took psychology classes, and I was her study partner. I wanted to be a psychiatrist when I was 10, not a musician.
Was it lonely being a violin prodigy?
Yeah, it was not a communal, social thing. But at the end of music school, when I was 19 or 20, I joined a rock band—a punk-ska band.
Punk-ska?
Until I joined it, when it became I don't know what—a mix of Irish folk music and these kind of prog-rock ska tunes. We were called Charlie Nobody. I was really desperate to find people that I liked and that I had a chance to hang out with. I was underage and playing in clubs and girls were dancing and I was like, "This is all right!"
When did you start picking up other instruments?
I had a violent relationship with the violin—it's caused me a lot of suffering. I was a fiddling knave, a serf, in one of those not exactly historically accurate Renaissance fairs, and I got bad tendinitis. I had to think, "What if I can't play anymore? How can I still be musical?" That's when I started songwriting. And I picked up the guitar a couple of years ago.
When did you form your own band?
When I was 23, I booked my first tour. I took the band to New Orleans, and we spent a week recording a record, all around one microphone. I was in my early twenties and pretty enamored with small-group swing from the late twenties and thirties—people like Slim and Slam and Charlie Christian, a guitarist. It's pre-bebop stuff. Tenor players like Coleman Hawkins and Lester Young. I try to play more like a tenor player than a violinist.
What do you like to read?
I like a magazine called Cabinet. It centers around archaic subjects, like nineteenth-century science when they were trying to get answers and they were doing it terribly wrong. I like epics; I'm reading this huge book about the Comanches. I like books about, like, what was happening everywhere on the planet in the year 1310. That stuff really turns me on. I don't really go for modern fiction.
What's the last novel you remember liking?
Humboldt's Gift, by Saul Bellow. There's a pretty great description of the Division Street bath house in Chicago.
Name a movie that made a strong impression on you.
[The documentary] Latcho Drom. It follows Gypsies through different countries—India, Spain, Egypt. There's no dialogue, only music and song. I remember a scene with an old man sitting against a tree and he ties a piece of dental floss around the violin string and plays this beautiful melody.
Is there a part of the world you dream of escaping to?
The Southern Hemisphere still fascinates me, the South Pacific. I'm not so interested in going to places where there's densely packed humanity. You know, when you stay in one place a lot, you think, Man, everything is so fucked up. And when you travel a lot, you think, How is everything not more fucked than it is?
Carnegie Hall
January 28