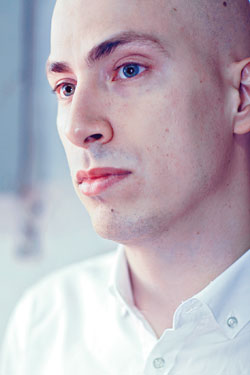 This is why I hate dance music," Morgan Geist groans in the backseat of a Town Car hurtling along Queens Boulevard, a mind-numbing chorus of "Yeah, yeah! Baby, baby!" pumping through the speakers. "There's no contrast at all. The entire track is crammed with noise. Dance music like this claims to be futuristic, but it's as conventional as rock."
Geist—36, slender, Kojak-bald—is dance music's least likely D.J. A nondrinking vegetarian who avoids clubs (he dislikes crowds) and rarely listens to dance music, he spends most nights lying awake, worrying over his health, his label's survival (he founded Environ Records in 1995, while at Oberlin College), and the futility of selling albums in an iPod era. An outsider in the world he's chosen, he's also aggressively anti-Establishment in an already anti-Establishment profession, right down to his moniker: D.J. Morgan Geist. ("Why take on a stupid pseudonym?") Woody Allen, were he 30 years younger, could have a field day with this self-conscious neurotic.
A child of suburban New Jersey Jews (naturally), Geist grew up listening to his older brother's Pink Floyd and Devo records. Dance music was for losers—or so he thought until he was introduced to Detroit's techno scene in college (he'd travel the two hours from Oberlin each weekend). Marrying hard funk beats with European electronica, techno's early pioneers forged futuristic worlds of musical escapism. "Techno is a bad word now," says Geist, who attended parties in abandoned car factories in some of Detroit's bleakest neighborhoods. "Techno is black music. It's as black as jazz."
With his friend Darshan Jesrani, Geist formed Metro Area in 1998. Their self-produced records cultivated stripped-down disco beats with micro-samples from forgotten Italian disco vinyl, each sound, no matter how small, labored over on vintage synthesizers. "Retro disco is really trendy right now," says KCRW D.J. Liza Richardson. "But he's been championing it for a decade and understands it in ways no one else does."
Geist approached Metro Area's modicum of fame in typically Debbie Downer fashion. In the midst of a massive 2002 Paris show, he leaned over to his partner and said, "The people who are yelling loudest will hate us in six months." Says Jesrani, the upbeat Ernie to Geist's Bert, "You listen to his opinions on things, and it sounds very dour. But his music has this life and vivaciousness."
It's an approach Geist compares to old-school Motown; while the sound was upbeat, the lyrics often dealt with infidelity, negligent fathers, even abuse. His second solo album, Double Night Time—a record layered with dream vocals and warm, Nintendo-infused pop sounds—is equal parts melancholy and joy. Sitting in his Woodhaven recording studio, he plays "The Shore," a song about his 7-year-old stepsister's death in a car accident, set to a bouncy groove with a Rick James backbeat. "If [life] does exist after death," he pauses to wonder nervously, "would she be upset that I invoked her name when I was scared?" Another song, "Ruthless City," chronicles his conflicted relationship with New York, a place that can equally charm and leave you "bleeding on the sidewalk." In "Detroit," he confronts his chronic panic that he'll never get excited about anything again.
Geist, who has a show with Jesrani at (Le) Poisson Rouge on Thursday night, may have found the perfect moment for his curious blend of pleasure and pain. Rather than offer an escape from the darkness of crisis and uncertainty, he embraces it, coaxing us onto the floor, urging us to dance with it.