Other than a popsicle, nothing lifts the weight of a heavy summer's day in New York like a good tune. But ubiquitous pop hits only add to the burden. So for some fresh inspiration, we turned to a few of our favorite musicians: neo-grunge rockers Vivian Girls, Brooklyn art-popsters the Fiery Furnaces, the sizzling young soul singer Diane Birch, and grizzly Dixie dude Patterson Hood of Drive-By Truckers. They each compiled a playlist based on a photograph we supplied.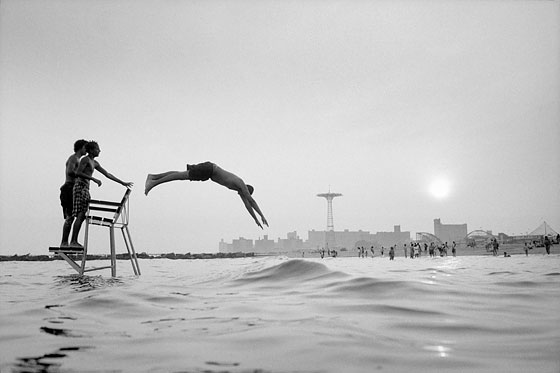 Vivian Girls
1. Ramones, "Oh Oh I Love Her So."
They mention going to Coney Island in the song, and this photo looks like it was taken there, plus it's one of the best Ramones songs ever.
2. Beach Girls, "He's My Surfin' Guy."
This is the perfect song to listen to at the beach, especially when there are babes there.
3. Wavves, "No Hope Kids."
I couldn't not pick Wavves for a playlist like this! "No Hope Kids" is good, too, because it looks like the diver is diving into shallow water.
4. Wanda Jackson, "Funnel of Love."
This song has a really good jangly boardwalk feel to it.
5. Electric Light Orchestra, "Turn to Stone."
Because it is so buoyant and makes me feel like dancing whenever I hear it.
6. Dick Dale & His Del-Tones, "Misirlou."
There would be no point in making this mix if it didn't have an amazing surf classic on it.
7. Chug, "Flowers."
This song was used as background music in The Adventures of Pete & Pete, so I will forever associate it with the summertime.
8. The Bananas, "Feel Good Hit of the Summer."
They're the best band ever, and this song is the feel-good hit for hot weather.
9. The Beach Boys, "Girl Don't Tell Me."
We covered this and it just came on my iTunes and it makes me wish I was at the beach right now.
10. Chris Isaak, "Wicked Game."
Because the music video rules.
The Fiery Furnaces
1. Stevie Wonder, "1-2-3 Sesame Street."
Well, there are three kids in the picture. And the vocoder vocals are relevant in this "Death of Auto-Tune" summer.
2. Eric B & Rakim, "To the Listeners."
They certainly look as if they are listening, as they are not all looking in the same direction.
3. Dizzy Gillespie, "Manteca" (Carnegie Hall concert, 1961).
The photo looks like New York in the summer, doesn't it? And "Manteca" is still the ultimo New York summer tune, no? Especially this not-the-most-famous recording.
4. Eddie Palmieri, "Vamonos Pa'l Monte."
The youth are climbing the mountain, figuratively speaking.
5. Duke Ellington, "Warm Valley" (from Money Jungle).
I imagine it was pretty warm down there on that blacktop.
6. Louis Armstrong, "Don't Fence Me In."
I think the reason for this is clear—and he's Queens's greatest.
7. Ramones, "Pinhead."
I don't think I need a reason to put this down, though the fella on our left has maybe met a nurse that he could go for.
8. The Who, "Join Together."
The Who, among other things, are a great New York band, and are the young men in the photo already joined together, or do they "need" to join together?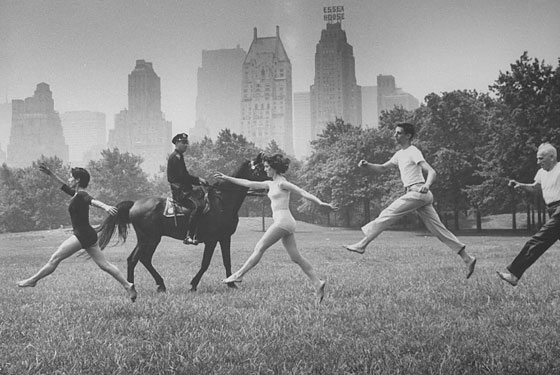 Diane Birch
1. The Joubert Singers, "Stand on the Word" (Larry Levan mix).
Ironically mischievous, prompting some serious wild abandon. The real word here is in that funky-ass groove!
2. Love, "Bummer in the Summer."
Get back into your swing, and remember who's boss. You can fight away those summer blues with sass.
3. The Modern Lovers, "Modern World."
Kick off your shoes and rejoice in the fact that you haven't brushed your hair or changed your underwear!
4. Junior Murvin, "Police & Thieves."
Where is the justice? Maybe we should talk about it over a picnic.
5. The Beach Boys, "Here Today."
The lyrics are so innocent, yet that tuba is about as filthy as it gets. Put on your hot-pink shift, and frolic while you can still move your limbs.
6. Empire of the Sun, "Walking on a Dream."
"We are always running for the thrill of it … " So run for your life, dammit!
7. Talking Heads, "Wild Wild Life."
David Byrne just makes you question the point of your seemingly organized existence. Now would be a good time to create some chaos.
8. Arthur Russell, "That's Us"/"Wild Combination."
Drink in the obscurities of circumstance and the simple little pleasures in life.
9. The Phenomenal Handclap Band, "Give It a Rest."
Drunk afternoons spent gazing at the skyline … makes me wanna roll around in the grass.
Patterson Hood of Drive-By Truckers
1. Big Star, "Kanga Roo."
Nothing says I want to jump you on a hot, steaming rooftop like a little Big Star, and this one has the world's coolest cowbell part courtesy of the amazing Jim Dickinson (who also produced and played mellotron). Ahhhh, mellotron.
2. Raspberries, "Go All the Way."
Following through with our hot, steaming set with this piece of power-pop confection from the days of my youth.
3. Todd Rundgren, "Couldn't I Just Tell You."
Finishing out our power-pop trifecta with one of the all-time greatest songs of its genre—"I can't keep it bottled up inside."
4. Sonic Youth, "Anti-Orgasm."
I've loved SY since Sister, and in celebration of their stellar new album, I figured the playlist should have a tune from it. This is a good one.
5. The Glands, "Straight Down."
I just wanted to hear this song next. The Glands' second album is still my favorite so far this century, and this song is a great summertime top-down blast.
6. Sly & the Family Stone, "Family Affair."
We'll end this down and dirty with another of my all-time faves. Great to fuck to, drive to, or just listen to.