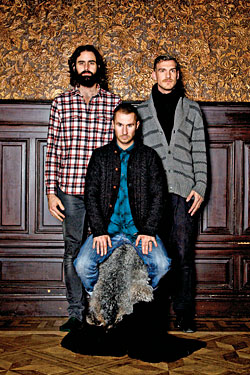 Andrew Wyatt is a consummate New Yorker. One of six children, he grew up in an Upper West Side apartment with a framed poster that read, "You'd have to be crazy to live in New York City, but you'd have to be nuts to live anywhere else." Wyatt has such faith in the city's power, he suggests a shipment of H&H bagels could bring peace to the Middle East. "Bagels are no longer Judaic; they're just sandwich fodder," he deadpans. "We should send tons of them to Lebanon and say, 'Take this bread; do what you will with it!' "
Wyatt is the lanky, bearded front man of the indie-pop collective known as Miike Snow, a trio of songwriters and producers with some of the best credentials in the business. Wyatt has been playing in New York bands (Funkraphiliacs, Fires of Rome) for years, and as the in-house producer for Downtown Records, he has worked with and written songs for Amanda Blank and Daniel Merriweather. Christian Karlsson and Pontus Winnberg—better known as the Swedish production duo Bloodshy & Avant—won a Grammy for co-writing and producing Britney Spears's "Toxic," and they have worked with Kylie Minogue, Madonna, and Jennifer Lopez. Karlsson and Wyatt met at Studio 54. "Not the club, the building it used to be in," says Wyatt. "In the penthouse is an old studio where Christian and I were both working on songs for other artists." They bonded over glitzy pop and serious, egghead musicianship. "We never had a plan, the music just happened," Winnberg says. "Everything is unfolding—" "—like a cheap novel," Wyatt interjects.
In the winter of 2008, the trio finished recording Miike Snow's self-titled debut in Stockholm. "I was deprived of light for four months," Wyatt recalls. "The sun was rumored to come up for three hours a day, but it wasn't experientially up." The grim weather resulted in a sort of creative womb—a safe, quiet, dark place where the trio could make music for themselves for a change. "We'd been trying to get away from all the other stuff we were doing for a long time," Karlsson says. "Those people [global pop stars] are pretty good at pulling you back in, but we had so much in us that we couldn't do for other artists."
The eccentric result, released in June, runs the gamut from witty dance tracks to irony-free atmospheric ballads. The album's first single, "Animal," sounds as chipper as a Vampire Weekend track, but for the woebegone lyrics. "I change shapes just to hide in this place but I'm still, I'm still an animal / Nobody knows it but me," Wyatt sings, the melancholy emphasized by bright-eyed piano tinkerings and a dub bass line.
The more brooding urban dance track "Plastic Jungle" was prominently featured on the season premiere of Gossip Girl. The band has been told that this is a big deal. "People who are into Roberto Bolaño are into Gossip Girl, right?" Wyatt inquires. "Super-literate people?"
The members of Miike Snow, who have just embarked on their first full American and European tour, are perhaps less concerned with massive success than some of their peers. They have, after all, seen the dark side of superstardom. "We have great Britney stories," Karlsson says suggestively. Winnberg offers a printable incident: a tour in Hamburg where he and Karlsson helped Spears elude the paparazzi by jumping into a cab and going to a peep show. "She was drinking whiskey out of an ashtray at a strip club when her show was supposed to start," says Karlsson.
Miike Snow
Downtown Records.
$14.98.